Gunnamatta Trail Rides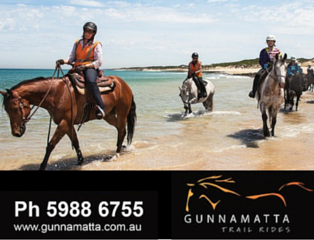 Contact Details
03 5988 6755
Cnr Truemans Rd & Sandy Rd, Fingal
The leaders and home of horseback adventures on the Mornington Peninsula, we have it all!
Exhilarating bush and beach rides with sea winds, crashing waves, white sandy beaches and spectacular Bass Straight coastlines are a thrilling experience with Gunnamatta Trail Rides.
Gunnamatta has all bases covered – a variety of rides, packages, clinics, equine education, & school holiday programs. Our friendly & experienced adult staff and beautiful horses cater to all levels – from beginner to advanced, your safety is our top priority. Let us impress you with our professionalism & world class facilities.
We offer a range of programs to keep kids and teens busy, active and learning during the school holidays.
With options to suit all ages, budgets and time frames, it'd be hard to find a better activity for your kids on the Mornington Peninsula! 
Gunnamatta Trail Rides has been running educational programs for over 15 years – helping young people from all over Victoria learn fundamental basics about horse riding & safety, explore horsemanship techniques, equine care and refine their riding skills.
All the programs are beginner suitable, and we pride ourselves of the safe delivery of our programs, Gunnamatta's Kids & Teens programs that are positively bursting with educational goodness (sneakily disguised as AMAZING FUN activities!)
Gunnamatta Trail Rides have some fantastic packages that partner with the best local hospitality and tourism providers to make your visit to the region even more memorable.  Whether you are on a family adventure, a couple wanting a romantic ride, a group of friends, or a school, Gunnamatta's professional staff will tailor the experience to your needs, and their well-trained horses ensure that even beginners can feel completely safe in the saddle.
Gunnamatta's 'Signature 2hr Ride' takes you to the picturesque St Andrews Ocean Beach where the horses climb lofty sand dunes and stroll in the rock protected ocean waters. The joy of riding on the beach with the pure sea air, sounds of the waves and breathtaking coastline is truly an unforgettable experience.
Gunnamatta's location in peaceful Fingal is also close to native bushlands that are rich in birdlife and lush flora, the relaxed bush rides offer a very different sensory experience. Rides from 50 minutes through to 5 hours (in the saddle) ensure that there's something to satisfy every age and experience level.