Huckleberry Markets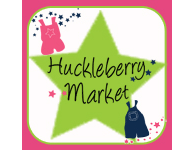 Contact Details
Huckleberry Market is the new kid on the Melbourne market scene, specialising in boutique and hand made items for babies and children!
Our aim is simple:
Collect the best in boutique and handmade items for babies and children under one roof, have fun doing it and lend a helping hand at the same time.
Our stallholders offer handcrafted goodies that range from T-shirts to softies, play rugs to beautiful quilts; almost anything you can dream of (and even things you didn't know you wanted) for your little one you will find at Huckleberry Market. We also have a select few that sell designer items from small manufacture lines, be it jewellery for all ages or art of all sorts.
And the shopping experience is just as much about the kids as it is the adults pushing them around in prams! Every Huckleberry Market will have some form of entertainment for the kids be it a face painting fairy, balloon twisting clown, gardening activities or craft. It's all about the littlies!
We pride ourselves on listening to what both the stallholders and customers would like to see in a market and aim to better every Huckleberry Market based on this feedback – afterall you are the people we aim to please! If you've been to one of our markets, let us know what you think – we can only get better at what we do by listening to your opinion!
We'd love to meet you face to face so come down and say hello to our stallholders at the next market. And of course, you can contact us any time if you have a comment or question.