Mornington Peninsula Regional Gallery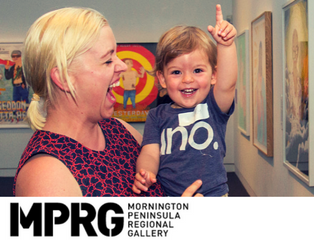 Contact Details
5975 4395
Civic Reserve, Dunns Rd, Mornington
Since its establishment in 1971, Mornington Peninsula Regional Gallery (MPRG) has grown to become one of Australia's leading regional galleries, renowned for its exhibition program of Australian and international art. The Gallery's collection focuses on the cultural heritage of the Mornington Peninsula and contemporary Australian works on paper.
The pre-schooler program Young at Art introduces 0–5 year olds to the wonderful world of art. With an experienced educator, children have fun as they look, think and wonder at the artworks on display and then enjoy a hands-on creative activity inspired by the current exhibition. Stories and music are part of the mix too! Groups welcome, or come on your own – Young at Art participants are friendly and welcoming to all.
Most exhibitions have an interactive children's space with free hands-on activities for kids. Afterwards enjoy a leisurely visit to the nearby Rose Garden and playground.
Open Tuesday-Sunday, 10am-5pm, closed Mondays except on public holidays.
Visit www.mprg.mornpen.vic.gov.au to find out what's on!
Admission
Adult: $4
Student/Concession/Senior: $2
MPRG members: free
Children under 5: free
*Special entry charges may apply for some exhibitions.
Free Guided Tours
Enjoy a free guided tour of our exhibitions every Wednesday, Saturday and Sunday at 3pm