Wild Women On Top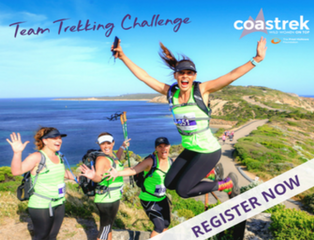 Contact Details
Join the fourth annual Team Trekking Challenge hiking with teams of 4 (with at least 50% women) along the spectacular Mornington Peninsula. Explore rugged coastlines, spectacular bays, secret bush trails, historic sites and complete an incredible personal challenge with your friends while restoring sight.
Take the Thrilling 30km event from Koonya Beach to Point Nepean in approx 6 – 10 hours, or the Super 60km event from Cape Schanck to Point Nepean in approx 10 – 18 hours.
Feel good fundraising to help restore sight to needlessly blind people around the world, supported by a 12-week training plan and guided every step of the way by Wild Women On Top.
Event date Friday 25th May 2018
Registrations are filling fast! Don't miss out!