Where
Main Street, Sorrento
Description
Great atmosphere with a beautiful fire and booths to sit in. Price range of menu was $8-$30. Staff were very friendly towards my son. Crayons and colouring books provided and the best thing was the kids' menu was presented as a 'Little Golden Book'.
The Food
My poached eggs were cooked to perfection. My young son loved his pancake stack and baby chino. Everyone else on our table were very pleased with their meals too.
The Check List
| | | |
| --- | --- | --- |
| | • Highchairs | Yes |
| | • Change Table |  No |
| | • Pram Access | Yes |
| | • Separate Kid's Menu | Yes |
| | • Play Area for Kids |  No |
| | • Allergy Friendly Options | Yes |
| | • Staff Friendly towards Children | Yes |
| | • Normal Menu Suitable for Kids | Yes |
| | • Activities (crayons, toy box) | Yes |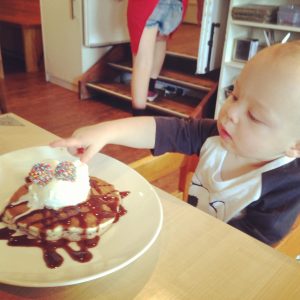 Thank you to Jasmine from Rye for this review.
What others are saying
The first half of the restaurant has tables and chairs and a lovely coonara that is very inviting on a cold winters day! In the back section there are more tables and chairs, but also some booths which the kids love sitting in. They provide crayons and coloring in material and there are some books there to keep the kids amused. Entrees start around twelve dollars and mains go up to around twenty five, so it is quite reasonably priced. There is a kids menu also. It's a cosy place to eat and the staff are great and quite attentive. Not a problem to get a pram down the few steps to the second section. 've eaten here a few times and the food has always been great. They do all day breakfast and have lunch items including their specialty pancakes.Yum! Oh and great coffee.
– Cathy M
I love this place, from the moment you walk in your greeted with respect. When you take your seat you have a old school child's book that the inside has been replaced with their menu!!! Loved this! They have a great menu and a kids menu which has a child's image on the back for the kids to colour in. They have a water station where we can help ourselves. Every time I have been to this place their food has been absolutely incredible, I highly recommend their open steak sandwich (see photo)!
Their name is another thing that I love, as my father used to say 'Buckleys Chance' when I was a child which is great to read every time I go there. They were extremely friendly and it is an absolutely incredible place. The area is really well used, plenty of tables/seats but it didn't feel overcrowded, felt relaxing. I'm thinking its because of the high backed big benches they have to the side. It feels private.
Very impressed with their service. Very happy and they make a conversation but wont stay chatting which is great. Ooooohhh the food!!! YUM!!! Seriously absolutely incredible! I've had their big breakfast and a chicken focaccia and the open steak sandwich. ALL were incredible, also their pancakes are amazing as well.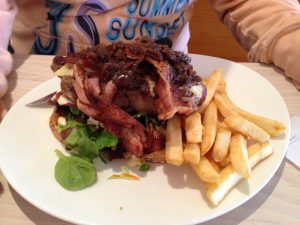 – Stef, Rosebud
Details reflect the contributor's experience and have not been verified by Mornington Peninsula Kids. The contributors have not been paid for the review, and paid in full for their meal.