By Renee Patchell
Moorooduc Primary School, Science Specialist
Why is the sky blue?, Why are leaves green?,
How do bees make honey?, Why does the moon change shape?
As parents of young children, we hear these questions and hundreds like them EVERY SINGLE DAY. And although sometimes we would rather just enjoy our cuppa in peace, this gives us great insight into how our children perceive the world. They observe and analyse far more than we do. According to child Psychologist Paul Harris, a child asks around 40,000 questions between the ages of two and five. By the time the child is four most of these questions are asked because they are seeking an explanation, not just a fact. Our little people don't set out to annoy us; they genuinely want to know!
Embrace it. Nurture it. And most of all, ENJOY it! We are, after all, the luckiest parents of any generation – we have Google! Scientific thinking helps us make sense of our world. Its skills include making observations, asking questions, predicting, testing ideas, gathering results and coming to conclusions. It's never too early to encourage these skills. We're doing it every day without realising. Recognising when the opportunity for a little Science comes along will lead to hours of fun for you and your children.
As a Science Teacher, I am lucky enough to see the joy on kids' faces as they see that vinegar volcano erupt or their circuit light a bulb. And while many of us think of Scientists as crazy white-haired men in lab coats and glasses, in reality they are all around us in our everyday lives. They are our vet, doctor, pharmacist, physiotherapist, park ranger, wine maker … the list goes on. Encourage your child to see that Science is all around them too. Explore how we get electricity, why chameleons change colour, why bears hibernate in winter. Take a magnifying glass into the backyard and look at parts of flowers, rocks or bugs.
On the Peninsula we are blessed with many places to explore and discover. Visit the Honey Farm for a bee talk, take a bushwalk at The Briars or Coolart Wetlands, visit the rockpools at Sorrento back beach or go to one of the public stargazing nights (first Friday of the month) held at the Briars by Mornington Peninsula Astronomical Society. You can also visit the Melbourne Museum, Science works, zoos and wildlife parks. Remember to check out their websites before you go. They're often full of information on current exhibits and provide activities for you to complete during or after your visit.
You can enjoy the fun at home too and its much simpler than you think. You really don't need any special equipment. It's all there waiting in your kitchen cupboard. It's messy, but it's fun and I can guarantee they'll learn from it and remember it.
Visit the Science section of your local library where you will find great experiment books, look up 'kitchen science for kids on Google or Pinterest and get experimenting!
These are some favourites from the Science Room at our school:
building vinegar and bi-carb soda volcanoes in the sandpit (take lots of ingredients – they won't let you stop at one!)
making ice cream in a Ziploc bag (see below)
making butter with cream and a marble in a jar
creating an exploding lunch bag
making lava lamps
watching dancing raisins
layering liquids
If you're game and have the space, there are many explosions you can try. Mentos and coke is always a favourite!
Older children can find or devise their own experiments. If they are keen for new Science knowledge, 'How It's Made' is a fantastic series that can be accessed on YouTube. There are a wealth of episodes detailing the makings of things like Lego, silk, chocolate, gold, drag racing tyres, kaleidoscopes, airport runways etc etc.
Visit shops such as Jaycar and Australian Geographic and explore the many Science kits on offer. Solar cars, circuit kits, robot kits are sets that will be used over and over.
---
ICE CREAM IN A ZIPLOC BAG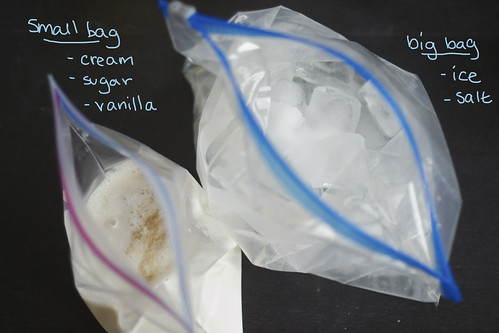 Ingredients:
1 cup cream
½ teaspoon vanilla essence
2 tablespoons sugar
½ cup salt (rock salt works best)
Ice
1 large zip lock bag and 1 small zip lock bag
Instructions:
Fill the large zip lock bag ⅓ full with ice and add in the salt. Place a smaller zip lock bag inside and fill with the cream, vanilla & sugar.
Seal up both zip lock bags tight. Wrap the bundle in a small towel and shake for 5 minutes or until ice cream forms (will be a soft-serve like consistency).

Make sure you clean any salt from the small bag before you open!
Serve & enjoy with your favourite toppings!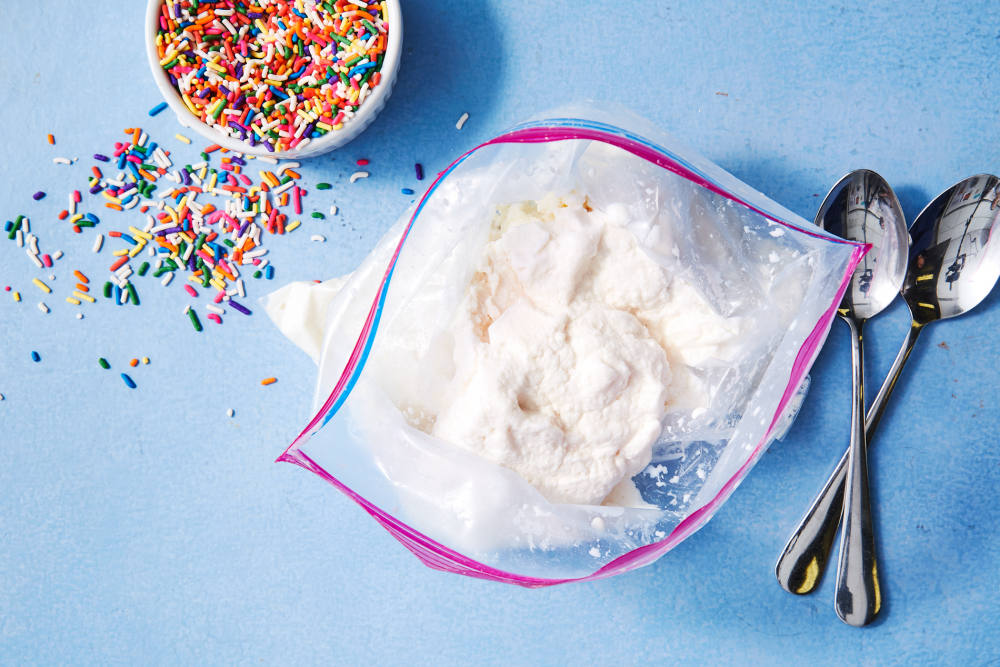 Science is an opportunity for everyone in the family to learn together. Enjoy!