By Melissa Walsh  Photos Gary Sissons
Claire and Jordan Poutney have no problems with mess. In fact, they encourage it at their activity and fun centre, The Messy Shed in Mornington. The couple have been running the interactive play centre for two and a half years after running a messy shed and café in Tyabb.
Claire, a former school teacher, family day care worker, and mum of three, understood the importance of messy play for kids as part of their developmental growth, but found it was lacking in a lot of places.
"I worked as a primary school teacher but wanted to work at home when my children were born so started doing family day care. It was then that sensory play became part of my little one's day and I realised how important it is to their development," said Claire.
"We started The Messy Shed in Mornington two and a half years ago after wanting a purpose-built facility where children could do messy play and other important activities."
For Claire and Jordan, the centre came together easily.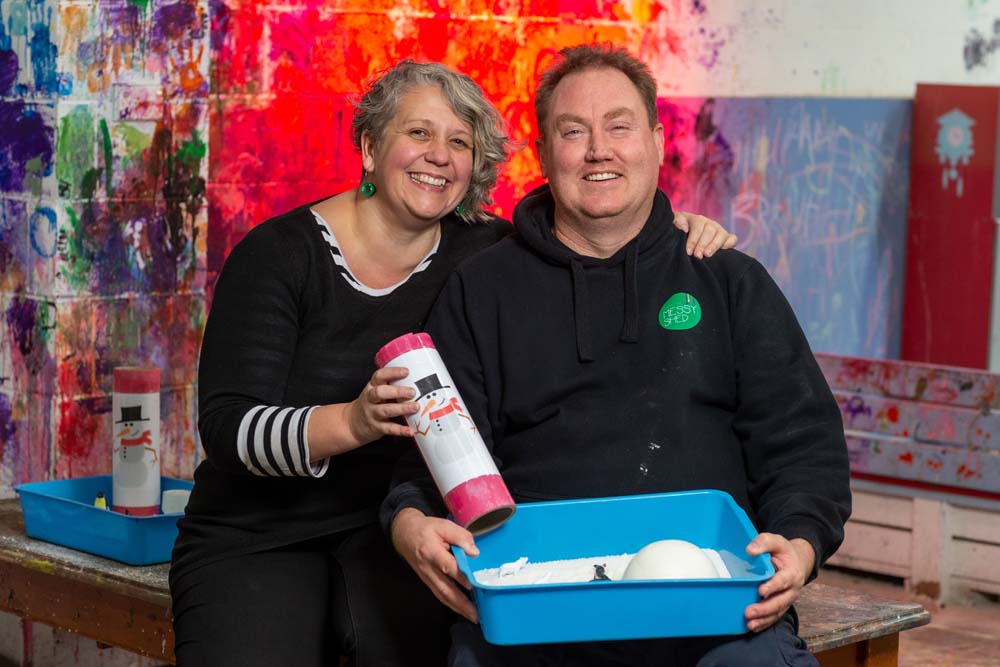 "We are both very hands on with the business. We do birthday parties, oversee messy play areas and created a fabulous experience area for the children called Totsville," said the couple. "In Totsville, children can immerse themselves and their imagination in pretend play while helping them to understand and experience the adult world. Kids can be vets and tend to animals, deliver parcels from our post office, go fishing from our boat, finish building a wall and knock it down with our wrecking ball or board a train to anywhere their imagination takes them, all in a kid-sized environment just for them." Apart from hours of fun, everything at the messy shed has a purpose for the development of young children.
"In Totsville, role-play helps develop valuable life skills and problem solving. Every hands-on activity will contribute to build kids' independence, self-esteem, and teamwork, all while having fun," said Claire and Jordan. "The Messy Shed offers 45 minute sensory play sessions that challenge children to think, interact, explore and have fun. We believe in the process and not the end products so don't expect masterpieces. It's more about the experience."
At The Messy Shed, each week the couple run a different theme.
"Whether it's getting muddy and messy with farmyard fun, digging for dinosaurs or painting and washing baby, there's something for everyone to get messy with," said Claire.
Then there's the play centre with a great range of climbing equipment and activities for children aged six months to 10 years.
"Here there is plenty of sliding, climbing and jumping for everyone teaching children about spatial awareness and fine motor skills," they said.
Studies have shown that messy play is one of the best ways for children to learn and develop, yet children in today's world are less likely to be out climbing trees or getting muddy with water and paint play.
At the messy Shed, Claire and Jordan ensure your children get that experience.
"We have all sorts of messy play activities, with paints, mud, fake snow and vertical painting," said the couple. "It is all about letting the children explore and experiment with raw materials like sand, water and paint. Children's imaginations can run wild while they play in the mess, yet it also helps them to understand their senses and the world that surrounds them."
Book in for a session or enjoy a Messy Shed, Totsville or Play Centre party, including food, play and exclusive use of the new funky party rooms.
---
The Messy Shed is at Factory 4 & 5, 1 Watt Road, Mornington.
Phone 5975 2080