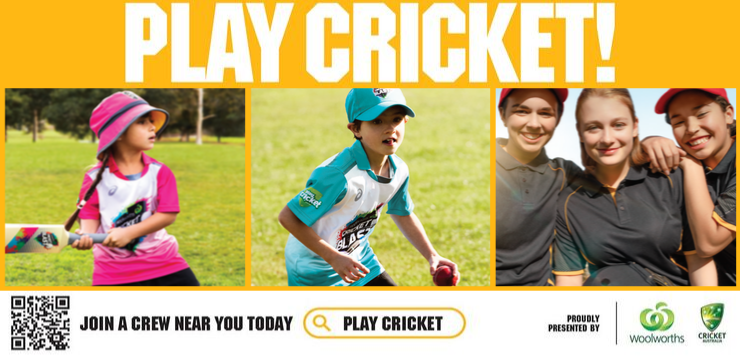 Get into Woolworths Cricket Blast. It's a fun and active program for kids of all abilities – whether it's your first time with a bat or you're a backyard cricket star!
As you grow up, cricket grows with you. Don't worry though – it's fun, fast & action packed! It's time to join a team, make new friends and take your batting, bowling and fielding skills to the next level. And don't worry if the sun's not shining; you can play indoor cricket as well.
Joining a cricket club is hugely rewarding in many ways as you get to play an amazing sport and making friends along the way. The club cricket scene is buzzing, and you can play at a level you feel comfortable with, both indoor and outdoor.
Junior Blasters : Learn the skills to play cricket through fun game based activities
AGES 5-7 | 60 MINS
Learn new skills including catching & throwing
Make new friends
Wear the colours of your favourite Big Bash heroes in a personalised t-shirt
Parents join in the fun
All equipment supplied
Master Blasters : Play modified games of cricket in a fun and social setting
AGES 7-10 | 90 MINS
For kids with basic cricket skills
Make new friends
Wear the colours of your favourite Big Bash heroes in your choice of coloured player cap
Every kid gets a chance to bat, bowl and field
All equipment supplied
Anywhere Blast : Free program to keep kids engaged and involved in cricket during these challenging COVID times
AGES 5-10 | 20 MINS
Participate from anywhere
6 x 20min interactive online skill sessions, covering catching, batting and bowling
Weekly challenges
Blasters can participate on their own or with parent/guardian's assistance
No cricket equipment required – requires basic household items