This family recipe was a favourite when I was growing up and continues to be a favourite with my children. The marinade only takes a few minutes to put together. If you have the time, prepare ahead and allow the chicken to marinate all day or overnight.
Prep time: 5 minutes
Cook time: 45 minutes
Total time: 50 minutes
Serves: 4
Ingredients
2 kg chicken drumsticks (10–12) or 4 chicken Marylands
Marinade
1 tablespoon five-spice powder

3 tablespoons soy sauce

3 tablespoons olive oil

2 tablespoons sesame oil

3 tablespoons dry sherry or Chinese wine

2 garlic cloves, crushed

¼ tablespoon grated ginger (optional)
Method
1Preheat oven to 180°C.
2Place all marinade ingredients in a large baking dish and stir to combine. Add the chicken, tossing to coat. If you have time, allow chicken to marinate for 2 hours or more.
3Place chicken in oven for 45 minutes and cook until the meat starts to pull away from the bone. Remove from oven and allow to rest for 5 minutes.
4This dish is great served with a simple green salad and rice or noodles.
---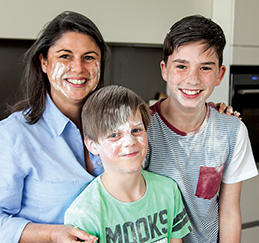 Jodie Blight  |  We're all busy and want quick, healthy and delicious meals but sometimes just don't have the time. Summer TABLE will inspire you to put variety and zest back into your mealtimes and with a free APP to create a shopping list on your phone, dinner will be ready in no time! And – you learn how to use leftovers in innovative new ways.
After years working as a company director in the finance industry, starting a family and moving half way around the world, Jodie Blight discovered her passion – creating healthy, easy and delicious family meals. "A fist pump from the kids is as good as a Michelin
star in my books."
To find out more about this revolutionary cookbook, please visit www.hellotable.com.au or find us on Facebook at www.facebook.com/hellotable
As published in Peninsula Kids Magazine – Spring 2016