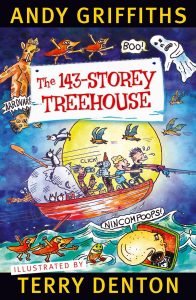 By Kennedy & TJ McCullough (lovers of all things Treehouse!)
The newest installment of Andy Griffiths and Terry Denton's beloved Treehouse series, The 143-Storey Treehouse, is available to pop under the tree for Christmas! Our junior writer was fortunate to have the opportunity to pick the brain of one part of the dynamic duo.
Thank you for taking the time to answer a few of our questions, Andy!
1. How did you think up the new levels in the 143 Storey Treehouse?
I keep an exercise book handy at all times and whenever I have a random idea for a level I write it down. Ideas come from reading books, watching television, listening to music, talking to people, joking with Jill and Terry, day-dreaming, reader suggestions and, sometimes, they are suggested by something that happens in the previous treehouse book. I generate many more ideas than I can use so that I can pick the most interesting/useful/entertaining ones that will help me tell the next story.
2. What inspired you to start writing books?
I always loved reading funny books and as soon as I was old enough I loved writing silly things that made me—and other people—laugh. In the early days it was just for family and friends but in my late twenties I became a high school English teacher and started writing things to make my students laugh and help them to discover the fun of reading—and writing for themselves. It soon led to me sending collections of my stories to publishers … and after ten years I found a publisher—and an illustrator—who got my humour.
3. What is your favourite book that you have written?
Tough question, I mean, I love them all for different reasons, but if you forced me to choose it's probably always going to be the book I've just written because I try to get each book sillier, funnier and more original than any of the books that have gone before it. So my favourite book WAS The 130-Storey Treehouse because I've always loved the idea of flying eyeballs … but now it's The 143-Storey Treehouse because I've always loved camping.
4. Who is your favourite character in the treehouse books?
I love Jill. Not just because we're married in real life, but her character in the book is so independent, brave and caring. I love that she follows her own star. As the series has developed she's become an increasingly important—and much loved—character for many readers.
5. How long have you been writing for?
Since I was six years old. I learned to touch type when I was in primary school and I used to put out a regular joke magazine which I'd sell to the other students for three cents a copy.
6. How many books have you written?
Well over 30 books now, most of them with Terry.
7. Does your connection with Terry Denton affect your writing?
TOTALLY! We've been working together for so long I actually can't imagine writing books without him. When we started with the JUST series, he used to just draw random nonsense in the margins, but I was always interested in getting him into the spotlight and figuring out how to get the illustrations to become as important as the words in telling the story. His illustrations; while being funny, charming and original in their own right, save me from having to do an enormous amount of description—which makes the books much easier to read and more accessible to a very wide range of readers.
I love setting him challenges (like drawing a never-ending staircase) and watching him rise to the challenge. In turn this inspires me to come up with even sillier stuff.
8. How much of the books you write is based on real life?
In real life we really do have a book to write every year, and I'm a little more focused on the deadline and Terry's a little more random in his approach but we don't have a publisher who yells at us, we don't whack each other with giant bananas and we don't live in a treehouse. We take a tiny bit of real life and then change and exaggerate and make up whatever we need to in order to make it the most entertaining story possible.
9. Growing up, what books did you read that made you want to become an author?
Enid Blyton's fantasy adventure books, 'The Adventures of the Wishing Chair' and 'The Folk of the Faraway Tree'. She knew how to get a story started fast by plunging the children into a world of unpredictable imaginative adventure—sometimes funny, sometimes scary and always fascinating.
10. Do you have any advice for kids who want to start writing?
Read as much as you can to fill your mind with ideas and models of how to tell stories. And write as often as you can. I recommend a cheap exercise book where you collect thoughts, observations, dreams, nightmares, ideas, jokes, cartoons—anything that takes your interest. Like anything, really, you get better at writing the more you practice.
Oh yeah, and HAVE FUN!