By Liv Downing
Many years ago, we were holidaying, and the opportunity came up for me to have an hour to myself; my youngest took himself off to bed for a midday nap. Ahhhh peace, it must have been the hour of running along the beach and the 90 minutes of uphill scooting we had done in the morning. No, I really didn't mean to exhaust him, honest…
During this nap time, my eldest, who was seven at the time, was complaining that he was bored.
I tried to explain to him that being bored was OK and really, part of life. That he should practice being bored because when he is an adult, there will be large chunks of his life that are boring but necessary, like putting petrol in the car or paying bills online.
Needless to say, he wasn't really interested in my lecture and snapped "it's OK for you, you have that super power".
Hmm, which one I thought? Gosh, I have so many!
So, I asked him what he meant and he responded, "Well, you have the power that allows you to just sit here and watch the clouds and do nothing. I don't have that power".
I tried to explain that we all have that power; we just need to practice it. Again, he wasn't interested in hearing mum rant on about how accessing the natural clarity, calm and connection within all of us was a basic human right.
After helping him to come up with an imaginary game, I stopped and asked myself "What are we doing to our kids?". The constant entertainment we are providing them – the iPads and TV, the phones and toys – are we robbing them of a basic life skill? The skill of knowing how to be bored and just doing nothing? Just playing for the sake of playing, with no agenda, hidden or otherwise?
Now, I am not saying that we should stop all technology; as my dear partner points out to me, it is here to stay now, we may as well embrace it. I just wonder, what is, or more accurately, what will be the cost of this 24/7 stimulation generation we are raising?
The Stimulation Generation
Are we raising adults who will be so disconnected from their bodies and the present moment experience that they will have no way to understand or sit with less comfortable emotions like boredom?
Will this generalise to other human emotions like sadness or worry? Are we just teaching them to numb out from a very early age by shoving an iPhone in their face when they don't get what they want?
In later years, will the iPhone be replaced by something more harmful like drugs or alcohol?
I don't have all of the answers, but I do know that time doing nothing feeds our spirit, nourishes our body and it certainly feeds our creativity.
Life is hard and beautiful, joyful and sad and we need to equip our kids with a whole tool kit to support them to thrive and feel strong, regardless of what is going on.
Experiencing the rainbow of emotions
Here are a couple of tips to support us in allowing our kids to experience the whole rainbow of emotions.
1. Explore it
When they're feeling sad or worried, ask your child to explore the feeling. Where do they feel it in their body? Can they make room for it rather than fight it? Can they allow themselves to hold it gently, as if they are holding a precious flower or gem? Can they see that they are not the emotion, that it is something happening within them? Can they ask the emotion what it is trying to tell them?
2. Colour it
Ask your child to describe their emotion in colours or shapes; this can help them to express how it feels using words they are more familiar with.
3. Celebrate it
When they express either comfortable or uncomfortable feelings say, "That's great. You are feeling; that means you are human, and you are alive!" or "How lucky are we that we get to feel all of these emotions; let's explore them together".
We all do have this superpower. In fact, I believe it is our birthright. Sometimes, however, we just need to be reminded, and so do our kids.
---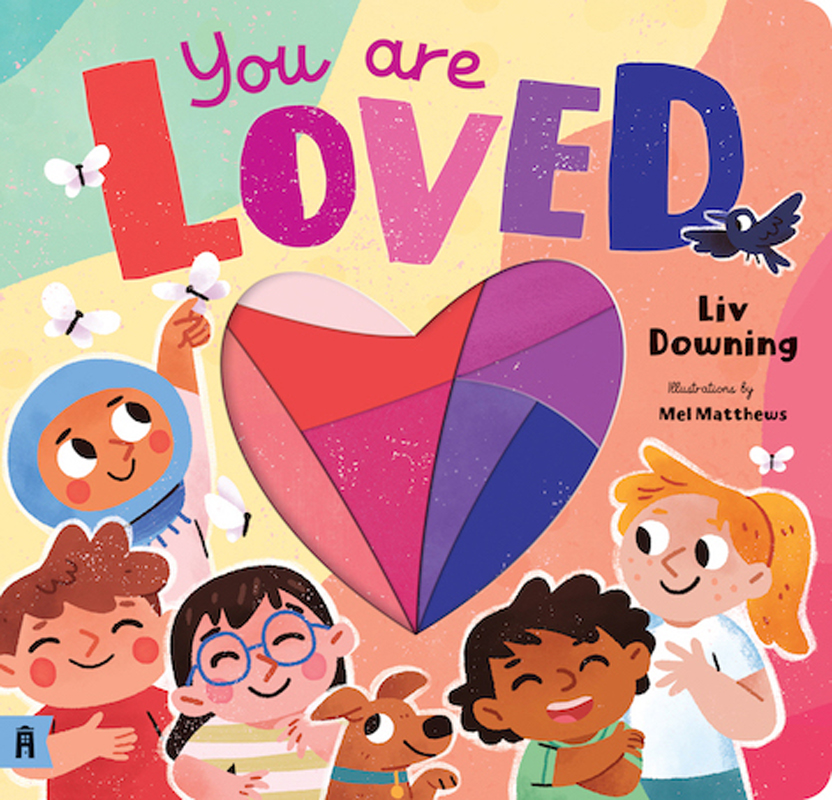 Liv Downing is a Melbourne based psychologist who has drawn on her own personal experience of burnout to release a new children's book, 'You are Loved' to reassure children that they are loved, no matter what. Featuring a meditation for families to share with their little ones, the book is available from leading bookstores. Through her work, Liv was involved in the development of the Beyond Blue mindfulness-based parenting program, Mind the Bump, and Smiling Mind, Australia's leading mindfulness app.