By Yvette O'Dowd
Elmo and Abby Cadabby visited Melbourne recently to celebrate the launch of Sesame Street's season 53 on ABC Kids.  Season 53 is devoted to helping children grow up with a healthy self-identity and sense of belonging, in full celebration of our diverse world. With a focus on stories that celebrate our differences and embrace our similarities, children will learn to feel confident and proud of who they are and find joy in connecting with and learning about others. MPK sent their best interviewers: Granny Yvette, Charlie, age 10, Blair, age 6 and Teddy, age 3,  to chat with the duo to get the scoop on their time in Australia.
YVETTE: Charlie would like to know, 'Do you know how to get to Sesame Street?'
ELMO: You have to get on a plane.
ABBY: Actually, you have to get on two planes for us. Cuz' then you have to go to the States and then you have to. New York. Then once you get off the plane, then you have to take the train and then a train to the station, then to another train, which is called the subway. Or I can just poof you there with my magic wand.
YVETTE: That sounds easier!
ELMO: Yea, it's a little bit of a long journey.
ABBY: It takes a whole day! Do you know what time it is on Sesame Street, right now? It's yesterday.
ELMO: It's a little confusing.
ABBY: Very confusing.
---
YVETTE: What's new on Sesame Street?
ABBY: Soooo much! We've been having so much fun learning about what makes us different and the same. One thing that's the same is we all love to dance.
Our friend Ji-Young even taught a special kind of dance she's learning in her Korean dance class – the Fan Dance. We used fans and were dancing like butterflies! It was magical.
ELMO: And Elmo even got to ride a horse for the very first time with Elmo's friend Julia. Elmo was nervous because the horse was really, really big! But Elmo learned how to feed the horsie, brush the horsie and even ride it. Elmo and Sprinkles – that's the horsie's name – became best friends.
---
YVETTE: Teddy's question is, 'Have you ever seen any Australian animals?'
ABBY:  We saw some kookaburras.
ELMO: And one time Elmo was here before, and Elmo got to pet a kangaroo and a koala.
ABBY: Yeah, I got to hug a koala.
ELMO: Elmo got to feed a wallaby some raisins.
ABBY: Oh, and I saw an echidna. They're hilarious. They have a long, skinny tongue like spaghetti.
---
YVETTE: Now Blair had a question for you. She wants to know, 'Do you look like your mummy and daddy?'
ELMO: Um, Elmo looks a little bit like his daddy. Elmo looks like his daddy and his mommy too.
YVETTE: And Abby, do you look like your mommy or your daddy?
ABBY: I think I look most like my mommy, but I have two daddies. And I have a stepbrother Rudy, and he's a monster. And well, we don't look anything alike. He laughs like a potbellied pig.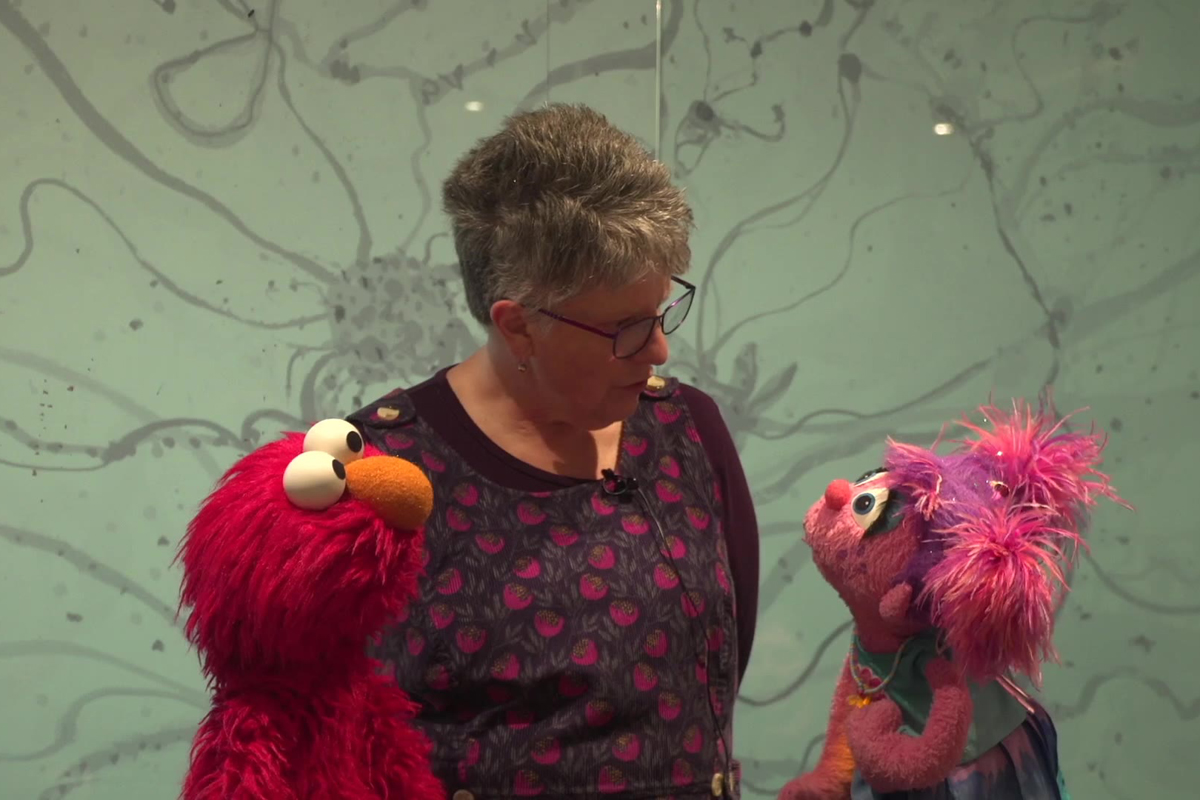 YVETTE: Now, you've met some famous people, and I heard you met the first lady of the USA. That is very exciting!
ELMO: We have. Doctor Jill Biden. She's really wonderful.
ABBY: We have! She was super nice. She gave Elmo's puppy dog, Tango, a little belly rub.
ELMO: And we got invited to the White House. We had breakfast at the White House, and it was really nice.
YVETTE: What did you have for breakfast?
ELMO: Elmo just had a little bit of toast.
ABBY: Yeah, I had peanut butter toast.
---
YVETTE: Have you tried Vegemite on toast? And did you like it?
ELMO: Yeah. Elmo tried it.
ABBY: Yeah. It was interesting.
YVETTE: It's OK to say if you don't like it.
ELMO: It's just different. We don't have it on Sesame Street.
YVETTE: And have you got any favourite foods that you have tried in Australia?
ABBY: Fairy bread. Definitely.
YVETTE: You don't have fairy bread in America?
ABBY: No, but we can make it now that we know what all the little parts are.
YVETTE: You can take it back to Sesame Street!
ABBY: Absolutely!
---
You can catch Elmo and Abby Cadabby on Sesame Street's brand new Season 53 on ABC Kids every morning at 9.30am.