An interview with CBeebies & ABC Kids TV star Andy Day ahead of his Australian Tour
UK BAFTA-nominated presenter Andy Day is heading to Melbourne this September. The star of ABC Kids and CBeebies Andy's Wild Adventures, Andy's Dinosaur Adventures and Andy's Prehistoric Adventures will perform live on stage at the Athenaeum Theatre.
Andy's Amazing Adventures is an all new and exciting show designed to entertain young Aussie Andy fans. Ahead of his entertaining live tour, Andy took some time out of his busy performing schedule to chat to us (and a few kid fans) about all things prehistoric, TV, life and time travel!
By Erica Louise
Q. Your TV shows have gone from strength to strength. We know you best from Andy's Prehistoric Adventures but you've got many more shows to your name. Which adventures are your favourite and why?
A. I prefer the prehistoric adventures because they are more epic! Some of the creatures I've been on adventures with are huge and interesting. Plus, everyone is fascinated with dinosaurs – these giant lizards that lived such a long time ago. They're the most fun and dramatic. I'm quite a dramatic person you see?!
Q. Can you tell us about your journey into TV stardom and how you became a CBeebies presenter?
A. I decided that at 21, I knew what I wanted to do. I performed when I was younger in drama clubs and that sort of thing. At 18, I performed as a host and character at the Millennium Dome in London, which involved lots of theatrics. I enjoyed performing, so then went to Italy to perform teaching workshops with kids. When I returned to England, I realised that presenting is what I wanted to do. I worked on some sketches with a friend and ended up working with Nick Jnr for a while. Later, I saw an audition for CBeebies and went for it! Out of 2,000 applicants, I made it through to the last 15 people and got the job on CBeebies house presenting in-between shows and it went on from there.
Q. Is there anyone who inspires you in your work either now or in the past?
A. There are lots of people who inspire me both on TV and off TV; sometimes it's hard to remember them! I think, though, the sort of character, personality and humour that I have mostly comes from my older brother. I've always been quite influenced by him. As kids we used to act out our favourite scenes from movies such as Back To The Future and the Karate Kid. I could probably do the whole script for you if you wanted?!
Q. Can you tell us about your live show Andy's Amazing Adventures and what we can expect to see?
A. Well it's going to be the adventure of a lifetime. There'll be lots of audience participation. I'll be doing things that the audience has not seen me do before… singing, rapping, dancing. Not saying it's going to be great dancing, but there'll be dancing. It'll be very inclusive in terms of its style. Games and possibly even prizes to be won.
A big spectrum of things going on. There'll be some new faces and some familiar faces, but I don't want to ruin the experience, you'll have to come and see it.
Q. You have a one year old daughter, Ruby. Will she be coming with you on tour in Australia?
A. Yes, she'll be coming to Australia and my other half, too. She'll be my little support/mascot. She might not be at every show, probably just one or two.
Q. With the juggle of your family and all the live shows you'll be doing in Australia, will there be any down time for you?
A. Yes! We are going to take a week at the end of the tour, which I'm excited about. Most of that time will be spent in either Sydney or Melbourne. We haven't completely decided what we'll do yet but we're looking forward to the family time because it's been a very busy year and will continue to be busy thereafter, so we're grabbing some time where we can.
Q. You mention you will be busy, can you tell us about your plans after the Andy's Amazing Adventures tour?
A. I have a band called Andy and the Odd Socks. We have a mini tour in October. We've also got a CBeebies panto (pantomime) coming up and then I'm performing in another panto at the end of the year. Pantos are very popular in the UK and is something lots of performers do.
Q. (by 5yo Liam) What is your favourite dinosaur and why?
A. The Stegosaurus is my favourite. Aesthetically I love the fact that their plates used to warn off any danger by changing colour. That and the Spinosaurus.
Q. Andy's Prehistoric Adventures is very popular on ABC KIDS TV; do you film in the Natural History Museum and if so, is that done after hours?
A. We did film that at the National History Museum. We had one whole morning from 5am to 9am and one evening till 10pm. We filmed all the sequences then and the rest of it is done on the set.
Q. (by 2yo Drew) Are there any secret dinosaurs hiding in real life?
A. That would be telling! Listen out for roars. You might find that a dinosaur has snuck through time but I'm very careful not to bring those creatures back with me! That would be a bit crazy
Q. (by 2yo Drew) Where we buy a real kip mobile?
A. Well they're not available in the shops but maybe I'll ask Kip to build one? Maybe she's got one in her cupboard somewhere?
---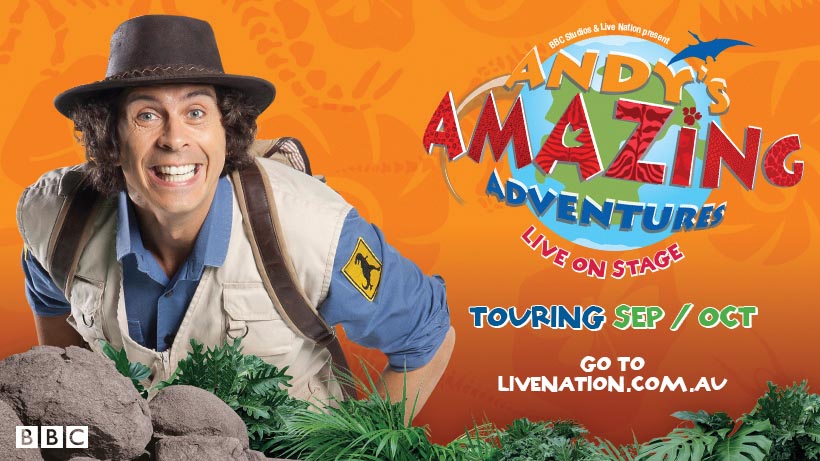 Get your tickets now and join Andy on his first live Australian theatre tour, in what promises to be a show of prehistoric proportions.
See Andy's Amazing Adventures live on stage at the Athenaeum Theatre on 26, 27 and 28 September 2019.
For complete tour and ticket information, visit: livenation.com.au.
---
Erica hails from the United Kingdom, and has been living in Australia for 15 years. She has two sons 5 & 10 years. She writes, edits and runs the social media pages for KidTown Melbourne, a website showcasing all the fun things to do with kids in Melbourne.