By Erica Louise
LEGO Masters Australia is a reality television show on Channel 9, which sees teams compete to build the best LEGO project. It is hosted by Hamish Blake and judged by LEGO Certified Professional Ryan "The Brickman" McNaught.
LEGO Masters Season 2 screened just at the right time for Australian families. The show was a delight to watch during isolating times, showcasing some incredible builds made by a lovely group of creative people.
To celebrate the number one show in Australia and to talk about his life before and after LEGO Masters Season 2, we chat with Ryan "The Brickman" McNaught:
Q. When were you first introduced to LEGO?
A. "I got my first LEGO set when I was three years old, a tiny blue boat that my grandmother bought for me. It cost 29c! I loved LEGO up until around the age of 14 – when it wasn't cool anymore. I didn't touch a brick again until I had kids – I have twin sons. My mum kept all my childhood things and one day said "You'd better have your junk back" ; my LEGO was amongst that. I started playing with LEGO again and remembered how much fun it was. Then I started looking at how LEGO had evolved and changed, so I got back into it that way."
Q. As the only LEGO Certified Professional (LCP) in the Southern Hemisphere, what does it take to become one?
A. "There are 14 of us around the world and we all became LEGO Certified Professionals in a different way. There's no such thing as LEGO University or anything like that. I was doing some work with LEGO MINDSTORMS, which is used in schools to teach kids about STEM learning and engineering. LEGO really liked what I was doing and we had a few chats and it went from there."
Q. When you became an official LEGO Certified Professional, did you travel to LEGO HQ in Denmark?
A. "I met up with the person who looks after that division in Chicago; I used to work in I.T. and would travel quite a lot. However, each year – except this year – we all get together, usually in Denmark or somewhere else in the world, and talk about all things LEGO."
Q. You enjoy running marathons! What do you have planned for the future?  Are there any runs coming up?
A. "I was supposed to be running the Boston Marathon a month ago, and I was supposed to be running in Berlin in September, but unfortunately that's been cancelled too. I've done some virtual runs but it's not quite the same."
Q. Tell us about your time in lockdown and what you've been up to?
A. "I did a bit of running, but we've also been renovating our house over the past 12 months, so there has been lots of renovations whilst in lockdown"
Q. Have the Coronavirus restrictions changed or stopped any work plans that you had?
A. "We have LEGO exhibitions touring around the world. Right now there is one in Saudi Arabia, in Leicester UK, and one in Vancouver Canada. All of those exhibitions have stopped. Everything is on pause and the models are all sitting there getting dusty unfortunately until the world sorts itself out."
Q. Have you been able to work on anything during lockdown?
A. "We're currently building our next exhibition and using the lull to our advantage. It's a little challenging and difficult with social distancing because our team is collaborative. We work together in teams and we can't do a lot of that at the moment so it's very different and its changed what we do a lot."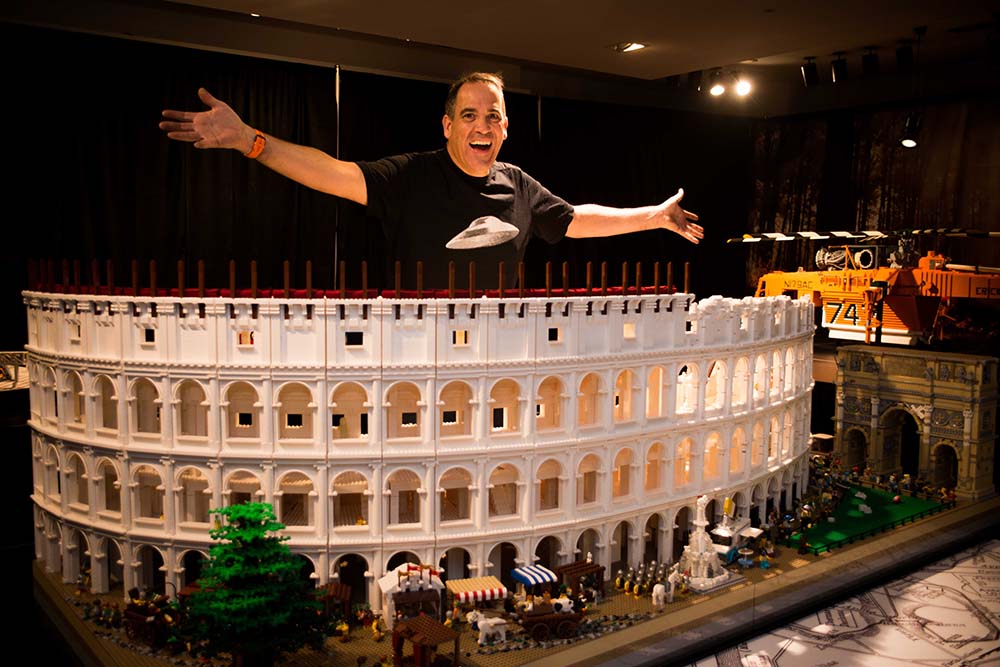 Q. How did LEGO Masters Australia on Channel 9 transpire and how did you get involved with the show?
A. "The original LEGO Masters TV show started in the UK, but in a very different format. I got a call out of the blue from the production company that had bought the rights to the show here, saying they were going to do LEGO Masters Australia and asking if I was interested. Obviously, I know what LEGO can do, but I didn't know how that would translate into a mainstream television show so I was a little hesitant. However, I guess this is a testament to how great the show is, and the quality of people involved; that's what makes it so amazing. We had so much fun making the show."
Q. When you see the contestants' builds at the start of each season, do you get a feeling of who might reach the finals?
A. "I don't really. Just because a contestant's first LEGO build is unbelievably amazing or terrible, doesn't necessarily mean that theme will continue. We see it a lot in LEGO Masters; that the pressure of all the cameras, lights and TV equipment can change what a contestant does."
"And here's something not many people know: I don't want to know anything about who the contestants are until we meet them that first time the roller door goes up. So in the first episode Hamish and I know nothing about the contestants or who they are. That's quite intentional because we want to do that learning on screen. We want to learn about who they are and what kind of LEGO they build."
"I do go along to the auditions to meet and help people, although they do audition about 500 contestants and I don't think any of those I'd met in the auditions for season 2 made it through."
Q. With the longest builds in the LEGO Masters show, for example the tasks that take 28 hours, are these done over an extended time frame with lots of breaks for the contestants?
A. "Yes we take breaks; we don't want to keep people awake for that long! Each day is very different but we usually start filming at 7am and finish around 6pm, with around 8 hours of filming and regular breaks. There are over 50 crew involved in the show: camera operators, sound people, producers and they all need to have a break too. Everyone's clothes get washed and often we'll have three or four of the same shirt – TV Magic!"
Q. We noticed you get quite sad when contestants are eliminated, does it surprise you that you get emotional?
A. "It does surprise me and I always get a little embarrassed about it because I never seem to get emotional anywhere else. I think that the ethos with LEGO is that it's all about being positive and encouraging and so when you have to tell someone that unfortunately their LEGO is not good enough, it goes against that. I know on season 2 on a few occasions, they were amazing LEGO builds but someone had to go home and that's what makes it sad. It's not because they didn't do a good job, weren't good enough or didn't try hard enough."
Q. Do your kids get involved with any of your builds?
A. "I don't have any of my own LEGO at home. The only LEGO we do have at home belongs to the kids so it's up to them to do what they want. However, LEGO was a big part of our isolation time with everyone being at home. Right now one of my kids is building a Jurassic World out of LEGO and the other is building a Japanese subway, but I don't push it on them; they just pester me to come with me to the workshop all the time!"
Q. What has been your most technical/challenging build?
A. "The hardest build, which I've made twice now, was the Roman Colosseum. The reason that's the hardest is that the Colosseum is shaped like an oval. To make an oval out of square bricks is really difficult to do. When I first built that about 10 years ago it was by far the hardest thing I've ever had to make. I've since had to build it again and it was much easier the second time around."
Q. Which of your LEGO builds used the most bricks?
A. "We did a temporary model at the SEA LIFE Sydney Aquarium in Darling Harbour. We covered the whole side of the building in a big LEGO mosaic and we used 16 million LEGO bricks. We had to build it in the middle of summer and we nearly roasted ourselves building the model outside, but we got it done."
Q. Have you ever had a building disaster? Something you had in mind but it didn't quite work out?
A. "The good thing about LEGO is when things aren't quite going the way you want, it's easy to change as you go. I have plenty of those moments all the time. But I have ruined a few LEGO models. I've smashed a couple by accident. I had a huge ice cream build with three big scoops on it and I dropped it, so yes I have had my fair share of disasters."
Q. Can you tell us about Brickman's Family Challenge Book coming out in November?
A. "It all started last year. People love doing LEGO challenges and are always looking for advice on how to do that. We've got this catalogue of literally hundreds of challenges that are great for families to do. So we got together with Murdoch Books and we set out what that challenge book would look like. So we've spent almost a year now working on the book and we're down to the final edit before it gets sent off to the printers."
Q. With lockdown restrictions now lifted, do you have plans for another LEGO exhibition in Melbourne or elsewhere and if so, what can we expect?
A. "We're working on an exhibition, which we will hopefully finish by the end of the year. It's the biggest one we've ever done, so we're busy building away on that which is keeping us busy and entertained. We've pretty much got our work locked in until the end of the year, but it's a very uncertain time and we don't quite know what's going to happen and when. We're not sure where the new exhibition will open yet with many museums and galleries closed. All of our previous exhibitions have opened in Australia and logistics-wise it's always easier for us do to something locally, but don't know yet."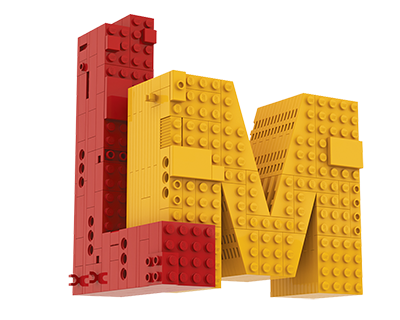 You can watch (or re-watch) every episode of LEGO Masters Season 2 on Channel9NOW and if you're up for the challenge you could also register your interest in LEGO Masters Season 3 via 9now.nine.com.au/lego-masters.
Follow Ryan "The Brickman" McNaught's work via thebrickman.com
---
Erica hails from the United Kingdom, and has been living in Australia for 15 years. She has two sons 5 & 10 years. She writes, edits and runs the social media pages for KidTown Melbourne, a website showcasing all the fun things to do with kids in Melbourne.