Apricot Ice-Cream

No ice-cream maker is needed for this creamy treat. I always make double, as it disappears very quickly. Using coconut cream makes the consistency smooth and rich, and also perfect for those who are lactose intolerant. This is a versatile basic recipe. Substitute the apricots for pureed mango or make an adult version if you are having guests by adding a tablespoon of orange liqueur (Cointreau) before freezing.
Prep time: 10 minutes
Cook time: 15 minutes
Total time: 20 minutes
Serves: 4
Ingredients
200g dried apricots
1 tablespoon lemon juice
1 cup coconut cream [pullquote]Tip: Save the egg whites to make Lemon Meringue Pie another day![/pullquote]
3 egg yolks
¾ cup caster sugar
Method
[dropcap]1[/dropcap] Cook apricots in a saucepan, covered with water until tender (10 – 15 minutes). Drain and place in food processor with lemon juice. Mix to pulp.
[dropcap]2[/dropcap] While the apricots are cooking, heat coconut cream in a small saucepan over medium heat. In a separate bowl beat egg yolks and caster sugar until thick and light in colour, then add to the warm coconut cream and cook, stirring continuously, until it thickens slightly. Do not allow it to boil.
[dropcap]3[/dropcap] Mix apricot puree and coconut custard and allow to cool. Place in an airtight container in the freezer. When partly frozen (about 5 hours), remove from freezer and place in food processor, mixing until smooth. Then return to freezer until completely frozen.
---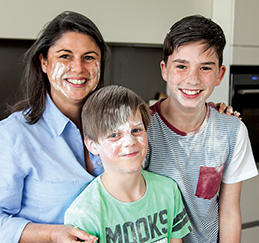 Jodie Blight  |  We're all busy and want quick, healthy and delicious meals but sometimes just don't have the time. Summer TABLE will inspire you to put variety and zest back into your mealtimes and with a free APP to create a shopping list on your phone, dinner will be ready in no time! And – you learn how to use leftovers in innovative new ways.
After years working as a company director in the finance industry, starting a family and moving half way around the world, Jodie Blight discovered her passion – creating healthy, easy and delicious family meals. "A fist pump from the kids is as good as a Michelin
star in my books."
To find out more about this revolutionary cookbook, please visit www.hellotable.com.au or find us on Facebook at www.facebook.com/hellotable