By: Jo Ford
For many women, pregnancy is a long forty week journey, full of ups and downs. Physically and emotionally it can prove to be a challenging time, especially for first time mums. But Leah Huf, isn't like many and most first time mums. Leah's labour started early…at just 26 weeks into her pregnancy.
"I will never forget that day", recalls Leah. "It was June 22, 2013. I was 33 years old, pregnant for the first time and excited at the prospect of having my baby in the spring months. But everything changed that day…"
"When I woke up, my body felt different. I had some aches and pains but reassured myself it was all normal and just part of being pregnant. It was a busy day; friends were visiting and I had to get food at the supermarket. As I wandered through the aisles the pain seemed to amplify. I kept arching my back to try to soothe the sensations, telling myself that these must be Braxton Hicks (mild tightening of the uterus) and they would disappear."
"As soon as I returned home, I ran to sit on the toilet. This seemed to relieve the pain for a few moments and went on for about an hour."
It was only when Leah noticed some light bleeding that she began to become concerned that something was not quite right with the pregnancy. Together with fiancée Chris, they drove to the WHAC (Women's Health Ambulatory Clinic) at Frankston Hospital. "I was seen really quickly and a midwife asked the usual sorts of questions such as name, address, gestation etc. It was as I stood up that the pain really kicked in and I screamed out, arching my back quite violently. Within a flash, an obstetric registrar rushed into the room and examined me."
Feeling bewildered and anxious, Leah could not believe it when the doctor told her she was already 10 cm dilated. "I wasn't really sure what that meant and it was only when he said that I was in 'full labour' did it sink in what was happening."
"Suddenly the small room was full of faces. There were people all around me, maybe 10 or more! I held one of the midwives' hands and she reciprocated, squeezing my hand tightly. I was so afraid at this point and needed reassurance that I wasn't going to lose the baby. I was given a shot of steroids which was to help the baby's lungs. More was to be given 12 hours after."
Still in a state of shock, Leah was briefed on all sorts of information about possible scenarios. "The doctors explained what to expect when I saw the baby for the first time: there was a mention of complications and, if the baby survived at all, it would involve a long hospital stay."
Leah was taken by ambulance to Monash Medical Centre, as Frankston Hospital does not have a neonatal unit that can care for such a premature baby. Another ambulance followed closely behind. "I asked why there were two ambulances and was told that it might be needed if I had the baby on the way!!!! I was scared and in tears but tried to remain calm, not wanting to stress my body further."
"At Monash, I was taken into a labour suite. My brother, sister-in-law and Chris arrived soon after. For the next 8 hours, I had to lay flat on my back. I couldn't move around or weight-bare and I was connected to numerous machines which were monitoring both me and the baby. The labour was delayed with medication to try to allow the steroids to do their job but at 10 pm I was rushed into the theatre suite for an emergency caesarean."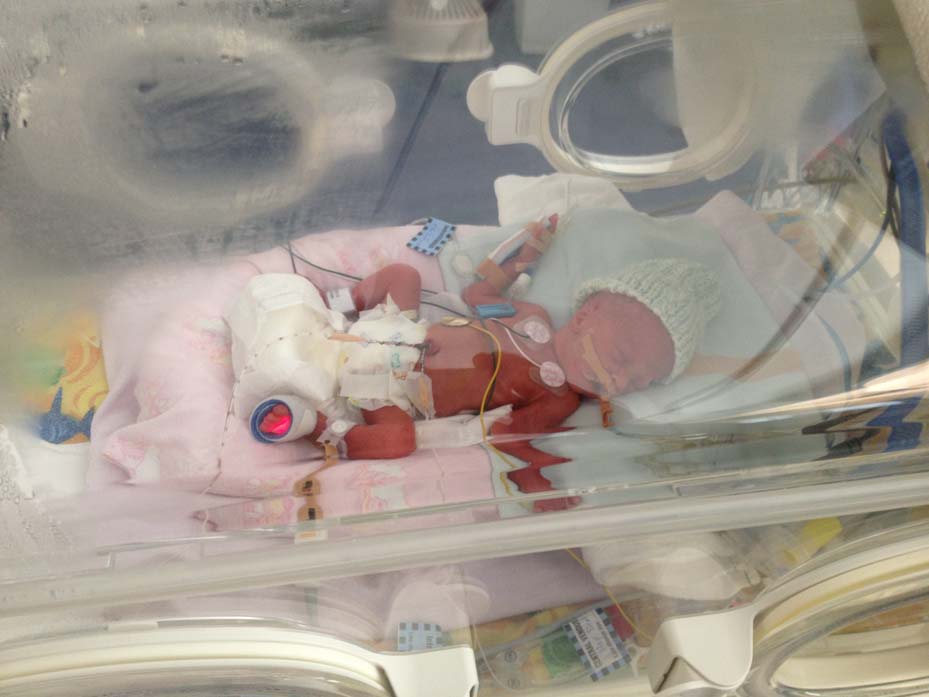 "The baby was delivered and quickly taken away. I glimpsed my helpless daughter across the room in the doctor's hands. She was so, so tiny and red in colour, weighing a mere 910 grams."
Leah named her baby daughter Aura. "The first time I saw her face was from a photo sent to my phone and I did not get to meet her until nine hours after she was delivered. I waited a whole month before I could eventually cuddle her. It certainly was not the introduction to life I was expecting or hoping for."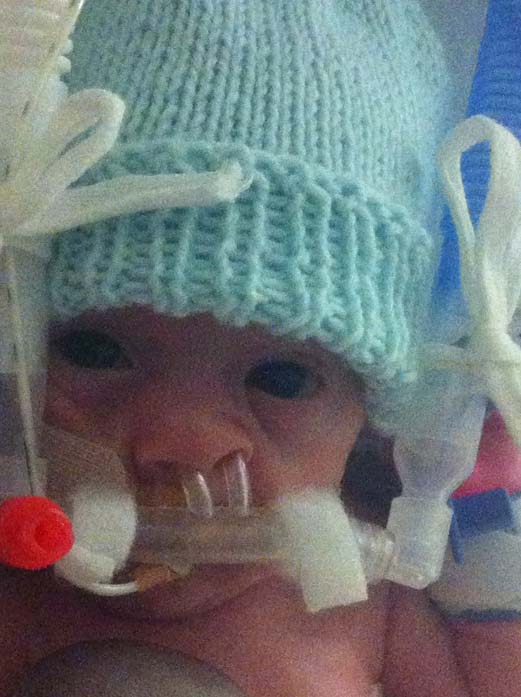 Baby Aura was alive but connected to an assortment of wires and tubes. "We were told to be prepared for any scenario: infection was something we needed to be concerned about. Oxygen had been administered immediately after she was born and we would not know if any damage had occurred for quite some time. We had no idea what to expect; we were so far out of our comfort zone."
Aura stayed in Monash NICU (Neonatal Intensive Care Unit) for four and a half months and for both Leah and Chris, it was a long and intense journey. Leah reflects on that time, "We were exposed to a whole new world. Every day was different. Some days we took steps forward and other days backwards."
Aura was on 24 hour oxygen for the first 8 months of her life and had a nasal gastric feeding tube for 14 months in total.
"Finally, after 128 days we were allowed to take Aura home. It was surreal. We had waited so long to do this and it was such a beautiful moment – travelling away from the hospital and back to our house with our daughter beside us."
After the oxygen was set up at home and mobile tanks supplied, the couple started their 'new life'. "We just had to get on with things without dwelling on what had happened. There were so many appointments to attend so that we could support Aura's needs."
Aura needed to be weighed weekly at the Dromana Maternal Health Centre. "Each week we were met by Anne, our lovely caring nurse. Anne's support and information was crucial for me. As a first time mum, I was guided by her every step of the way – from milestones, vaccine information, introduction to food, everything and anything.  I was also linked into a range of community services from physiotherapists, dieticians, oral therapists, paediatricians, breastfeeding consultants, respiratory specialists, heart specialists and a wonderful support organisation called Biala, located in Mornington. It was here that I met two ladies called Kate and Ange. They hosted a monthly mothers' group and truly helped to heal me. They gave me such valuable insight as to what our future would be like with a 'premmie'."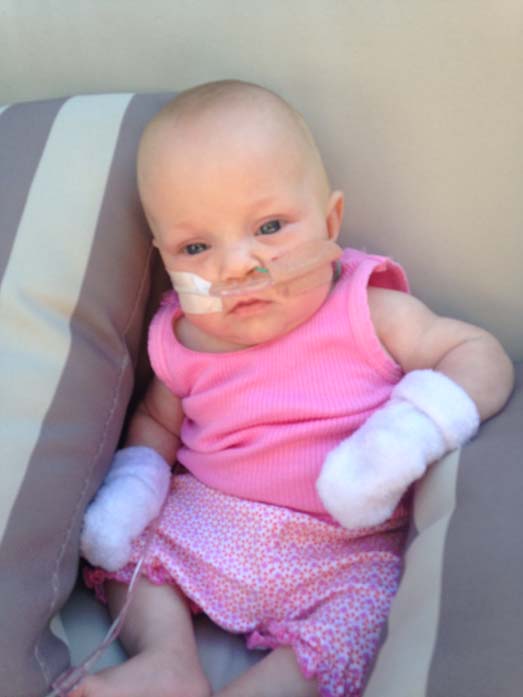 "Aura and I attended this group for two years and made some special friends, discussed some intensely raw topics and shared our premmie stories. I will always cherish Biala and especially Kate and Ange for all the care and support they offered to both Aura and me."
In order that Aura gain as much weight as possible, she had been awoken frequently though the night whilst in NICU. "Right from birth Aura would need to be woken up to feed and this went on until she was one and a half. Once at home, Aura would often wake up three or four times per night for a feed."
The sleep deprivation was starting to take a toll on the family and after careful consideration Leah decided to seek some support. "I had been referred to a sleep consultant, a magical lady called Mandy Hose from "Mandy Hose She knows". Mandy's expertise dramatically changed our lives for the better. Getting proper, healthy 'uninterrupted' sleep cannot be underestimated. Feeling tired and lethargic day after day is utterly horrible. There are still times when Aura will become unsettled but we simply refer back to the routine Mandy provided to help bring things back on track. It seems to work!"
"Luckily for us, we now have a beautiful, perfectly healthy three and a half year old who is everything we could want in mind body and spirit. I feel truly blessed that we have a success story with Aura. Sadly some families aren't so lucky and my heart goes out to them."
"I also feel so grateful that we had access to the unbelievable support services on the Mornington Peninsula and beyond. Monash NICU nurses and hospital services were fundamental in taking care of Aura from so early on and they deserve such praise. "We are certainly very lucky to live where we do!"
---
Jo Ford runs Bodybump (pregnancy and post-natal aqua and fitness classes) and is bringing up two gorgeous girls, Lily and Rose. In her (limited) spare time, you'll find her at the gym practicing what she preaches.
If you have an interesting pregnancy or birth story, contact Jo at bodybumpfitness@gmail.com