Prep Time: 5 mins
Cooking Time: 5 mins
Serves: 2
Ingredients
1 large ripe banana, mashed
1 egg
2 tablespoons buckwheat flour
pinch ground cinnamon
1 teaspoon butter
½ tablespoon honey or maple syrup (optional)
1 tablespoon yoghurt (optional)
berries (optional)
Method
In a small bowl, mash the banana with a fork. Add egg, flour and cinnamon to the banana and whisk together.
Heat a crepe pan or small frying pan over medium heat. Add a small amount of butter and drop large tablespoon size dollops of batter into the pan.
Cook for about 1 minute then flip and cook for a further 30 seconds until the other side is cooked. Transfer to a plate and cover with foil until you are ready to serve.
Continue making the rest of the mixture, adding more butter as needed.
Serve drizzled with honey, berries and a dollop of yoghurt.
---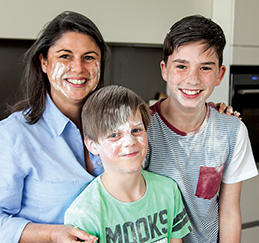 With so many of our Peninsula families affected by gluten intolerance and coeliac disease, we have decided to focus on recipes which can be enjoyed by GF and non-GF alike.
Jodie Blight has developed an amazing new App which enables you to scan the recipe from Peninsula Kids Magazine to create a shopping list on your phone. All in the name of making dinner time easier.
Endorsed by Coeliac Australia so you have peace of mind that every recipe is 100% gluten free.
Download the recipeezi Gluten Free App from the App Stores (it's FREE), use the App to scan the recipe QR code and voila, your shopping list awaits!