This is a recipe my husband cooked in his bachelor days and is a bit of fun, but can make a mess of the barbecue. He still loves to cook it now for the kids, even though his bachelor days are long gone. Dial the heat up or down by increasing or decreasing the chilli.
Prep time: 10 minutes
Cook time: 10 minutes
Total time: 20 minutes
Serves: 4
Ingredients
250g wide egg noodles
2 tablespoons olive oil
20 green prawns, peeled and deveined
1 long red chilli, deseeded and finely chopped (optional)
2 garlic cloves, finely chopped
½ tablespoon finely chopped ginger
1 large or 2 small bok choy, chopped
4 spring onions, sliced
50 g snow peas, cut on diagonal
1 red capsicum, sliced
250g bean shoots
1 handful coriander, chopped
Teriyaki sauce
3 tablespoons soy sauce
3 tablespoons mirin
2 tablespoons honey
1 tablespoon sesame oil
1 tablespoon sweet chilli sauce
2 cm piece ginger, sliced thickly
1 garlic clove, sliced thickly
Method
Cook noodles according to the packet instructions, but remove 2 minutes prior to the required time so they are slightly undercooked (about 6–8 minutes).
Combine all teriyaki sauce ingredients in a saucepan, bring to boil then reduce heat and simmer for 5 minutes until sauce thickens. Remove garlic and ginger pieces and allow to cool slightly.
On a barbecue hotplate, heat 1 tablespoon of oil and cook prawns with half of the chopped chilli, garlic and ginger for 3–4 minutes until the prawns change colour. Remove from hotplate and set aside.
Add another tablespoon of oil to hotplate and cook remaining chilli, garlic and ginger together with chopped

 

bok choy, spring onion, snow peas and capsicum. Cook until vegetables soften.
Add cooked noodles with half teriyaki sauce, mixing until heated through.
Remove noodles and vegetables from barbecue and toss in a large serving bowl with prawns, remaining teriyaki sauce and bean shoots. Sprinkle with coriander leaves and serve.
---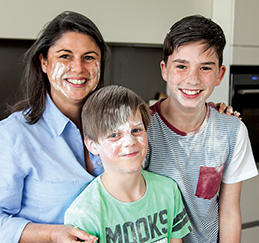 Jodie Blight | We're all busy and want quick, healthy and delicious meals but sometimes just don't have the time. Summer TABLE will inspire you to put variety and zest back into your mealtimes and with a free APP to create a shopping list on your phone, dinner will be ready in no time! And – you learn how to use leftovers in innovative new ways.
After years working as a company director in the finance industry, starting a family and moving half way around the world, Jodie Blight discovered her passion – creating healthy, easy and delicious family meals. "A fist pump from the kids is as good as a Michelin star in my books."
To find out more about this revolutionary cookbook, please visit www.hellotable.com.au or find us on Facebook at www.facebook.com/hellotable