Prep time: 10 minutes
Cook time: 4-6 minutes
Total time: 15 minutes
Serves: 4
Ingredients:
4 salmon fillets, skin on
zest 1 lemon
1 tablespoon baby capers, chopped (optional)
1 fennel bulb, finely sliced (keep the leafy fronds)
2 tablespoons olive oil
salt and pepper
4 handfuls mixed lettuce leaves
2 oranges, peeled and sliced
½ red onion, finely sliced
1 handful coriander, chopped
Dressing
3 tablespoons orange juice
6 tablespoons olive oil
2 tablespoons white condiment (white balsamic vinegar)
1 tablespoon gluten free wholegrain mustard*
Method:
On a chopping board, combine lemon zest, capers and leafy fennel fronds and chop together. Rinse and pat the salmon dry. On the top side of each salmon fillet, cut three or four shallow slits in the flesh. Place fillets on a plate, oil and generously cover with lemon zest mixture, trying to get it into the slits so as to keep the flavour from falling off during cooking. Sprinkle with salt and pepper.
On a medium–high barbecue, cook for 2–3 minutes each side. Start with the skin side down and when you turn it over remove the skin and place skin on the hotplate to continue cooking until crisp. If the fillets have a thick and a thin end, you may want to cut them in half, as the thin piece will need much less time to cook.
Remove from barbecue and arrange on a plate.
Combine lettuce, orange, sliced fennel and onion in a large salad bowl.
To make dressing, shake ingredients in a jar until combined. Taste and adjust to your liking. Pour over salad and toss together.
Sprinkle with coriander leaves and serve with salmon.
*Of course feel free to use normal wholegrain mustard if you are not GF!
---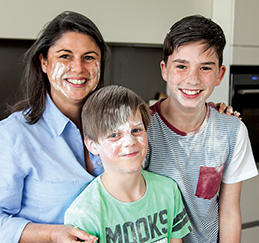 With so many of our Peninsula families affected by gluten intolerance and coeliac disease, we have decided to focus on recipes which can be enjoyed by GF and non-GF alike.
Jodie Blight has developed an amazing new App which enables you to scan the recipe from Peninsula Kids Magazine to create a shopping list on your phone. All in the name of making dinner time easier.
Endorsed by Coeliac Australia so you have peace of mind that every recipe is 100% gluten free.
Download the recipeezi Gluten Free App from the App Stores (it's FREE), use the App to scan the recipe QR code and voila, your shopping list awaits!
Even if you are not GF, I promise you will love every recipe.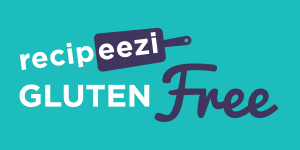 Peninsula Kids – Autumn 2019