Perfecting the best spelt pizza base has been a year-long process. This recipe is quick and easy, and you don't have to wait for the dough to rise. Trust me, you'll love it! We cook our pizzas on a pizza stone in the barbecue with the lid closed. It produces a perfectly crisp crust and gives an extra smoky flavour.
Prep time 15 minutes
Cook time 15minutes
Total time 30 minutes
Serves 4
Ingredients
Tomato pizza sauce
400g crushed tomatoes (1 tin)
2 garlic cloves, crushed
salt and pepper
Pizza base
2¼ cups spelt flour
1 tablespoon baking powder
½ tablespoon salt
1 cup Greek yoghurt
1 tablespoon olive oil
extra spelt flour for kneading
Toppings
400g cooked chicken
½ red onion, sliced
8 mushrooms, sliced
4 slices prosciutto, torn
100g feta, crumbled
smoky barbecue sauce
1 handful rocket leaves
Method
[dropcap]1[/dropcap] Place pizza stone in oven or barbecue when cold and heat at 200°C for about 10 minutes while you prepare the dough.
[dropcap]2[/dropcap] To make tomato pizza sauce, place tomatoes, garlic, herbs, salt and pepper in a small frying pan and boil on medium high heat for 10 minutes, or until sauce thickens. Stir occasionally and break up any lumps with your spoon. Then put aside.
[dropcap]3[/dropcap] To make the base, sift spelt flour with baking powder and salt into a mixing bowl. To make sure the baking powder is mixed through evenly, sift again. Add yoghurt and olive oil and mix until it comes together.
[dropcap]4[/dropcap] Turn dough out onto a lightly floured surface (ideally a wooden board so the dough doesn't stick). Knead for 5-8 minutes, until elastic. Add more flour as you knead. It is ready when the top of the dough bounces back when pressed, leaving no indentation. Cut dough into quarters.
[dropcap]5[/dropcap] Roll dough to preferred thickness. Spread with tomato sauce, and then top with chicken, onion, mushrooms, prosciutto and feta, finishing with a squeeze of barbecue sauce. Transfer to hot pizza stone and bake for 10–15 minutes, or until golden brown. Remove when pizza is cooked and allow to cool slightly.
[dropcap]6[/dropcap] Top with an extra squeeze of smoky barbecue sauce and rocket.
[pullquote]TIP[/pullquote] If you prefer, combine 2 cups self-raising flour with 1 cup greek yoghurt. Follow the same instructions. *If you don't have a pizza stone, use an oven tray covered with baking paper.
---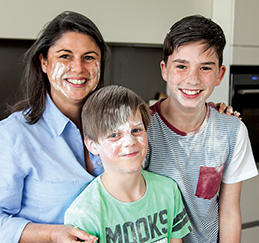 Jodie BLIGHT  – We're all busy and want quick, healthy and delicious meals but sometimes just don't have the time. Summer TABLE will inspire you to put variety and zest back into your mealtimes and with a free APP to create a shopping list on your phone, dinner will be ready in no time! And – you learn how to use leftovers in innovative new ways.
After years working as a company director in the finance industry, starting a family and moving half way around the world, Jodie Blight discovered her passion – creating healthy, easy and delicious family meals. "A fist pump from the kids is as good as a Michelin star in my books."
To find out more about this revolutionary cookbook, please visit www.hellotable.com.au or Facebook www.facebook.com/hellotable