Hugely popular online reading program ABC Reading Eggs is kicking off 2018 by once again partnering with bubbly Aussie media personality Bec Judd. The popular radio and TV presenter and busy mum of four will work with the award-winning program inspiring parents to encourage their children to develop an early love of reading.
Parents will be offered an extended free trial of ABC Reading Eggs – the award-winning program that makes learning to read easy and fun for kids aged two to thirteen. The trial gives your child access to a range of the most comprehensive online reading programs including Reading Eggs Junior for two to four-year-olds, Reading Eggs for four to seven, and Reading Eggspress for seven to thirteen. Also available is their popular online maths program, ABC Mathseeds for ages three to nine.
ABC Reading Eggs uses a progressive sequence of highly interactive lessons, games, activities and e-books. The comprehensive program is designed by expert educators and has been used by over 10 million children worldwide.
Rebecca, who is mum to Oscar, 6, Billie, 4, and twin sons Tom and Darcy, 18 months, will share the trials and tribulations of motherhood and her children's experiences with ABC Reading Eggs. She will also appear in new video content with her kids. As a former speech pathologist, Rebecca understands the value of children developing vital reading skills at a young age.
"I think the program gives kids a really good head start in reading and can aid in developing communication skills as the flow-on effects to the brain's processing system are really positive," Bec says. "It's good for sequencing and retaining information. It also has an emphasis on phonics which we know is the best way to learn to read. Plus, it's already used successfully by millions of kids around the world so the proof's in the pudding.
"My own kids have now been using the ABC Reading Eggs program for a few years and continue to enjoy using it. Oscar is now in year one at school and has come along in leaps and bounds with his reading, thanks in part to the program. He's has so much fun with all the lessons and games and it's continuing to enhance his reading skills which are growing rapidly all the time.
"Meanwhile Billie who's four is having fun getting to know all the letters and sounds of the alphabet as she gets ready for prep next year. Even the twins who'll be turning two this year are itching to see what all the fun is about!"
Katy Pike, lead publisher of the program, says she's excited to partner with Bec once more. "We couldn't be more excited to join forces with Bec to reach out to other Australian parents who want to give their children the best possible start in life," Katy says.
ABC Reading Eggs includes hundreds of one-on-one reading lessons that teach children essential early literacy skills, including phonics and sight word recognition. Parents can access detailed assessment reports to track their child's progress, and print out certificates and worksheets, which supplement the program.
Based on scientific research and the most up-to-date learning principles, ABC Reading Eggs uses a highly motivational reward system, which keeps children highly engaged while they learn to read.
It also includes an online library of over 2000 children's books to suit all reading levels.
Ms Pike says many parents find it difficult to know where to start when it comes to teaching their kids to read.
"ABC Reading Eggs is created to make a real difference at home, making it as easy as possible for children to learn the many skills they need to learn to read and further develop their comprehension, spelling, grammar, and writing skills," she says.
"As a mother of four, I know that it's wonderful to be part of the journey. Watching your child enjoy that sense of achievement as they learn each new skill is always a pleasure. Together with Bec, we hope to bring this incredibly special experience to every child and parent."
8 easy steps to boost your reading skills
[dropcap]1[/dropcap]POINT OUT WORDS
Point out and read street signs, billboards and labels when you're at the supermarket or visiting a new place. This draws your child's attention to the different sounds that make up printed words. Ask them if they recognise certain letters (both uppercase and lowercase) as well as the sounds they make.
[dropcap]2[/dropcap]FILL YOUR HOME WITH THINGS TO READ
Surround your child with a range of reading materials such as books, kids' magazines, posters and charts. Creating a print-rich environment from an early age encourages your child's interest in reading. You can even give them their own bookcase or a special reading nook at home.
[dropcap]3[/dropcap]GIVE A LOT OF PRAISE
Even if your child is making small progress in their reading, make sure they know how proud you are of their efforts. Encouraging them to pick up a book or have a go at sounding out tricky words will boost their confidence and motivate them to keep trying. Remember to praise their efforts rather than how "smart" they are.
[dropcap]4[/dropcap]USE TECHNOLOGY TO ENHANCE LEARNING
Digital technology has come a long way and is now incorporated into most classrooms. Online reading programs like ABC Reading Eggs are designed by experienced educators to build essential reading skills in a fun, interactive and motivating way. Remember, not all apps are created equal. ABC Reading Eggs is great because it's based on scientific research and doesn't bombard your child with ads and needless distractions.
[dropcap]5[/dropcap]READ AND SING NURSERY RHYMES
Nursery rhymes are not only fun to read, they develop essential pre-literacy skills like phonemic awareness and build vocabulary. Choose nursery rhymes that have a lot of repetition, which also makes remembering sounds, words, lines and verses easier. 
[dropcap]6[/dropcap]PLAY WITH 'ONSETS' AND 'RIMES'
A fun way to teach your child how to decode words is by playing with onsets (the first phonological unit of a word) and rimes (the string of letters that follow). Cut out pieces of cards and write a phoneme on each one (e.g. b, c, f, p, r, s, m and h). Then write the letters 'at' on a different card. Ask your child to create words by matching cards (e.g. b + at = bat).
[dropcap]7[/dropcap]READ TO THE FAMILY DOG
Our companion animals make the perfect reading partner, especially for children who are struggling with reading and may fear being judged. If you don't have animals at home (or can't get yours to sit still), try getting your child to read to a younger sibling or even their toys.
[dropcap]8[/dropcap]READ TOGETHER EVERY DAY
Reading together regularly is the single most important thing you can do to build your child's reading skills. Making reading a fun, relaxed and bonding experience helps to nurture their love of reading, which is crucial for sustained success. It's as simple as sharing a nightly bedtime story to get them on the right path.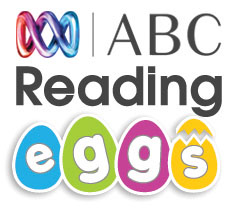 For a limited time only, new customers can enjoy a 4 week FREE trial of ABC Reading Eggs at www.readingeggs.com.au/getreading.
Try the multi-award winning online reading program for ages 2-13 and see how your child's reading skills improve in just weeks!