Kids love eating with their hands, and tacos are always a winner. Put the prepared ingredients in the middle of the table and let everyone make their own. I have allowed three tacos per person, but they are so delicious, you may need more. If you don't have any leftover beef, give it a go with fresh beef mince.
Prep time: 10 minutes
Cook time: 10 minutes
Total time: 20 minutes
Serves: 4
Ingredients
12 taco shells
1 tablespoon olive oil
1 onion, diced
3 teaspoons ground cumin
3 teaspoons ground coriander
2 teaspoons smoked paprika
½ teaspoon cayenne pepper
400 g roast beef
600 g chunky tomato salsa (2 jars)
½ – 1 jar water (empty salsa jar)
Toppings
2 tomatoes, diced
¼ iceberg lettuce, finely shredded
2 handfuls cheddar cheese, grated
sour cream to serve
Guacamole
2 soft avocados
½ red onion, finely diced
2 garlic cloves, crushed
2 tablespoons lime juice
1 handful coriander, chopped
½ teaspoon ground cumin
½ teaspoon ground coriander
1 tomato, finely diced (optional)
1 long red chilli, deseeded, chopped
salt and pepper
Method
Preheat oven to 140°C. Remove tacos from package and follow instructions to heat (5 minutes).
Finely chop beef in the food processor.
Heat oil in a frying pan over high heat.
Cook onion until slightly soft, then add spices and cook for an additional minute.
Add chopped roast beef to pan with salsa and half a jar of water and simmer for 5 minutes (if too dry, add more water).
Fill each taco shell with 2 tablespoons of beef mixture and top with chopped tomatoes, lettuce, cheese, guacamole and sour cream.
To make guacamole:
Mash avocado in a bowl with a fork until smooth. Then add onion, garlic, lime juice, chopped coriander leaves, ground cumin, ground coriander, tomato and chilli. Combine and season with salt and pepper to taste.
---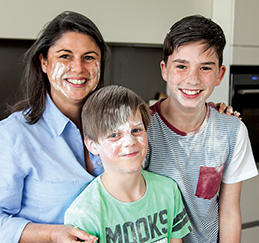 Jodie Blight | We're all busy and want quick, healthy and delicious meals but sometimes just don't have the time. Summer TABLE will inspire you to put variety and zest back into your mealtimes and with a free APP to create a shopping list on your phone, dinner will be ready in no time! And – you learn how to use leftovers in innovative new ways.
After years working as a company director in the finance industry, starting a family and moving half way around the world, Jodie Blight discovered her passion – creating healthy, easy and delicious family meals. "A fist pump from the kids is as good as a Michelin star in my books."
To find out more about this revolutionary cookbook, please visit www.hellotable.com.au or find us on Facebook at www.facebook.com/hellotable