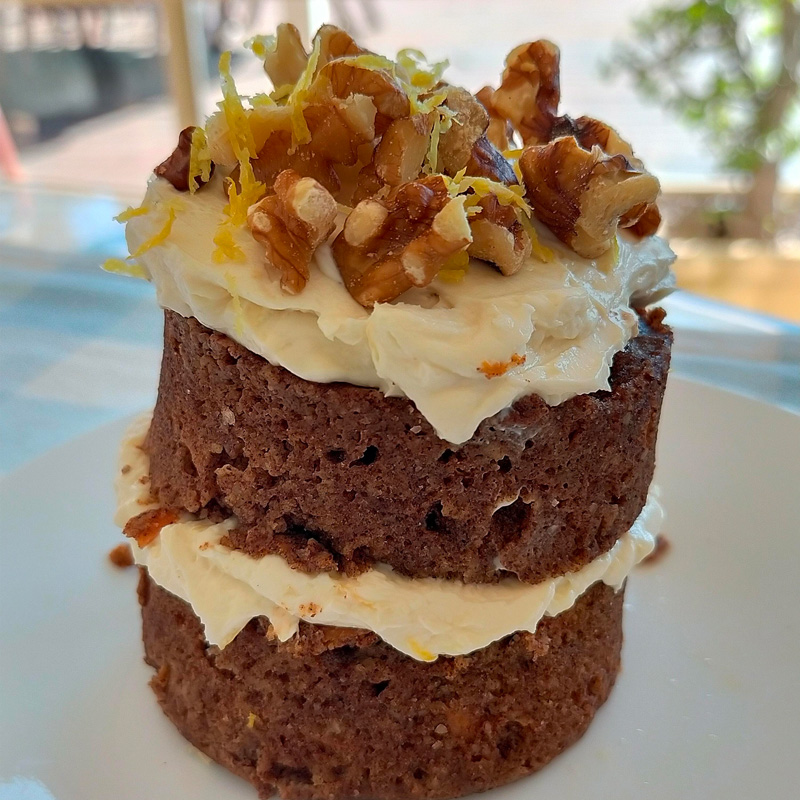 Prep time: 10 minutes
Serves: 2
One of my favourite variations using our Vanilla "hug in a mug" mix, this healthy gluten-free/sugar-free/low-carb carrot cake can be ready in less than 10 minutes. Recipe below is for making two cakes from one of our mug cake packs but you can also make one at a time and reseal pack for later use. Check out our website and social media pages for a full video showing how easy this is to prepare.
Ingredients
1 pack Vanilla "Hug in a Mug" Mix
2 tblsp melted butter (or coconut oil/ghee)
2 large eggs, beaten (room temp)
4 tblsp grated carrot
1 tsp cinnamon
Zesty cream cheese icing
200g cream cheese
¼ cup natvia or similar granulated
sweetener (ground in nutribullet if possible)
1 tblsp lemon zest, finely grated (or more to taste)
(chopped walnuts and lemon zest for decoration on top)
1 tsp vanilla essence
2 tsp cream
Method
Place 1 tblsp melted butter in each standard size mug (butter can be melted in microwave 30-60 seconds).
Pour half pack of mug cake mix into each mug (approx. ¼ cup).
Grate carrot and place 2 tblsp into each mug.
Place 1 tsp cinnamon and 1 egg in each mug.
Stir really well to combine.
Microwave one mug at a time for 90 seconds. Turn cake out of mug onto plate (cake will be hot) then invert so top is back on top (Can also bake in an oven if preferred on moderate temperature for 15-20 minutes in ovenproof mug or ramekin).
Let cool for a few mins then slice each mug cake in half and spread icing in middle and on top.
Chop walnuts to sprinkle on top along with lemon zest.
Zesty cream cheese icing
Place all ingredients except lemon zest in medium bowl and use hand beater to beat until combined and smooth. Stir through lemon zest.
---

After experiencing health problems three years ago, Linda changed to a low-sugar real food diet and was amazed at the results. Over a six month period, she easily lost 15kg of stubborn weight that she'd struggled with for decades, her energy levels improved to an all-time high and her mental clarity returned in abundance. Her husband joined her on this mission and also lost 20kg easily in 6 months and felt fantastic. One of the keys to their success was not feeling deprived of their favourite foods, especially cupcakes and porridge.
Linda launched her business "Simply Swap Foods" in November 2020 to help others on their journey to a healthier way of life. She loves sharing her recipes, story and knowledge about the benefits of reducing sugar and just eating real food. All Linda has done – with time and research – is 'simply swapped' some foods in her diet and she hopes to show others just how easy it can be and how fantastic you can feel. You really can indulge yourself and feel great too!
Check out the full product range at www.simplyswapfoods.com.au and follow Linda on her Facebook and Instagram pages for regular recipes and information. And don't forget to download your free recipe eBook containing 16 favourite sugar-free/low-carb recipes