By Danielle Collis Photos Lisa Atkinson
From pink frosting to layers of decorative roses, it's a piece of cake for 14-year-old Mornington Peninsula pâtissier, Ceara.
Ceara's passion for baking stems from her grandmother, a professional baker from Ireland. "Whenever she came to visit, she and I would spend all our time together baking in the kitchen," she says. Ceara continued her passion for cooking whilst in school. "I looked forward to it every day," she says. But it was your generic 'cooking class', Ceara was being taught cooking in maths and science, as the teachers used cooking and measurements to teach. She was fascinated by science and chemical reactions. She cooked her first cake on her own at the age of seven. Her skills developed over time, and now in year eight, at 14, Ceara is selling her cakes online.
Ceara was selling her cakes to family friends, but word spread quickly. In January 2020, she posted in a community Facebook group about her idea to bake cakes and donate all proceeds to a charity during the bushfires. She was overwhelmed by the response. "I had no idea of the response that I would get," she says. "I spent the whole month of January baking cakes," raising a total of $850, which was donated to Zoos Victoria. "People posted such lovely comments and really supported me," she says. From that point on, she continued to grow.
During lockdown she was promoted on Facebook by 'Peninsula Food with Love: Eat and Drink Local, Support Local' and she received about four cake orders each week. She continues to share her stories across social media on Facebook and Instagram. Being tech-savvy, Ceara was posting regularly to social media, sharing her cake creations, filming quirky videos, and even collaborating with bakers around the world. Even though she doesn't have a Tik Tok account, she films dance moves whilst making her cakes.
She then edits the footage to create her 'cake Tik Toks'. She now has over 950 followers on Instagram with about 100 new followers each month. Her collaboration with bakers around the world and Australia included baking cakes within a theme, posting the pictures on the same day and tagging each other. One of Ceara's creations was shared by a Queensland baker who has over 35,000 followers.
By watching YouTube videos, Ceara has been able to expand her knowledge and experiment. Ceara has spoken with numerous experts and continues to research. "I really know what is going on when I bake, and also if I have a disaster, I know how to fix it!," she says. By working hard and dedicating time to her baking, Ceara said it's not about having talent. "I actually don't like being told I have talent, because that kind of says I don't need to work hard at something. When you work hard and get a good result, you want people to see that it's because you have worked hard, not because your magically good at it," she says. When asked what the hardest thing about baking was, Ceara said it's the fact that she can eat the end results!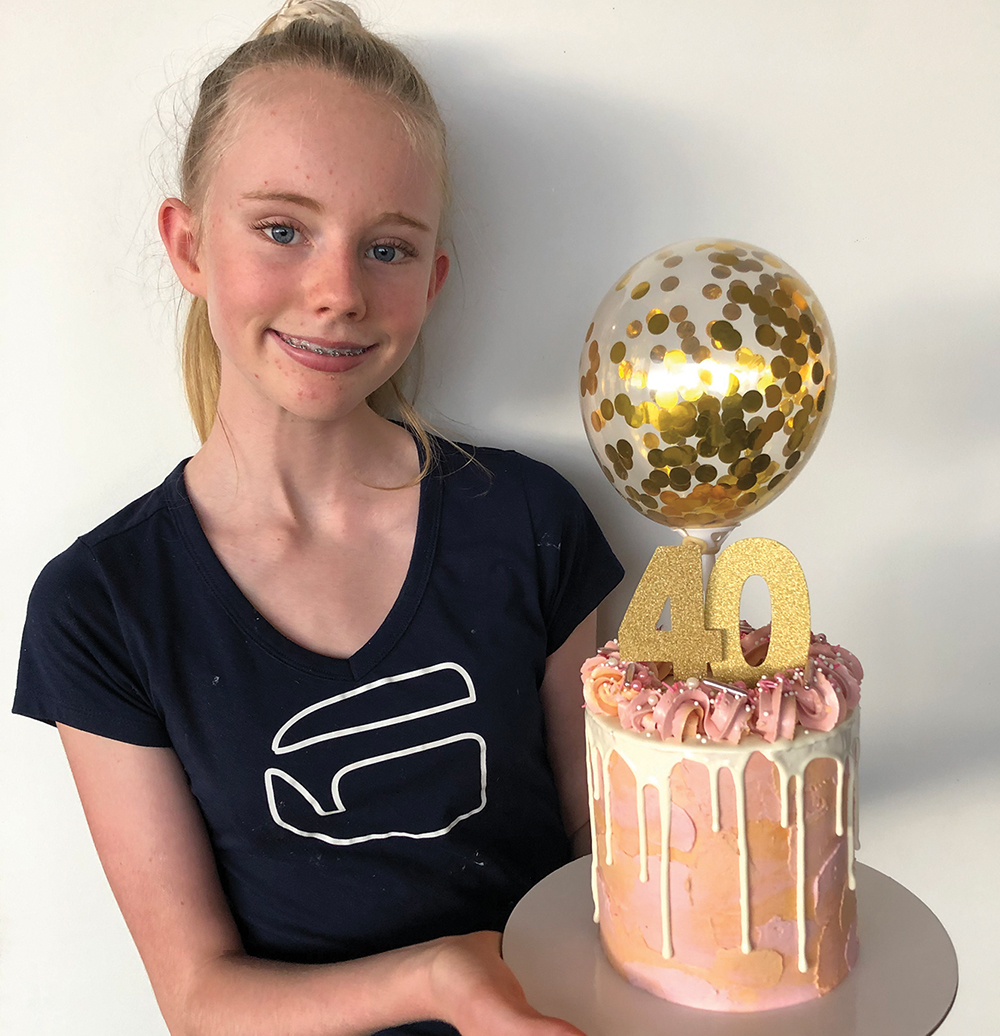 Aside from baking, Ceara has also been practicing karate. She is a part of the state and national team from Kumite and last year won a gold medal at the AUS Open Schools Championship. Furthermore she won a gold medal at the Victorian state championships, and a bronze at the national championships.
As a young role model to other girls, Ceara wants people to know that business ideas can come from anywhere and anyone, no matter their age. "You just need determination, passion and purpose," she says. Her advice is to be patient, start with friends and family and "just go for it."
Ceara said she would love to be on MasterChef one day and have a career as a food critic or pastry chef.
Follow Ceara on Instagram @ceara_bakes