Chicken and Rice Stuffed Capsicum
Prep: 45 minutes  |  Cooking: 1 hour  |  Serves: 4
Stuff to make them:
1 medium onion finely chopped

2 garlic cloves finely chopped

1 cup uncooked white rice

½ cup pine nuts

1 carrot coarsely grated

4 large green capsicums

500g chicken mince

3 TBS tomato paste

1 TBS olive oil

3 cups of water

Grated parmesan cheese

Salt and pepper to taste
To make:
Stuffing: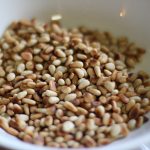 Cook rice however you choose; boiling, absorption, microwave
Toast off pine nuts in dry pan and set aside
Add olive oil and onion to pan and cook until soft 
Add garlic and cook until fragrant
Combine chicken mince with onion and garlic and cook over medium-high heat while breaking up mince until chicken is pale and cooked through (about 10 minutes)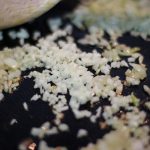 Season with salt and pepper if desired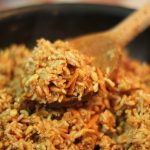 Add grated carrot and two TBS tomato paste mixed into 1 cup of water – cook for 5 minutes and then remove pan from heat
Add pine nuts and rice to pan and mix well
Capsicums: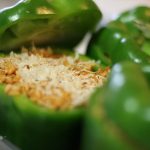 Cut tops off of capsicums and clean out seeds and white flesh.  Reserve tops to put back on.
Divide stuffing mixture evenly amongst capsicums and top each with some grated parmesan. 
Put tops back on and fit into baking pan so that capsicums are tightly packed to prevent them from falling over.
Mix remaining TBS of tomato paste with 2 cups of water and fill pan so that peppers are sitting in 2 cm of liquid.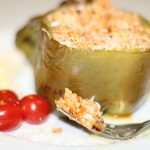 Cover pan tightly with aluminium foil and cook at 200C for 50 minutes.  Remove foil and cook for another 10 minutes.
Serve with crusty bread and butter
Inside scoop:
If the peppers are wobbly – slice off a bit of the rounded bottoms to make them stand at attention!