Chicken fajitas are so easy and delicious! We have a competition in our house – whoever has the cleanest plate gets out of doing the dishes. Give it a go it's not as easy as you might think. I will let you in on the secret – less is more! A rookie mistake is putting too much filling in and not being able to fold the tortilla.
Prep time 10 minutes
Cook time 10 minutes
Total time 20 minutes
Serves 4 (2 per person)
Ingredients
8 wholegrain tortillas
1 tablespoon olive oil
1 onion, cut into wedges
1 red capsicum, sliced
300g chunky tomato salsa (1 jar)
100 ml water
400g cooked chicken, shredded
2 tomatoes, diced
¼ iceberg lettuce, finely sliced
125g corn kernels
100g cheddar cheese, grated
sour cream to serve
Guacamole
2 soft avocados
½ red onion, finely diced
1 garlic clove, crushed
2 tablespoons lime juice
1 handful coriander, chopped
1 tomato, finely diced (optional)
1 long red chilli, deseeded, finely chopped (optional)
½ teaspoon ground cumin
½ teaspoon ground coriander
salt and pepper
Method
[dropcap]1[/dropcap]Remove tortillas from packaging and wrap in foil, making sure all the edges of the foil are sealed tight so the tortillas don't get crispy. Place in a warm oven (140C) for 5–10 minutes while you prepare the remaining ingredients.
[dropcap]2[/dropcap]Heat olive oil in a large frying pan (preferably with a lid). Cook onion until soft then add capsicum and cook for 1–2 minutes. Add salsa, water and chicken to pan. Bring to boil, cover with lid, and simmer until sauce thickens (about 5 minutes). Prepare and chop other ingredients.
[dropcap]3[/dropcap]To make guacamole, mash avocados in a bowl with a fork until smooth. Add remaining ingredients and stir to combine.
[dropcap]4[/dropcap]Arrange ingredients on a platter in the middle of the table. Remove the tortillas from the oven and divide among serving plates. Assemble fajitas with chicken salsa down the middle of each tortilla. Top with tomato, lettuce, corn, cheese, a dollop of sour cream and guacamole. Then fold like an envelope and tuck in.
[pullquote]TIP[/pullquote]To make a really quick guacamole, mash an avocado in a bowl with 3 tablespoons of Praise Italian Salad dressing, salt and pepper. Taste and adjust to your liking.
---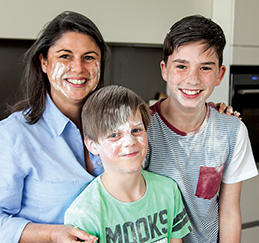 Jodie BLIGHT  – We're all busy and want quick, healthy and delicious meals but sometimes just don't have the time. Summer TABLE will inspire you to put variety and zest back into your mealtimes and with a free APP to create a shopping list on your phone, dinner will be ready in no time! And – you learn how to use leftovers in innovative new ways.
After years working as a company director in the finance industry, starting a family and moving half way around the world, Jodie Blight discovered her passion – creating healthy, easy and delicious family meals. "A fist pump from the kids is as good as a Michelin star in my books."
To find out more about this revolutionary cookbook, please visit www.hellotable.com.au or Facebook www.facebook.com/hellotable