My youngest son says he doesn't like mushrooms. When I first served him San Choi Bow, he pointed at the shitake mushroom pieces and asked, 'What is this?' I replied, 'Shitake.' The absence of 'mushroom' made all the difference. It's all in the delivery. I chop the mushrooms finely so they are not detectable. It's one of his favourite meals, but I think what he likes the most is that he gets to eat with his hands.
Prep time 10 minutes
Cook time 10 minutes
Total time 20 minutes
Serves 4
Ingredients
50g vermicelli rice noodles
2 tablespoons coconut oil
6 shitake mushrooms, chopped
2 garlic cloves, finely chopped
2 stalks celery, finely diced
¼ tablespoon grated ginger
225g water chestnuts, chopped
500g cooked chicken, finely chopped in food processor
1 handful bean shoots
1 iceberg lettuce
6 spring onions, finely sliced
1 long red chilli, deseeded and finely chopped
hoisin sauce to serve
Sauce
4 tablespoons oyster sauce
2 tablespoons soy sauce
½ tablespoon sesame oil
2 tablespoons dry sherry or Chinese wine
1 egg, beaten
Method
[dropcap]1[/dropcap] Soak noodles in hot water for 3–5 minutes. Rinse with cold water then drain thoroughly.
[dropcap]2[/dropcap] Heat frying pan or wok over high heat. Add oil, mushroom, garlic, celery and ginger, and cook stirring for 2 minutes. Chop drained noodles coarsely and add to pan together with water chestnuts and chicken. Cook stirring continuously for 2 minutes.
[dropcap]3[/dropcap] To make sauce, mix oyster sauce, soy sauce, sesame oil, dry sherry and egg in a small bowl. Add mixture to pan and cook for 5 minutes. Remove from the heat, stir through bean shoots and allow to cool a little.
[dropcap]4[/dropcap] Carefully separate the lettuce leaves, keeping them whole to form cups. Wash and shake dry. Fill lettuce cups with chicken mixture, top with spring onion and chilli, and drizzle with hoisin sauce.
[pullquote]TIP[/pullquote] To help separate the lettuce leaves, remove the core from the lettuce and fill the middle with water. The leaves should fall away easily.
---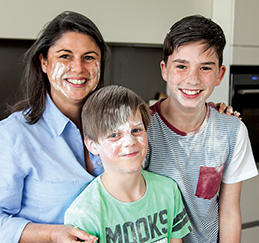 Jodie BLIGHT  – We're all busy and want quick, healthy and delicious meals but sometimes just don't have the time. Summer TABLE will inspire you to put variety and zest back into your mealtimes and with a free APP to create a shopping list on your phone, dinner will be ready in no time! And – you learn how to use leftovers in innovative new ways.
After years working as a company director in the finance industry, starting a family and moving half way around the world, Jodie Blight discovered her passion – creating healthy, easy and delicious family meals. "A fist pump from the kids is as good as a Michelin star in my books."
To find out more about this revolutionary cookbook, please visit www.hellotable.com.au or Facebook www.facebook.com/hellotable