If you can find, deep inside yourself, the strength to wait a couple minutes before scarfing down your Cadbury Creme Eggs this Easter season – here's a recipe that's worth the wait.
Egg and soldiers is the cutest breakfast so figured it would make a pretty cute dessert, too.
This treat is very easy to put together and will make people squeal with delight! All you need is Cadbury Creme Eggs, and some nice simple biscuits plus plastic Easter eggs to make your colourful egg cups.
Cream Eggs and Soldiers Lookalike Easter Treat Supplies
Cadbury Creme Eggs (the full size ones, not the baby ones)
Plain rectangular biscuits (there are heaps of kinds that will work, just make sure you don't pick a super-crumbly variety)
Small sharp knife
Small plastic Easter eggs (4cm tall; they're easy to find online or in shops during Easter season)
Scissors
Hot glue gun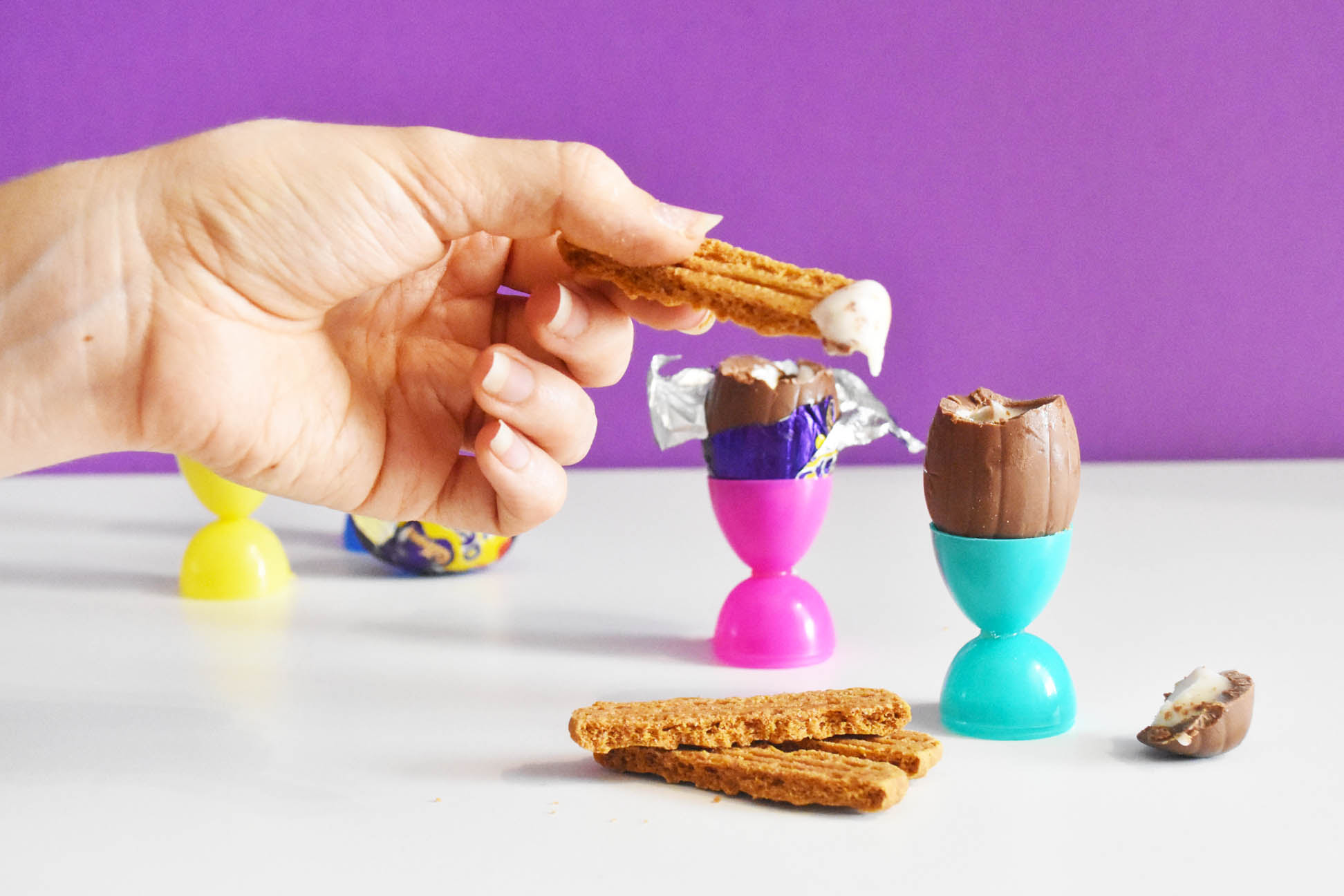 Cream Eggs and Soldiers Lookalike Easter Treat Instructions
Heat up your hot glue gun and while it's heating, cut the little tab that keeps the two halves of each mini plastic Easter egg together
When it's hot, place the fatter half of one of the mini plastic Easter egg face-down on the table and carefully squeeze a glob of hot glue smack dab on top and press the other half of the plastic egg onto it, face-up
Repeat with the rest of your plastic Easter eggs (however many cups you want)
Unwrap your first Cadbury Creme Egg halfway
Run your small, sharp knife under hot water until blade is warmed
Dry the blade then gently cut off the top of the Cadbury Creme Egg, placing it into one of your plastic Easter egg cups when you're done
Repeat with the rest of the Cadbury Creme Eggs
Cut your biscuits into long pieces (most biscuit varieties will only need to be cut in half lengthwise)
Serve each egg with approximately 4 long biscuit pieces