When I was a child, my mum used to make crepes as a special dessert. These days the tradition continues, with my husband making crepes for breakfast on the weekend. There are so many ways to enjoy these French delights – from simple sugar and lemon juice to more elaborate concoctions.

Prep time: 5 minutes
Cook time: 10 minutes
Total time: 15 minutes
Serve: 4
2 eggs
1 cup milk
1¼ cup spelt flour (or 1 cup plain flour)
oil spray or butter
Topping ideas
lemon and sugar
maple syrup and ice-cream
bananas and caramel
strawberries and cream
Nutella
Method
Lightly beat milk and eggs together. Sift flour into a bowl and make a well in the middle. Gradually add egg mix and whisk constantly until smooth. If the mixture is lumpy, use electric beater for 1 minute. If time allows, cover and refrigerate for 30 minutes.
Remove batter from fridge and stir. Heat a crepe pan or small frying pan over medium–high heat. Spray a small amount of olive oil or add butter to pan. Add half a soup ladle of batter to the pan. Swirl the pan around until a thin layer of batter covers the bottom.
Cook for about 1 minute. When the bottom of the crepe is cooked, flip using a spatula. Cook for a further 30 seconds until the other side is cooked. Transfer to a plate and cover with foil until you are ready to serve.
Continue making the rest of the crepes, adding more olive oil or butter between cooking each crepe.
Add favourite toppings, fold and serve.
Tip: Refrigerating the batter is not essential, but it does allow the gluten to relax and gives you a smoother crepe with a slightly better flavour!
---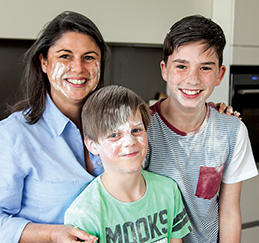 Jodie Blight | We're all busy and want quick, healthy and delicious meals but sometimes just don't have the time. Summer TABLE will inspire you to put variety and zest back into your mealtimes and with a free APP to create a shopping list on your phone, dinner will be ready in no time! And – you learn how to use leftovers in innovative new ways.
After years working as a company director in the finance industry, starting a family and moving half way around the world, Jodie Blight discovered her passion – creating healthy, easy and delicious family meals. "A fist pump from the kids is as good as a Michelin star in my books."
To find out more about this revolutionary cookbook, please visit www.hellotable.com.au or find us on Facebook at www.facebook.com/hellotable