The best veal schnitzel ever and a regular in our house! The kids love to pound the veal – it helps to relieve some of the frustrations of the day. If you have the time, crumb the schnitzels ahead of time and pop them in the fridge. I find this helps the crumbs to stick better. The spelt breadcrumbs cooked in coconut oil give it a tremendous crunchiness, while the oats give a distinctive nutty flavour.
Prep time 10 minutes
Cook time 10 minutes
Total time 20 minutes
Serves 4
Ingredients
400g veal schnitzel
6-8 slices spelt bread
½ cup porridge oats
½ cup spelt or plain flour
2 eggs
coconut oil
4 handfuls rocket leaves
250g cherry tomatoes, halved
1 handful basil leaves, chopped
50g parmesan cheese, shaved
2 tablespoons balsamic vinegar
6 tablespoons olive oil
Method
[dropcap]1[/dropcap]Preheat oven to 100C (to keep schnitzels warm when cooked).
Using the spiked side of a kitchen meat mallet, pound the schnitzels until paper thin. Then flip over and pound again. This makes them quicker to cook and very tender. If the pieces are too big for your frypan, cut them in half.
[dropcap]2[/dropcap]In a food processor, blitz bread and oats. Make the crumbs as fine or as chunky as you like.
Place the flour on a dinner plate, maybe half at a time. In a wide, shallow bowl, whisk the eggs with 2 tablespoons of water (this helps to break up the egg and thin the mix). Place breadcrumbs on another dinner plate. Coat the veal in flour (shake off excess), dip in egg wash and then breadcrumbs. Press firmly to make sure crumbs stick, and place on a clean plate.
[dropcap]3[/dropcap]Place 1-2 tablespoons of coconut oil in a large frying pan over medium heat. Cook schnitzels (3-4 at a time) for 2 minutes each side. Place on a lined tray in the oven and repeat with remaining schnitzels. You will need to add more coconut oil each time.
[dropcap]4[/dropcap]Shake vinegar and oil in a jar until combined. Taste and adjust to your liking. Assemble the veal schnitzel on individual plates, top with a handful of rocket and a scoop of tomatoes, sprinkle with basil and parmesan, and pour over balsamic oil. You may prefer to serve the dressing at the table so it doesn't soften the crunch of the schnitzels.
[pullquote]TIP[/pullquote] In the unlikely event there are schnitzels left over, turn them into a quick veal parmigiana for lunch. Spread with tomato pasta sauce and a few slices of parmesan. Yum!
---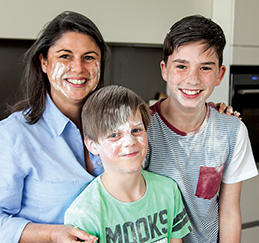 Jodie BLIGHT  – We're all busy and want quick, healthy and delicious meals but sometimes just don't have the time. Summer TABLE will inspire you to put variety and zest back into your mealtimes and with a free APP to create a shopping list on your phone, dinner will be ready in no time! And – you learn how to use leftovers in innovative new ways.
After years working as a company director in the finance industry, starting a family and moving half way around the world, Jodie Blight discovered her passion – creating healthy, easy and delicious family meals. "A fist pump from the kids is as good as a Michelin star in my books."
To find out more about this revolutionary cookbook, please visit www.hellotable.com.au or Facebook www.facebook.com/hellotable