By David Hawkins
Do you sometimes feel that your kids are too caught up in a frantic and distraction-filled world, full of TV, extracurricular activities, smart phones and online gaming? Ever wish that you could whisk them away to a simpler time where learning came from interacting with nature and not a screen? Luckily there is a place just for you, hidden away but just around the corner, on the Mornington Peninsula. A farm away from home called Rain, Hayne & Shine.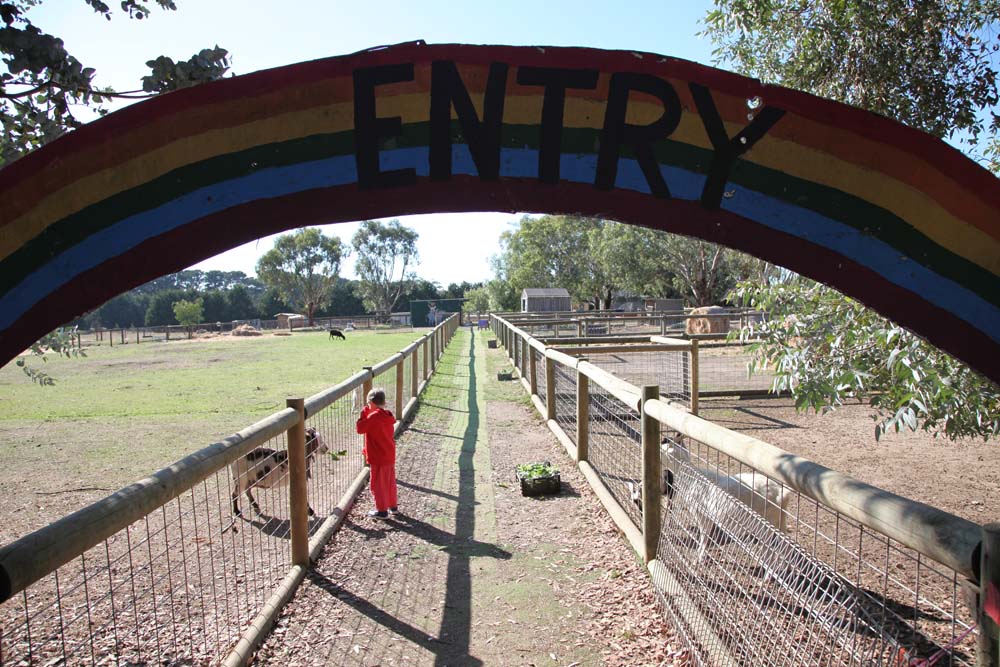 My two boys and I were offered the opportunity to check out this family-run farm experience and I can tell you that my little monkeys were super excited at the prospect of a day on a farm. From the moment that we walked beneath the rustic wooden rainbow that arches over the entrance, the three of us ventured into a space of weathered rails, grassed pastures and eager animals. We immediately found the crates of greens that are strategically scattered and began feeding every creature that converged – goats galore, sheep, a donkey, a pony, a calf. With giddy grins, my kids pushed cauliflower leaves through the wire of the fences, trying to manoeuvre the food to the animals who were being pushed out of the way by, as my younger son put it, "a bully-goat!".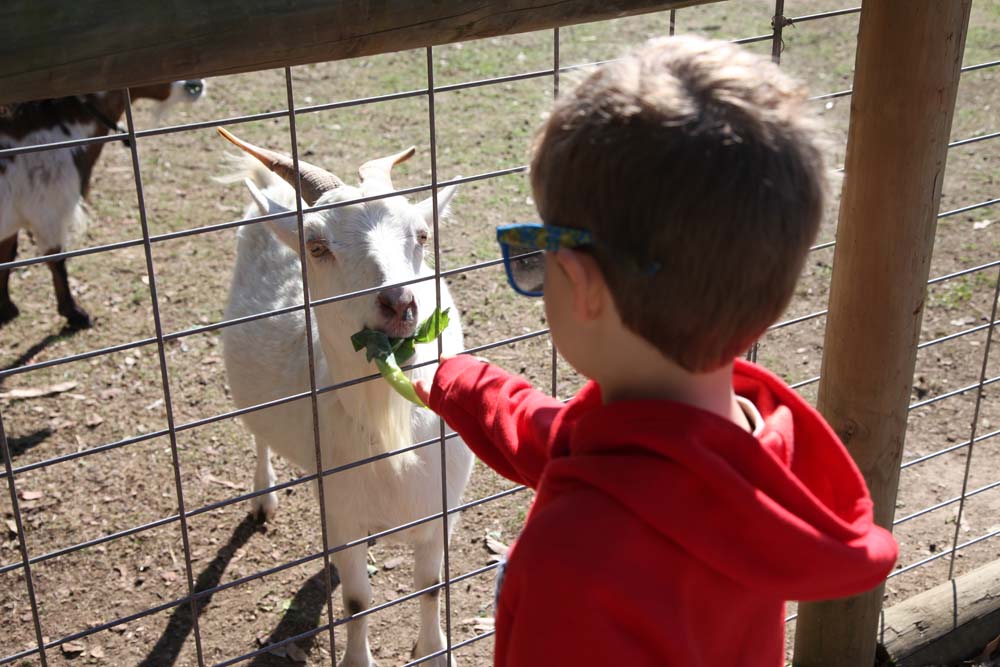 Rain, Hayne & Shine is celebrating its 21st birthday this year. What began as an experiment in self-sufficiency evolved into an opportunity to involve suburban kids in hands-on rural education. And, clearly, that is a formula that works. Everyday, children venture to a place that feels like a step out of our hectic urban lives and get to pat, feed and cuddle a range of very friendly creatures.
It took us almost 30 minutes just to get from the entrance to the ticket booth (not more than a 50 metre wander) because the simple act of feeding the animals was so entrancing for my sons and offered them a multitude of learning experiences and conversations. Once we finally reached the booth, we were greeted by friendly faces and warm assistance. The overarching tone of the venue is one of self-guided exploration – there are some scheduled activities but mostly you are free to discover all that is on offer at your own pace.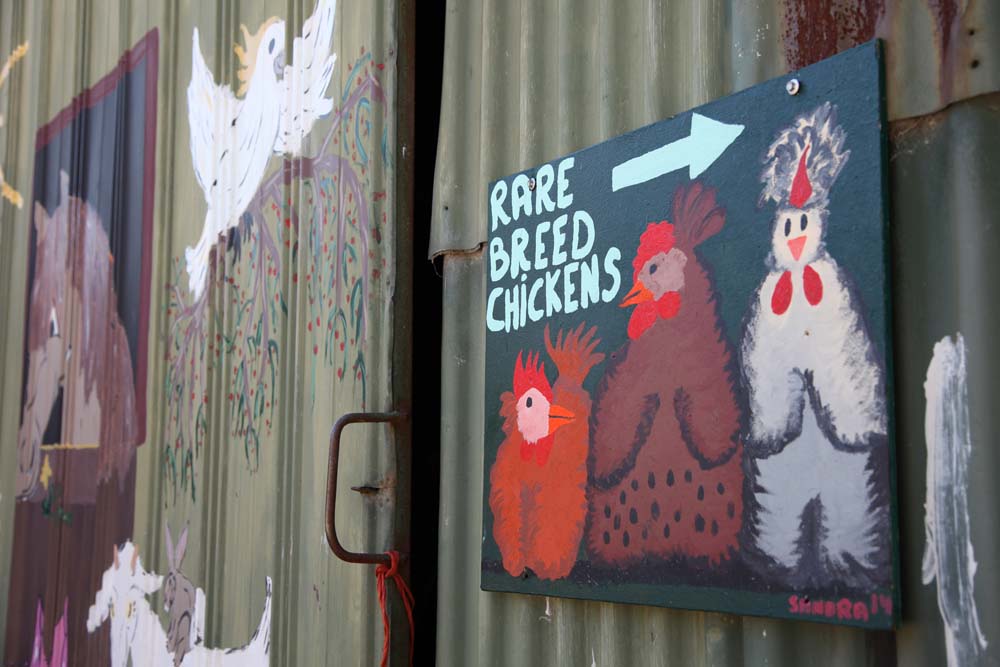 The boys hurried me in a variety of directions, and we moved from the turtle and bird enclosures to the young-kids play area, then off to the train carriages, the hay barn and the pig stalls. Everything is close together so that it takes only a few steps to move from one activity to another. As soon as my monkeys lost interest in something (which does seem to happen more quickly these days!) we were only seconds from the next engaging zone. And all the while we were regularly greeted by a screeching "Hello" from the farm's resident town-crier; Charlie the cockatoo.
The farm's owners, Sue & Ian Hayne, are passionate about sharing their special home with visitors and are regularly updating and improving what the farm has to offer. There are major works underway across the beginning of 2019. A brand-new pony walk has been laid out, ready for munchkins to experience a little horseback whilst safe and supported (pony rides are an additional cost). The resident emus have been gifted a larger natural reserve within which to raise their most recent family member, new patting pen areas have been opened up and a new aviary has been created. A playground area for bigger kids is being built at the moment, very much anticipated by my boys, and a new hay ride track is going to be established.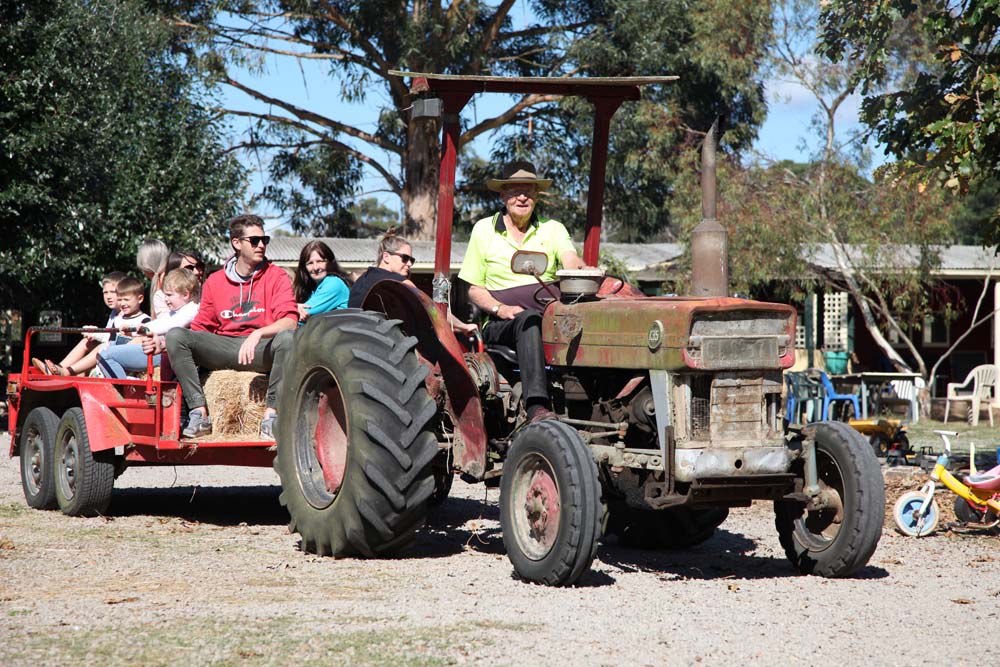 Continuing the family-run theme, the Hayne's daughter, Diane, offers a regular playgroup at the farm and engages kids with a blend of play-based learning in a rural setting. The Little Piggies playgroup takes place on Tuesday, Wednesday and Thursday during school term using some totally cool old-world train carriages as playrooms. If you visit during the school holidays you will also discover seasonal special activities such as the surprise fun of pig-racing, that I cheered on during the Easter holidays. This upcoming Winter school holiday you will find some amazing farmy lessons on offer, from milking a cow to making butter and bread. Imagine getting your tiny peeps trained up to churn fresh butter for you each morning… a dream!
I personally loved the freedom to interact with nature in an unstructured way. We spent ages in the petting pens, running our hands over the softest of fluffy bunny rabbits and the bristliest of pink piglets. Finches flitted about the space only feet from us and guinea pigs nibbled grass from our hands. We clambered up a tower of hay bales and then used some as seats as we rode the tractor & trailer ride.
My eldest, Little E, is a huge reptile fan and was given a treat by a young staffer who lifted one of the blue tongue lizards out of its enclosure for us to pat. These impromptu interactions are one of the special elements of Rain, Hayne & Shine farm, always giving you the feeling of being a special guest rather than a queueing punter.
If you are looking for a flash, bells & whistles experience then this is not the place for you. Think rustic, think down-to-earth, think well-loved. Rain, Hayne & Shine Farm is a quieter place where you and your children can run free.
---
Rain, Hayne & Shine Farmyard & Mobile Farm is at 490 Stumpy Gully Rd, Balnarring, Victoria.
Phone: (03) 5983 1691 |  www.rhsfarm.com.au |  Open 10am to 4pm
David Hawkins is a Peninsula based stay-at-home-dad who realised that he needed to improve his Dadding. So he set himself the simple task of being an Awesome Dad. He now challenges all dads to be awesome dads, by doing something out-of-the-ordinary with their kids.