Remember when you would turn to your partner at 6pm on a Friday and say "What do you feel like doing tonight, honey?" And they would say "How about we go and see a movie?" You would haggle for a few minutes over Jackie Chan or Ryan Gosling, settle on Daniel Craig and off you went. Movie was followed by dinner which was topped off by a few drinks at the adjacent Irish pub, a late night, a sleep-in and mild hangover the next day.
Factor a couple of little munchkins into that scenario and suddenly you end up with something like this:
The Proposal

Your child-free friend peers at the dark circles under your eyes as you sip your double shot, full fat, four sugars cappuccino with a shaking hand. "When was the last time you had a night off?" she enquires. "Oh, I have nights off all the time," you lie. Six months, you calculate as you try to focus on her bright, witty conversation about… ummm… six months? Really?
That night, as your partner falls into bed beside you after doing the 10.00pm feed (you congratulate yourself on what a wonderful father you found your children), you mumble, "Honey, how about we organise a date night some time soon?" "Sure," he says, as you both start snoring.
The Arrangements
Ten days later you have managed to coordinate all the text messages and missed calls between yourself, your Mum and your sister to arrange for the kids to be separately farmed out for the night on a Friday, three weeks into the future, which is convenient for all (you then congratulate yourself on having such wonderful family members).
The Cancellation

Three weeks later, on the Thursday night, both kids come down with gastro. You spend Friday rinsing out spewy bed sheets, towels and clothes (yours and theirs) and feeding them through the washing machine. You and your partner spend Date Night with your head over a bucket because, of course, gastro is a family affair.
The Day of Date Night
Having rescheduled for two weeks into the future, the day arrives and everyone remains healthy. You spend Friday explaining to the toddler that he doesn't need a whole suitcase for one night, and (having lost that battle) negotiate to squeeze a set of clothes and pyjamas into the space that is left in between the Lego, two helicopters, a few bits of train track, teddy and Thomas. You then realise the toddler was the easy one to pack for, because for one single night the baby needs:
Portacot
Cot sheets
Cot blankets
Sleeping bag
Singlet, onesie, jumper, socks, coat, hat (just in case it gets cold… in March…)
Triplicates of all of the above in case of spew and overnight nappy seepage
Blankie
Bottles
Formula
Dummies
Baby food
Bibs
Teething rusks
Teething gel
Baby paracetamol (in case the teething gel isn't enough)
Baby ibuprofen (because we all know paracetamol actually does nothing for teething)
Pram
You repack the baby's bags several times thanks to the toddler, "What's this, Mummy?" "Baby don't need that, Mummy." "Baby need have helicopter too, Mummy." "Where my green helicopter go, Mummy?"
Evening preparations

Kids packed off to their respective retreats for the night, you rush home and open your wardrobe. Trying on and discarding one outfit after another, you finally realise that the only appropriate attire which actually fits (must sign up for Weight Watchers soon) is the black long-sleeved maternity dress which you inherited from a friend of a friend of your sister and has frayed at the hem. You accessorise with dangly spangly jewellery you forgot you owned (because last time you wore it your baby tried to choke you with it and tear a hole in your earlobe) and pair it with the high heeled black boots at the back of the wardrobe (which are a little tight as your feet stayed half a size larger after your second pregnancy).
You have just enough time to smear on the little make up which hasn't congealed, hardened or discoloured and dab on some perfume before you hear a key in the front door.
Hubby walks in, smiles at you and says "What do you feel like doing tonight, honey?" You shrug and reply, rather flippantly, "Oh, I don't know, a movie maybe?"
---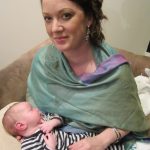 Rebecca Bowyer is a regular blogger with Mornington Peninsula Kids. You can read more of her blogs at Seeing the Lighter Side of Parenting and follow her on Facebook or Twitter.