Date/Time
16 Sep 2023 - 1 Oct 2023
10:00 am - 5:00 pm
Location
Boneo Discovery Park
Category(ies)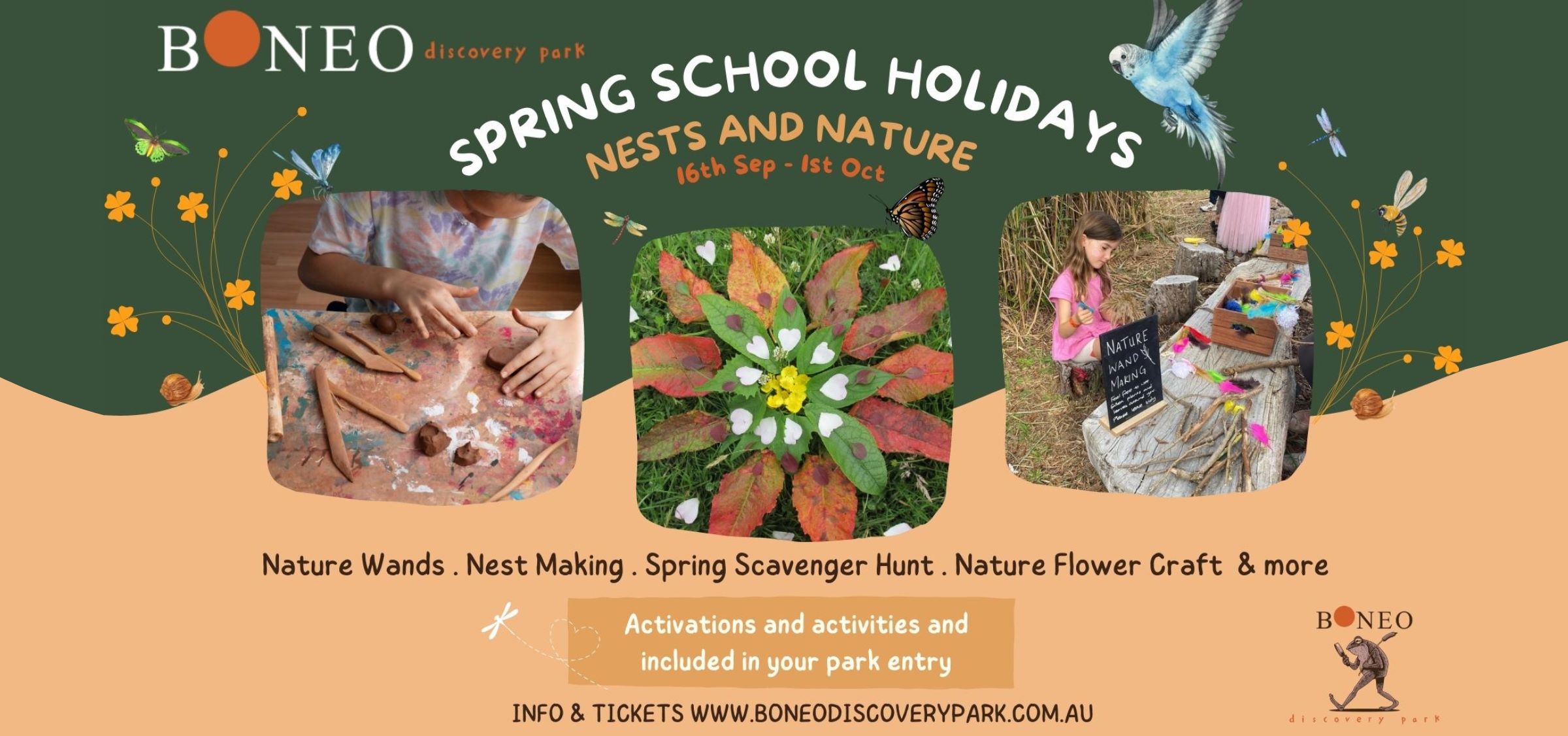 Get ready for a fun and creative school holiday experience with our series of Spring-based nature crafts! Join us at Boneo Discovery Park and unleash your creativity while enjoying the beauty of the season. With your park entry, you'll have the opportunity to participate in a variety of exciting craft activities inspired by the wonders of Spring.
Nature Mosaic Animals: Collect an assortment of colourful natural materials like flower petals, leaves, and small pebbles. Create mosaic-style animal pictures by arranging these materials on a piece of paper or cardboard. This can be a great way to create vibrant and textured animal images.
Bird's Nest Art: Use twigs, grass, and other natural materials to create miniature bird's nests. Place these nests on a flat surface and decorate them with tiny pebble "eggs." This craft allows you to explore the concept of animal homes in a creative way.
Nature Collages: Explore the park's natural surroundings and collect leaves, petals, and other small treasures. Use these items to create stunning nature collages that capture the essence of Spring's awakening.
Rock Painting: Find smooth rocks in various shapes and sizes, then transform them into adorable ladybugs, bumblebees, flowers, and more using paints and markers. These whimsical rock creatures will make for delightful decorations or garden markers.
Seed Bombs: Create seed bombs by mixing clay, soil, and wildflower seeds. Once they dry, these seed bombs can be scattered in your garden or a designated area to help beautify the environment with a burst of Spring flowers.
Nature Wands: Creating nature wands can be a magical and imaginative craft activity that allows you to combine natural materials with your creativity. Here's how you can make your own nature wands:
Don't miss out on this wonderful opportunity to connect with nature and let your imagination run wild. Whether you're a young artist or just looking for a creative way to spend your school holidays, our Spring nature crafts series has something for everyone. With your park entry, you'll receive all the necessary materials and guidance to create memorable crafts that celebrate the beauty of Spring. We can't wait to see you there!