As Son #1 (now 3 years old) approached his first birthday and took his first steps I thought "Ooh, is he becoming a toddler now?" and spent the next few days re-reading all the baby-to-toddler developmental material.
Second time around, I don't need to look at the calendar. Son #2 will celebrate his first birthday soon but I've recognised the warning signs of impending toddlerdom for some time.
The mess!
Case in point: Son #1 (now aged 3 years), in his search for a particular small flat yellow brick, empties the box of Duplo onto the floor. Across the living room, Son #2 snaps his head towards the clattering waterfall. He drops to his hands and knees and charges towards the pile. Head down (presumably to reduce wind resistance and increase speed), he ploughs through the Duplo, sending coloured blocks flying up to two metres away and cackling gleefully to himself. I sigh as he wheels around for a second attack. Finally satisfied that the entire room has been re-carpeted in plastic primary colours, he knuckles down to alternately pushing and chasing a spare set of Duplo wheels across the kitchen floor.
Vertical planking
You know the move: you try to pick them up to move them away from imminent danger and suddenly the arms go straight up in the air, body rigid, shoulders unlocked, forcing you to practically bear hug their torso in order to lift them up. Yup, this is where the planking craze started: toddlers.
Improved gross motor skills
Our TV sits on a coffee table. I put toy boxes in front of the coffee table to prevent Son #2 crawling underneath and chewing on the electrical cords (he appears to believe electrical cords are his personal teething toys). The toy box barricade worked beautifully… until he figured out how to climb onto the boxes and up onto the table. I found him standing on the table, holding onto the TV looking quite pleased with himself.
The barricade was dismantled immediately and smaller boxes were slid deep under the coffee table to block the cords but prevent climbing. Genius!
Today he managed to pull one of the boxes all the way out from under the table and I found him sitting on it, happily waving his arms at Shaun the Sheep…
Into EVERYTHING
To his great excitement, Son #2 has sussed out the opening of cupboards, including the pantry. The installation of child locks has commenced. They have been met with some consternation and outrage by Son #2 (who managed to rip one off just an hour after it had been installed…).
The arguments have started
Son #2 (holding out a strawberry to me): "Ba-da-da da!"
Me: "Yes, it's a strawberry, yum!"
Son #2 (hurling the strawberry on the ground): "NA-BA!"
Understanding "No!" (but pretending not to)
Son #2: Raises hand to pull washing off the clothes airer.
Me (using stern, deep voice): "No, nooooo!"
Son #2: Retracts hand, turns, grins, cocks his head to one side, reaches out hand again.
Me: "No, leave it alone, nooooo!"
Son #2: Retracts hand, looks at me, giggles, reaches up, pulls teatowel down onto his head and crawls away at top speed, cackling hysterically.
Upright and mobile
He took his first unaided step a few days ago. He doesn't know it: he didn't realise he'd let go of the couch momentarily, but I saw. My baby is growing up [cue proud sniff].
---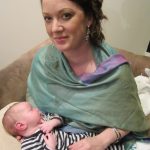 Rebecca Bowyer is a regular blogger with Mornington Peninsula Kids. You can read more of her blogs at Seeing the Lighter Side of Parenting and follow her on Facebook or Twitter.