Just the thought of these Asian inspired fish cakes makes my mouth water. They are so quick and easy to prepare, and served with fresh crisp cucumber make for a delightful summer meal. The kids love them too as they are not too spicy. If you prefer a stronger flavour, add a chopped fresh red chilli. Perfect for party finger food, but make sure you make a lot as they go fast.
Prep time: 10 minutes
Cook time: 10 minutes
Total time: 20 minutes
Serves: 4
Ingredients
½ bunch coriander, stems and leaves

½ tablespoon chopped ginger

2 spring onions, chopped

2 garlic cloves, chopped

1 lemongrass stem, chopped

3 tablespoons chilli jam or sweet chilli sauce

1 tablespoon fish sauce

800 g salmon or firm white fish

100 g green beans, finely chopped

coconut oil

2 Lebanese cucumbers, ribbons

½ tablespoon sesame oil or mirin

sweet chilli sauce to serve

lime wedges to serve
Method
Separate coriander leaves and stems and wash well. Retain leaves for serving. Place the ginger, spring onion, coriander stems, garlic and lemongrass in a food processor and blend until ingredients are finely chopped. Add chilli jam and fish sauce and blend again until the mixture becomes a smooth paste. Add the fish and pulse until combined into a fine mince.
Stir in green beans and, using a tablespoon to measure, shape fish cakes using wet hands. Heat coconut oil in a frying pan over medium-high heat, then shallow fry in batches, cooking for 2 minutes each side or until cooked through.
Remove from frying pan and drain on paper towel.
In a bowl, toss cucumber ribbons with sesame oil or mirin (or a bit of both) and coriander leaves.
Serve fish cakes with the cucumber, sweet chilli sauce and wedges of lime.
Tip: For extra favour, toss the fish cakes in sesame seeds before frying.
---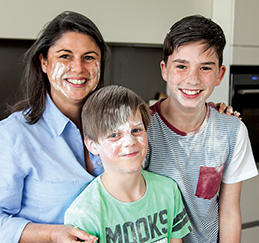 Jodie Blight | We're all busy and want quick, healthy and delicious meals but sometimes just don't have the time. Summer TABLE will inspire you to put variety and zest back into your mealtimes and with a free APP to create a shopping list on your phone, dinner will be ready in no time! And – you learn how to use leftovers in innovative new ways.
After years working as a company director in the finance industry, starting a family and moving half way around the world, Jodie Blight discovered her passion – creating healthy, easy and delicious family meals. "A fist pump from the kids is as good as a Michelin star in my books."
To find out more about this revolutionary cookbook, please visit www.hellotable.com.au or find us on Facebook at www.facebook.com/hellotable