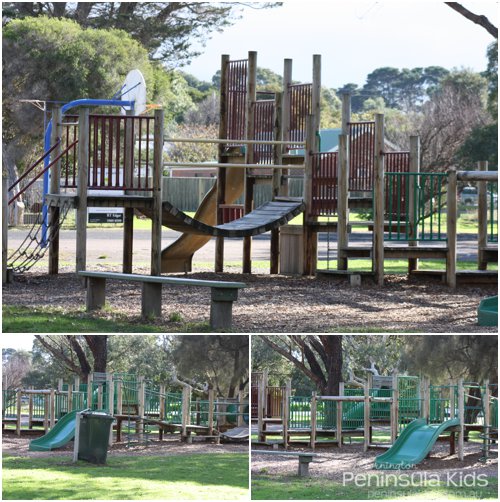 There are three playgrounds located in Flinders. We visited the Flinders Township Reserve, located on the corner of Cook & Norman Streets. Here we found a large wooden playground under the gumtrees, surrounded by a large grassed area and opposite the main shopping precinct for the town.
The playground features climbing structures, wobble bridge, chain climbing wall, monkey bars, spiral ladder, balance beam, flying fox, springer and swings. There is high wave slide on one side, with a lower wider slide (that could easily accommodate two small children) coming off another area.
Our Favourite Feature – as most of the structure is relatively low to the ground, it does allow for fun for little children. However, there are enough challenges to also interest older kids.

You will find other playgrounds in Flinders located at:
Flinders Foreshore Reserve, Bass Street
Flinders Recreation Reserve, Barker Street