If you're organising a spooky Halloween party and want everyone to have a break from the overload of lollies, then check out these delicious healthy snacks.
Coming up with a range of party food can often be tricky when guests have food issues. Which is why these recipes are perfect for anyone with digestive problems as they're all low Fodmap.
Dietitian Eloise Turner, who works with gut-friendly snack bar company Fodbods, and came up with these devilish morsels says, "When preparing food for a large range of guests, it's always important to be aware of food intolerances.
"These Halloween snacks are low in Fodmaps – which are certain carbohydrates in common foods such as gluten, dates and honey – that some people who suffer from conditions such as IBS find hard to digest."
Try them out for a Halloween themed party or as funky lunchbox snacks for kids. They're also super easy to prepare, so don't get spooked!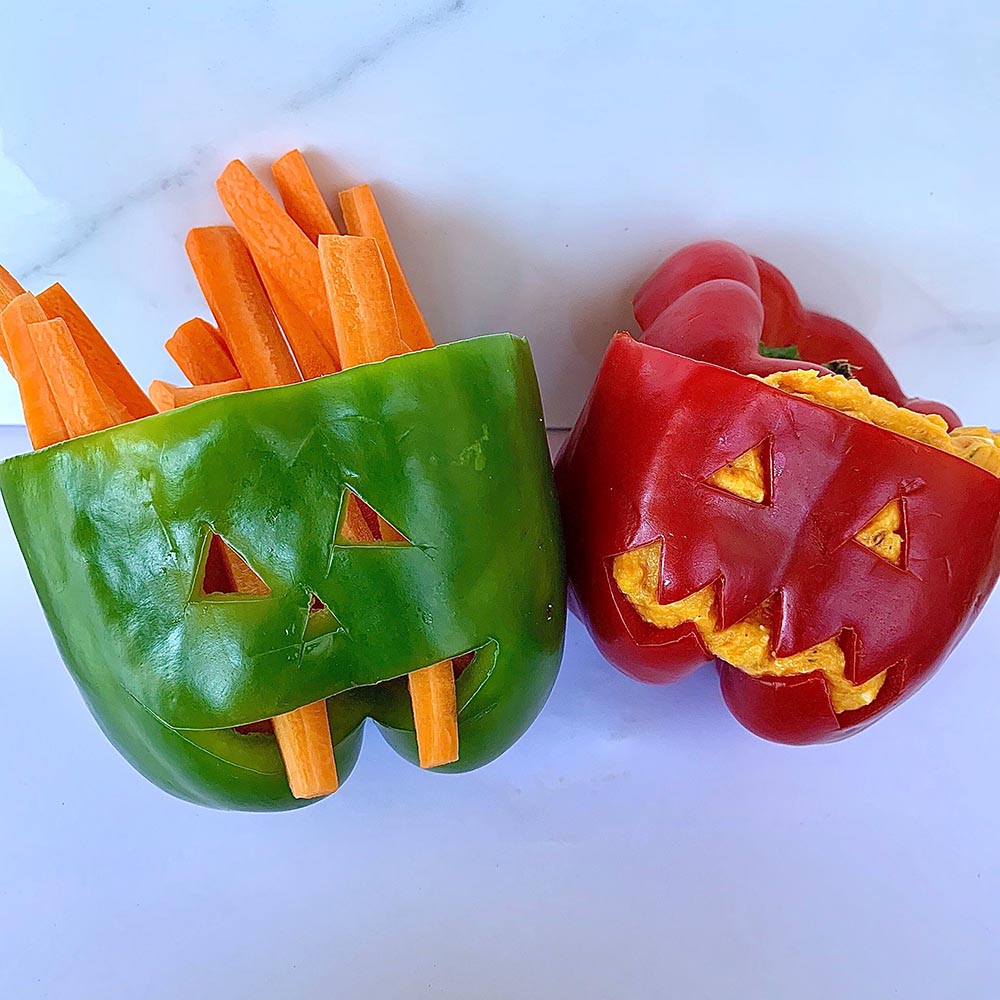 Ingredients
200g kent pumpkin
1 large carrot
50g feta
2 capsicums (please note: red capsicum is low FODMAP in any serve whilst green capsicums are low FODMAP in <½ cup)
4 baby carrots, peeled and cut into sticks
Instructions
Prepare dip as per instructions (please note – we reduced the original recipe to fill one capsicum).
Slice off the tops of the capsicums (if desired, keep the lid to serve) and scoop out the seeds and cores.
Cut jack-o-lantern faces into the capsicums using a sharp knife (triangle shapes are easiest).
Once the dip is cooled and prepared, fill one capsicum with the dip and other with carrot sticks, as pictured.
---
Eyeball Caprese Salad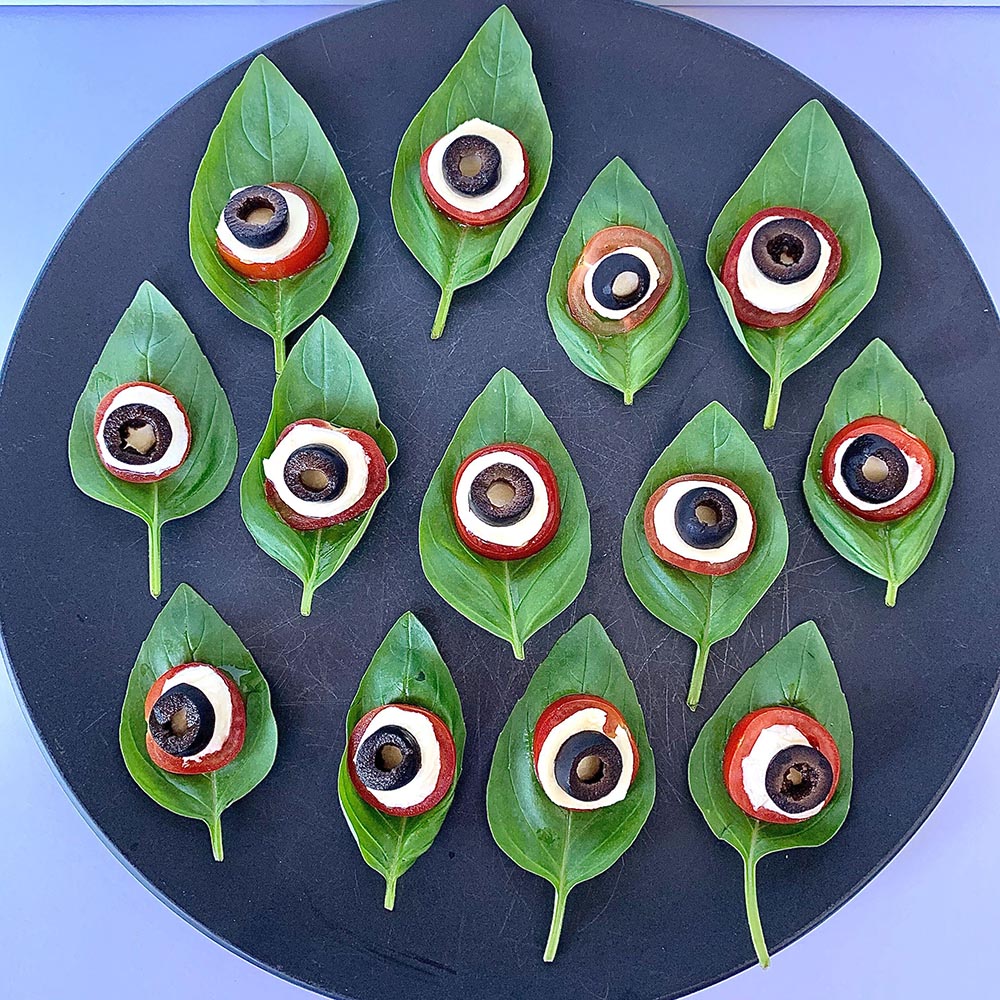 Ingredients
Basil leaves
Cherry tomatoes (please note: 75g is low FODMAP)
Cherry bocconcini
Black olives
Balsamic vinegar (please note: 1 tbsp is low FODMAP)
Instructions
Thinly slice tomatoes, bocconcini and olives.
Place basil leaves on a platter, and top with tomato, bocconcini and olives.
If desired, drizzle with balsamic vinegar.
---
Banana Ghost and Mummy Pops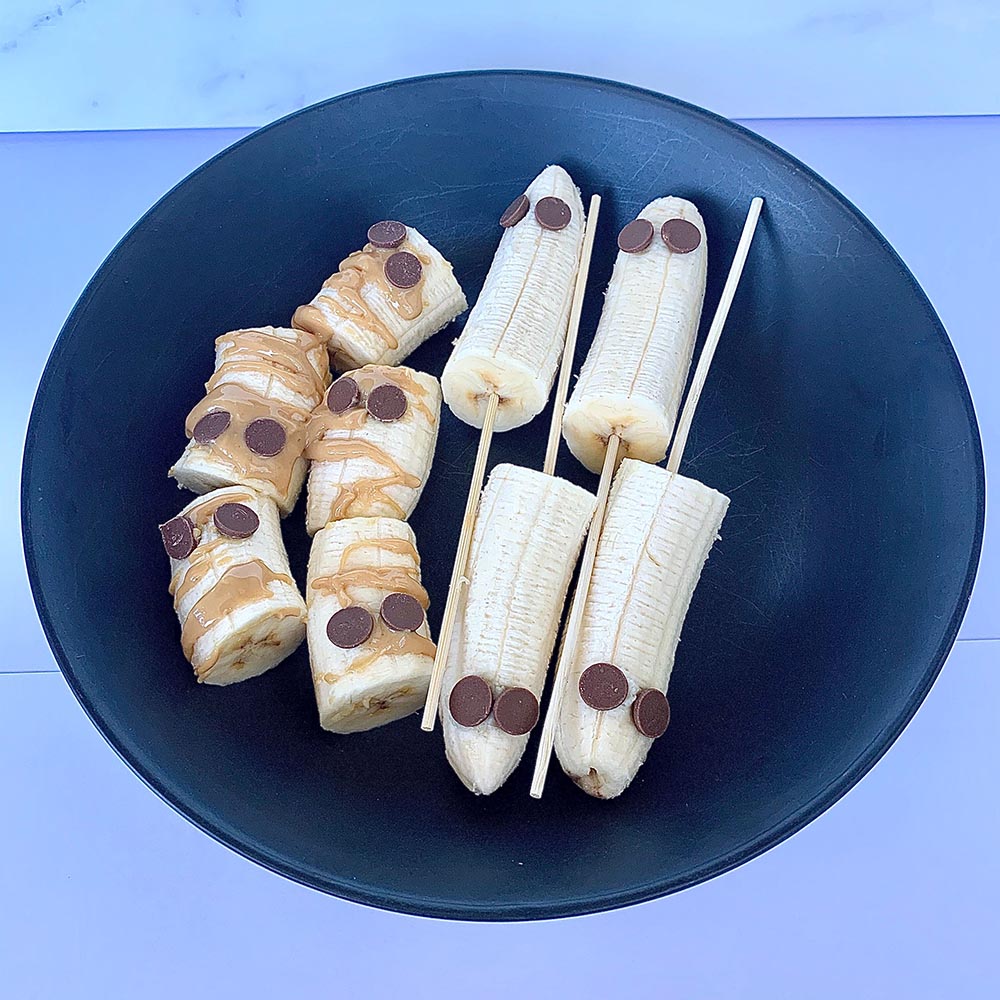 Ingredients
Bananas (please note: ⅓ ripe banana is low FODMAP whilst 1 whole unripe banana is low FODMAP)
Dark choc chips
Smooth peanut butter
Paddle pop sticks or skewers
Instructions
Peel and cut bananas into desired length (for ghosts, we cut into halves and for mummies, we cut into thirds).
Place bananas onto a stick/skewer.
Drizzle melted peanut butter over mummy pops, and top all with chocolate chips for eyes.
---
Mini Mandarin Pumpkins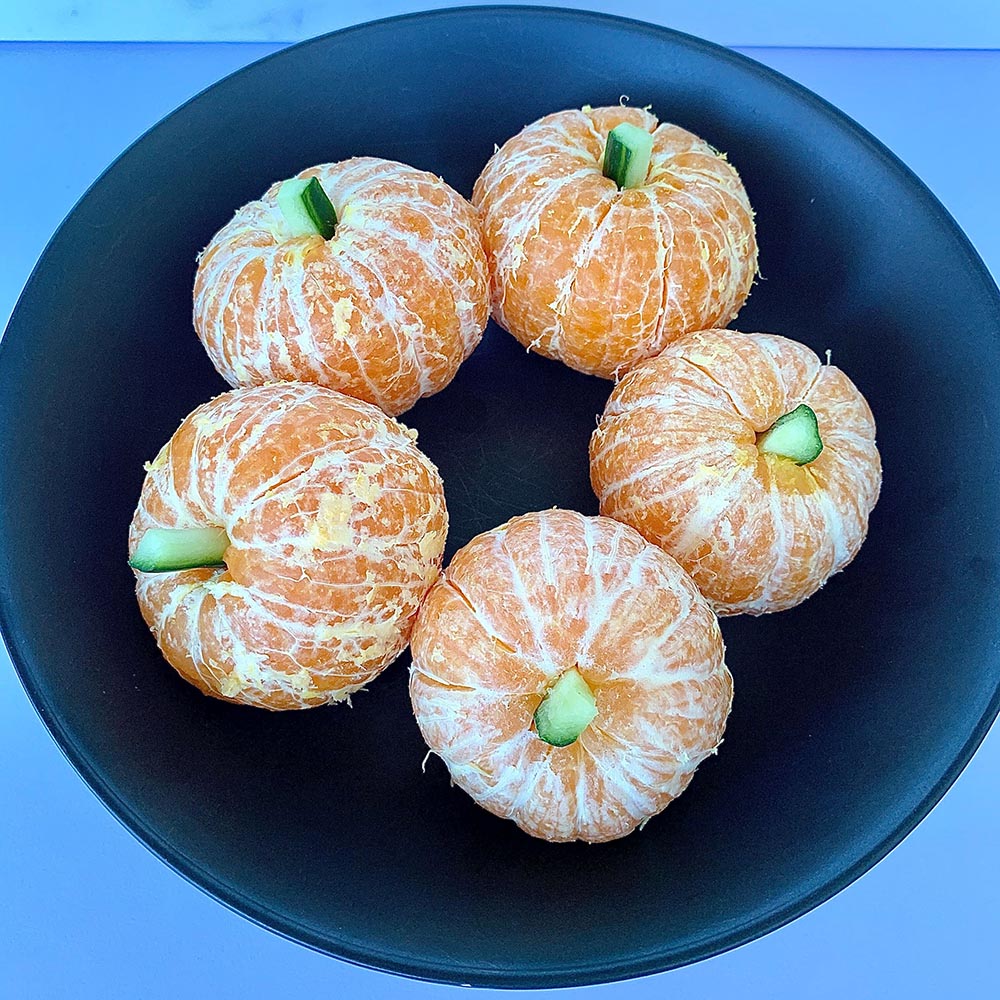 Ingredients
Mandarins (FODMAP free fruit – yay!)
Cucumber
Instructions
Cut cucumber into small pieces.
Peel mandarins.
Poke a cucumber piece into the top of each mandarin (as pictured).
---
Savoury Cruskit Mummies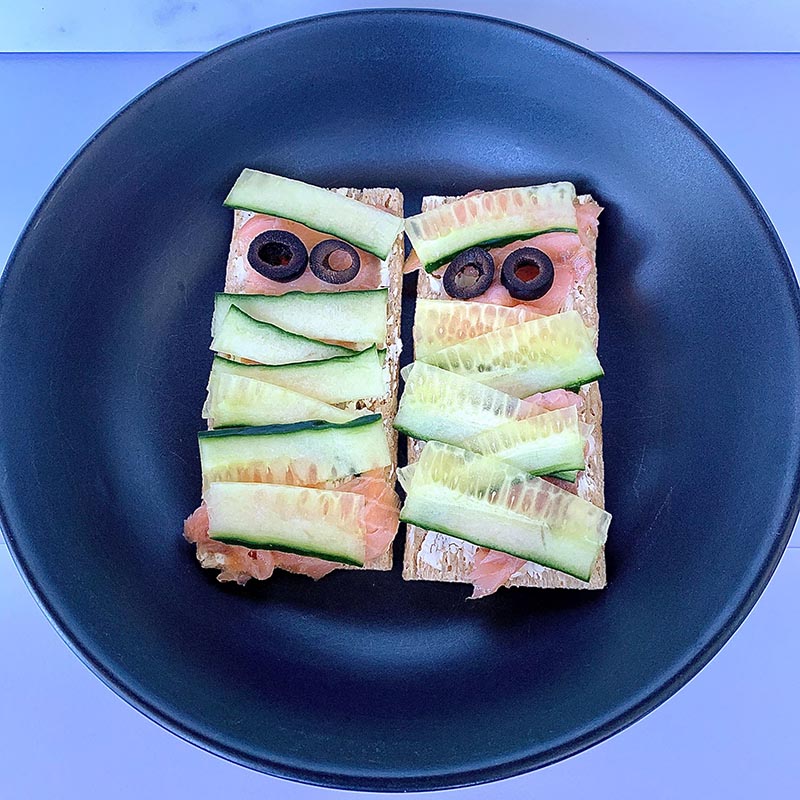 Ingredients
Cucumber
Black olives
Cream cheese (please note: 2 tbsp is low FODMAP)
Arnott's rice or corn cruskits
Smoked salmon
Instructions
Thinly slice cucumber and olives.
Spread thin layer of cream cheese on cruskit, and top with salmon, cucumber and olives (for eyes) – as pictured.
These recipes are from gut-friendly snack bar site Fodbods.