Some days women are bursting with energy and sometimes women need a little pick-me-up to give us that energy for the day. These recipes have been created for the women on days when they are bursting with energy. Xali is a platform that provides personalised workouts and nutrition information for women based on their journey preferences and dietary requirements paired with their intention.
There is an incredible library of over 250 recipes to choose from that have all been created and tested by clinical nutritionist and chef, Samantha Gowing.
Sweet potato, prosciutto and sage frittata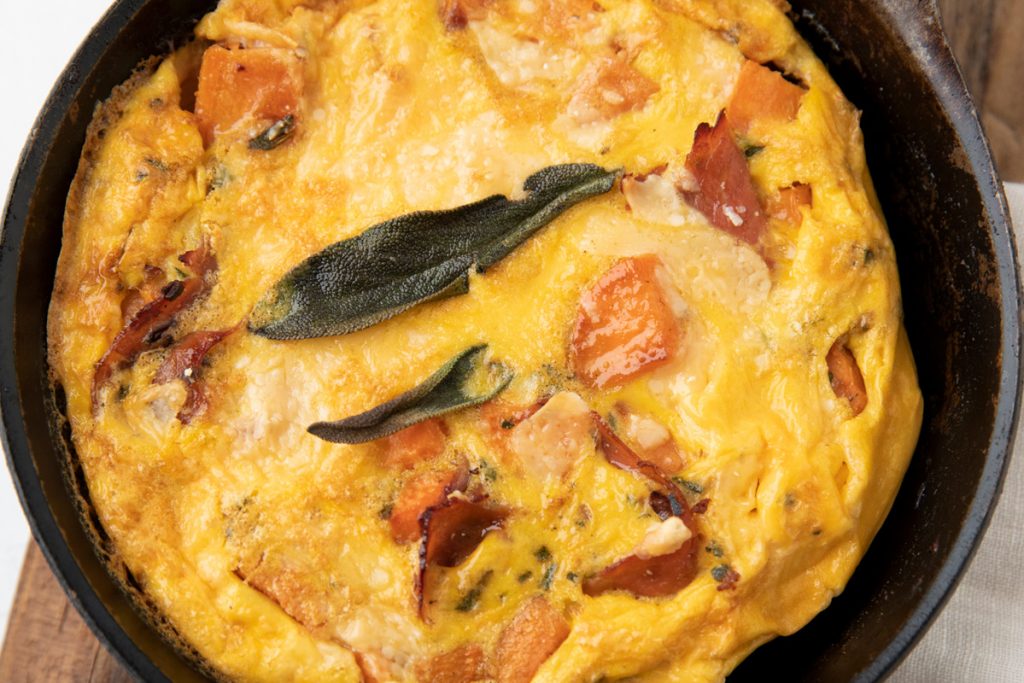 Prep 15 mins
Cook 15 mins
Serves 2
Store Chill 2 days
Ingredients:
1 cup sweet potato, peeled, cut into small cubes
1 tsp macadamia oil
1 tbsp Spanish onion, finely chopped
4 fresh sage leaves, 2 finely chopped, 2 whole
2 slices prosciutto, roughly torn
4 eggs, beaten well
Cracked black pepper
¼ cup shaved Parmesan
Method:
Preheat the oven to 175 C.
Place sweet potato in a steamer basket, into a saucepan, cover with 5cm water, cover with a lid, bring to the boil and steam for 5 mins. Make sure the water does not evaporate. If you do not have a steamer basket boil for 5 minutes, drain. Remove from heat, pat dry, set aside.
In an ovenproof skillet, heat oil over medium heat. Add onions and cook slowly, stirring occasionally, until soft. Add cooked sweet potato, prosciutto and sage.
Stir in the beaten eggs and cracked black pepper. Cook covered with a lid, (the steam from the covered pan helps to puff up the eggs) until eggs are firm on the bottom – about 5 minutes.
Top frittata with parmesan and remaining whole sage leaves, then place in the preheated oven and bake until cheese has melted and eggs are completely firm, about 10 minutes.
Be very careful not to burn your hand on the handle, when you remove it from the oven. Allow the pan to cool down for a few minutes then serve in the pan or turnout onto a plate and cut into quarters, if desired.
Prawn, apple and iceberg salad with lemon dressing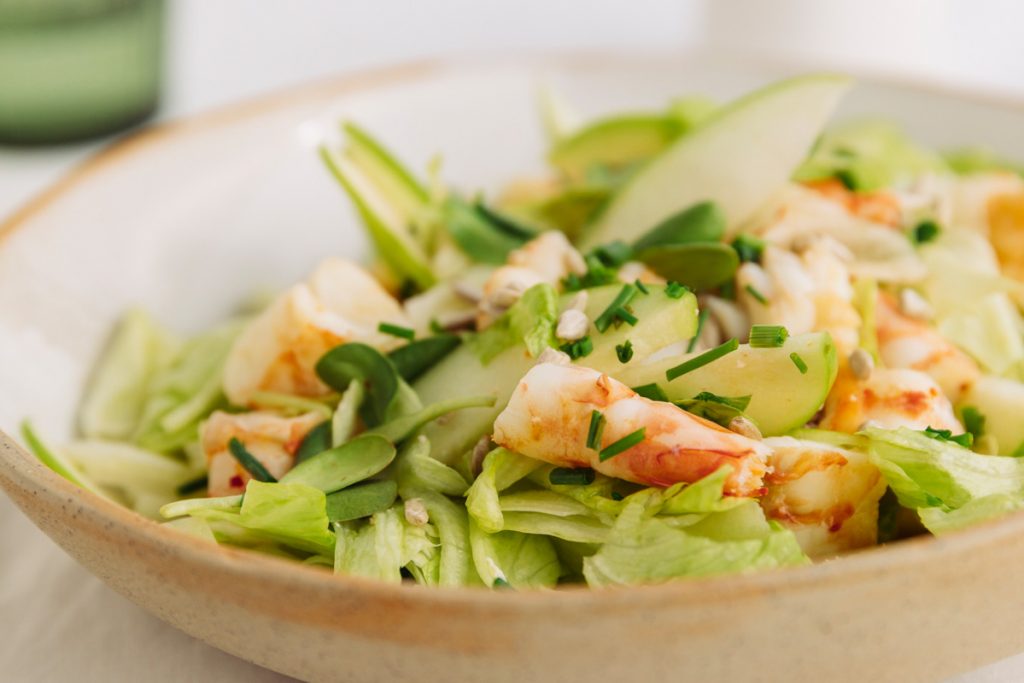 Prep 20 mins
Serves 2
Store chill 1 day
Ingredients:
8 king prawns, cooked, peeled, deveined and chopped into 2cm pieces
½ iceberg lettuce, leaves torn
½ cup sprouts
1 tbsp fresh dill, snipped
1 green apple, cored, very finely sliced
¼ lemon, juice of
Method:
In a large mixing bowl toss prawns with iceberg lettuce, sprouts and fresh dill.
Carefully slice the apple and drizzle with lemon juice to prevent discolouration. Add to salad then toss with lemon dressing and transfer to a serving platter.
Lemon dressing
Ingredients:
¼ cup extra-virgin olive oil
¼ cup fresh lemon juice
1 small garlic clove, minced
1 tsp Dijon mustard
½ tsp maple syrup, optional
Salt
Cracked black pepper
Method:
Place dressing ingredients in a jar with a tight-fitting lid and shake to combine.
King mushroom "scallops" with orange ginger dressing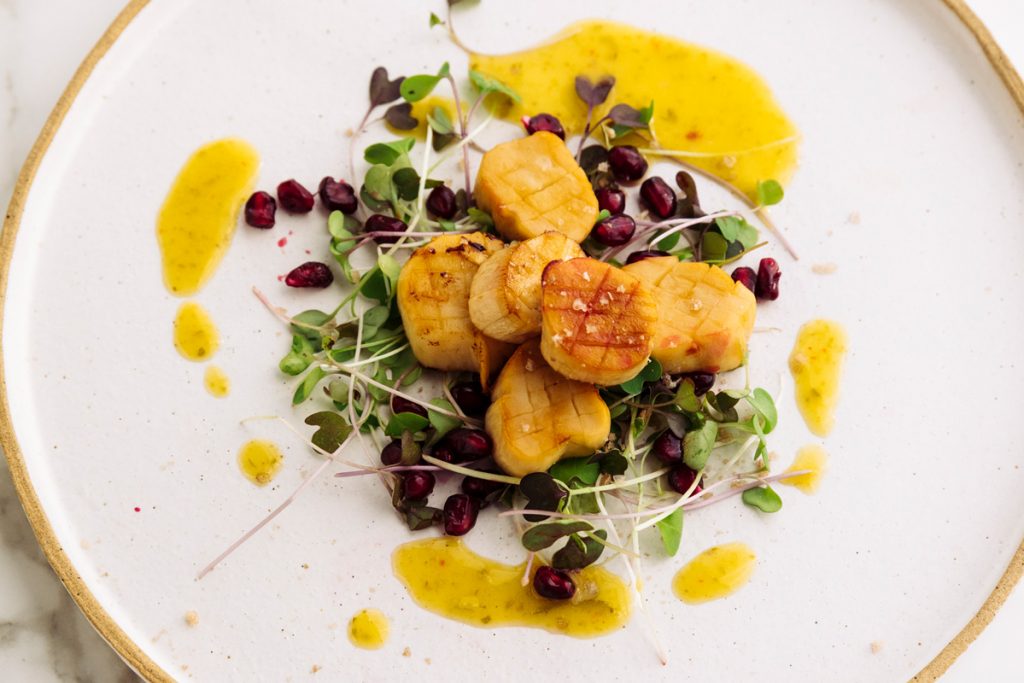 You won't believe this is plant-based!
Prep 20 mins
Cook 15 mins
Serves 1 as a side dish
Store chill 1 day
Ingredients:
2 large king oyster mushroom
2 tbsp + 1 tbsp orange ginger dressing recipe here
2 tsp peanut oil
1 tablespoon mixed salad leaves or micro herbs
Method:
Wipe over mushrooms with a paper towel to remove excess dirt or debris.
Place a large saucepan of water on a high heat, add a pinch of salt, bring to the boil, add king oyster mushroom and boil for 10 minutes.
Meanwhile prepare a large bowl of ice and water to refresh the boiled mushrooms.
Remove the mushrooms from hot water, drain and refresh in the ice bath, then pat dry thoroughly with paper towels.
Using a very sharp knife, slice the mushroom stems into 2-3cm rounds, the size of a scallop without its roe (reserve the mushroom tops for plant-based bolognese, stock or add to a story fry), then score both sides in a diagonal pattern.
Marinate the prepared scalloped mushroom stems in 2 tbsp orange ginger dressing for 10 mins.
Heat a wok or skillet over medium-high heat, add oil and cook mushrooms for 3-5 minutes each side – depending on how thick your mushrooms are.
Transfer to a serving plate and add mixed salad leaves or micro herbs to create a small salad. Spoon over remaining 1 tbsp orange ginger dressing and serve.
Braised mushrooms with tofu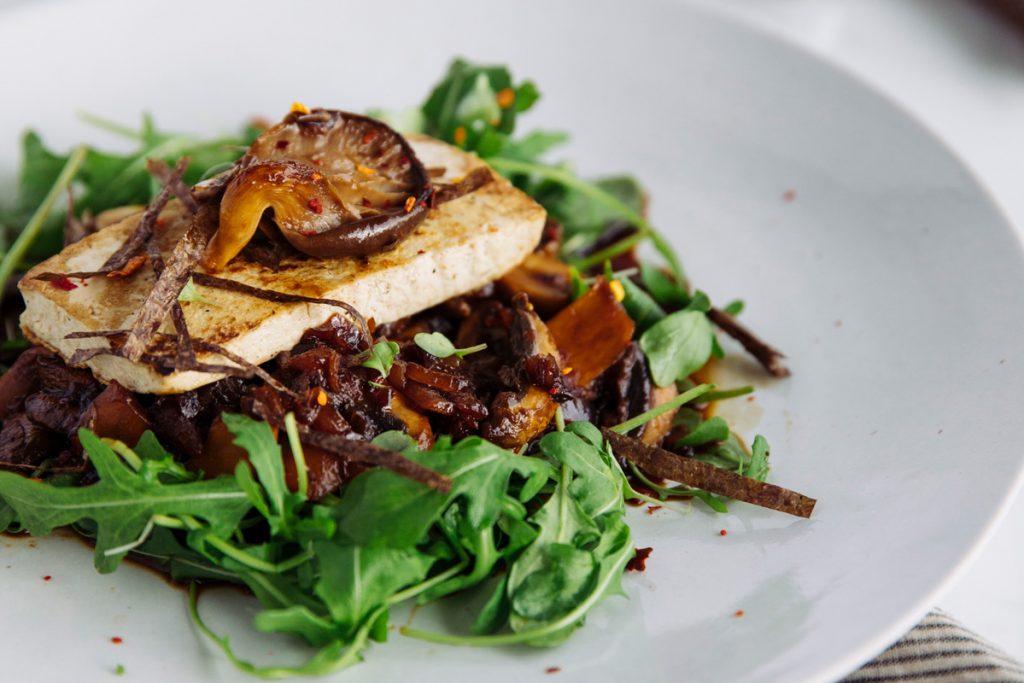 Prep 15 mins
Cook 10 mins
Serves 1
Store chill 3 days
Ingredients:
1 tablespoon peanut oil
2 cloves garlic, finely chopped
2 tsp ginger, minced
200 grams firm, dry tofu, sliced into 2cm slabs
1 cup assorted mushrooms, shitake, oyster, button, sliced
1 teaspoon tamari
1 tablespoon water
1 cup rocket leaves
¼ tsp chilli flakes
¼ sheet nori, snipped
Method:
Cut the tofu into pieces and pat dry with paper towels. Heat a large wok on high with ½ tbsp of peanut oil and fry garlic and ginger until translucent, about 5 minutes, then add tofu and stir fry until lightly golden, about 5 minutes. Remove from heat and set aside on a paper towel. Keep warm.
Add remaining peanut oil to the wok, add the mushrooms, tamari and water and stir fry for 7-8 minutes. Add cooked tofu and heat through, then fold in rocket leaves and chilli flakes. Transfer to a serving plate and garnish with strips of snipped nori.