Xali is Australia's first training, dietary and wellness program to cater to women going through biological changes with a focus on perimenopause and menopause.
Created by Northern Rivers resident Naz de Bono, Xali is a daily personalised program that provides workouts, recipes, education and support to women based on the 4 pillars of Move, Eat, Learn & Connect. Xali creates recommendations for women bursting with energy but also provides options for the days when they want to pull back. As women experience biological changes, the way they exercise needs to be adapted.
We spoke to Xali's in-house Clinical Nutritionist, Samantha Gowling who shared some recipes to fight the winter blues that are available through the Xali platform.
Recipe #1 Easy Cheesy Egg Muffins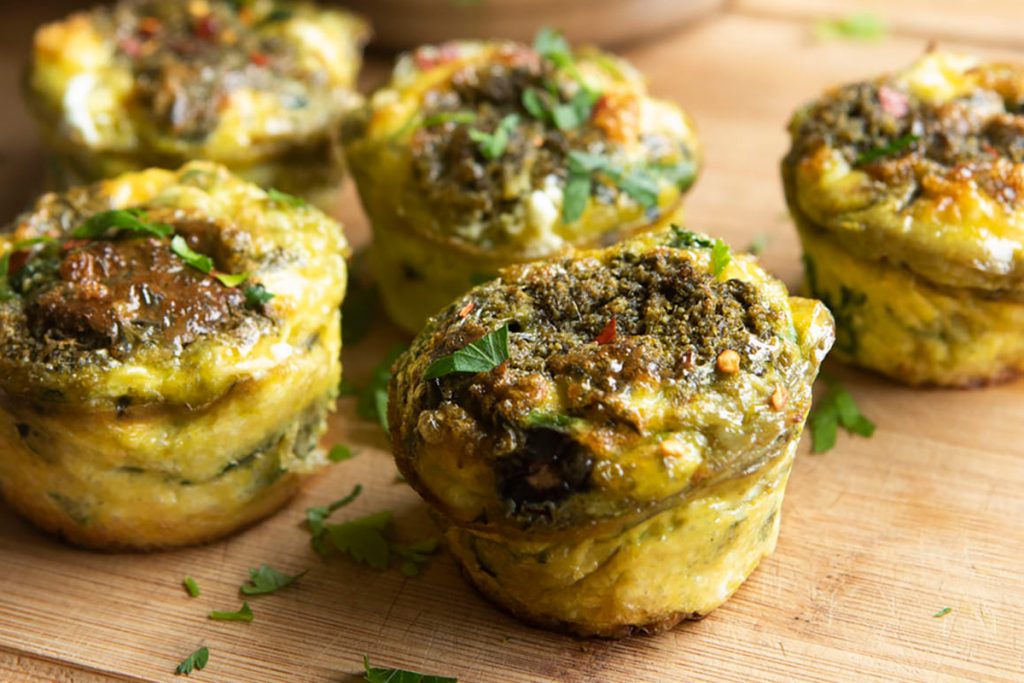 Prepare these muffins ahead of time and enjoy a quick and easy breakfast for the week! Eggs are rich in iron and Vitamin D, are a great source of protein and have been linked to reducing cholesterol levels during menopause.
Serves: 4
Prep: 20 mins
Cook: 20 mins
Ingredients:
For the basil pesto:
Basil, fresh – ⅔ cup
Pine nuts – ⅓ cup
Garlic clove minced x 2
Olive oil – 1⅓ tbsp
Parmesan cheese grated – ⅓ cup
Lemon juice of – ⅔ whole
Salt – ⅛ tsp
Cracked black pepper – ⅛ tsp
For the muffins:
Spinach, frozen thawed – 166 gm (2-3 balls)
Eggs – 4 whole
Olives pitted, chopped – ⅓ cup
Sundried tomatoes diced – ⅛ cup
Thyme, fresh, sprigs leaves only – 1⅓ whole
Salt – ⅛ tsp
Cracked black pepper – ⅛ tsp
Goat cheese crumbled – ⅛ cup
Pesto see recipe – ⅛ cup
Thyme, fresh leaves to serve – ⅛ tsp
Method:
For the muffins:
Preheat the oven to 170°C. Set frozen spinach aside to defrost about 1-2 hours before.
Grease a 12 hole muffin pan with oil or butter or you can use cupcake patty pans to line the muffin pan if you have them.
Squeeze out excess moisture from the spinach and set aside.
In a food processor, add eggs, olives, sun dried tomatoes, thyme, salt and pepper and blitz for a few seconds to combine.
Divide the drained spinach and goat cheese, evenly in the prepared muffin pan and pour in the egg mixture. Top with a small dollop of pesto.
Bake in the oven for 20 minutes or until cooked through. Remove from the oven and serve or let them cool completely before storing in the refrigerator for up to 3 days.
For the basil pesto:
In a food processor or blender combine basil with pine nuts and garlic.
Add lemon juice and then the oil slowly and process into a paste.
Season with salt and pepper to taste.
Store in the fridge in an airtight container for up to 7 days.
Recipe #2 Cream of Mushroom Soup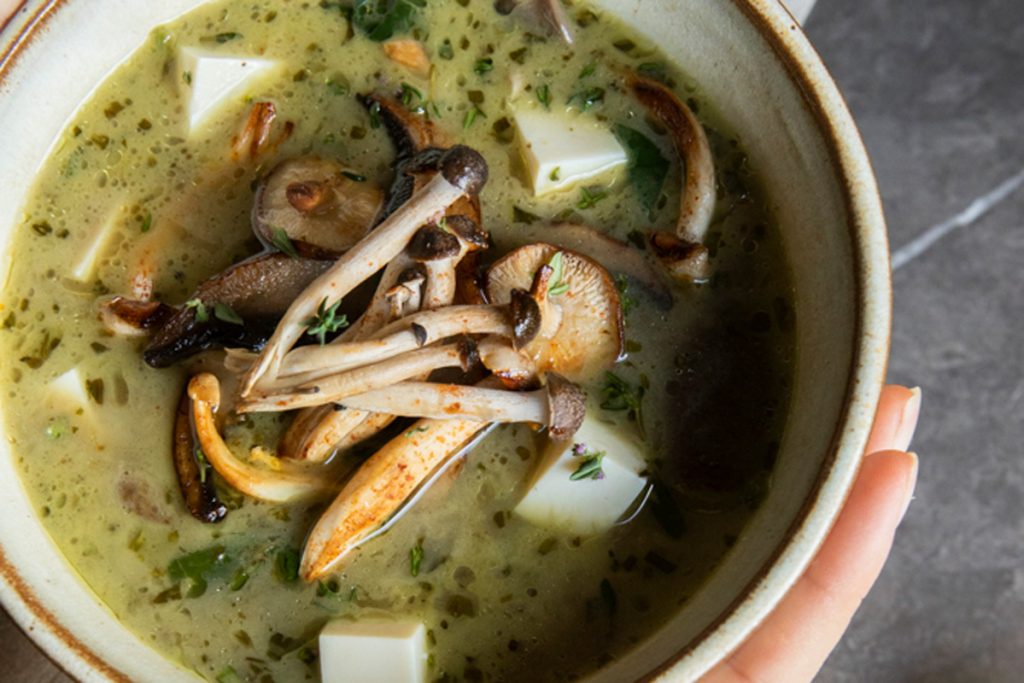 A simple and ultra-creamy soup that is full of flavour and will leave you satisfied. This recipe is not only great for winter but it's also medicinal – eating at least 1 clove of garlic a day can help balance your hormones, prevent the effects of hot flushes, and enhance the body's immunity.
Serves: 2
Prep: 20 mins
Cook: 45 mins
Ingredients:
Olive oil – 2 tbsp
Onion, brown diced – ¼ whole
Garlic clove minced x 3
Thyme, fresh leaves – 1½ tsp
Mushrooms, brown or white sliced – 4 cup
Mushrooms, Portobello or specialty, sliced – 2 whole
Tamari – ⅛ cup
Mustard, seeded – 1½ tsp
Coconut milk full fat – 200 ml
Tofu, silken cut into about 12 cubes *it will be soft to handle – 150 gm
Spinach, fresh – 2 cup
Chives, fresh snipped – ⅛ cup
Parsley, flat leaf chopped – ⅛ cup
Salt to taste – ¼ tsp
Cracked black pepper to taste – ⅛ tsp
Method:
In a large stockpot over medium heat, heat olive oil, add onion, garlic and thyme until translucent and fragrant, about 12 minutes.
Add half of the chopped mushrooms and tamari and cook down on medium-high heat, covered for about 10 minutes. This will allow the mushrooms to release their water.
Add the remaining mushrooms and cook covered for another 10 minutes.
Remove the lid and add coconut milk, vegetable stock, cook for another 10 minutes uncovered to reduce liquid.
Drain the tofu while still in the pack, then cut into 12 cubes. Gently add to mushrooms and heat through for about 5 minutes, stirring occasionally, allowing the flavours to combine.
Just before serving, fold in the spinach gently until wilted. Ladle into serving bowls.
Serve with chives and parsley, season with salt and black pepper to taste, and serve hot.
Recipe #3 Homemade sushi [Pecan Sushi]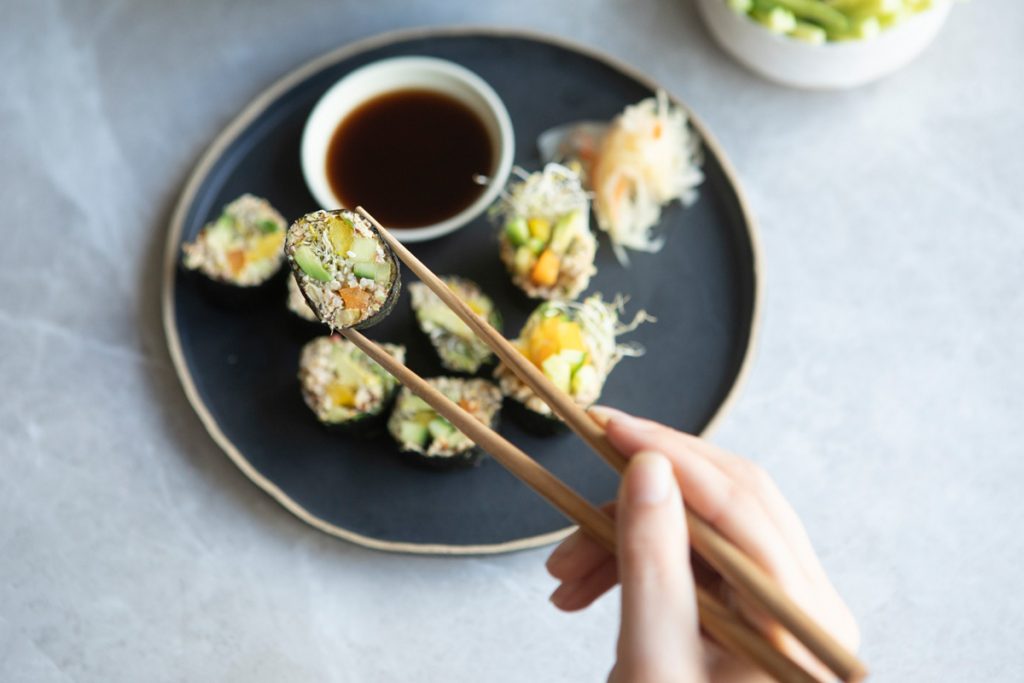 This is a great meal to get the family involved. Prepare the ingredients and paté ahead of time and get ready for some hands-on fun! Pecans provide an abundance of organic pyridoxine (vitamin B6), essential for serotonin release and nervous-system health.
Serves: 3
Prep: 30 mins
Ingredients:
Nori seaweed, sheet – 3 whole
Sprouts, assorted – ½ cup
Cucumber julienned – ⅛ whole
Avocado sliced – ⅛ whole
Tamari to serve – ⅛ cup
For the paté
Pecans – ¾ cup
Capsicum, red chopped – ½ whole
Spring onion chopped – 1 ½ whole
Coriander, fresh chopped – ⅛ cup
Chilli flakes – ⅛ tsp
Salt – ⅛ tsp
Cracked black pepper – ⅛ tsp
Method:
For the paté
Add pecans to the food processor and blitz until they are reduced to a medium crumb. Add the remaining filling ingredients and blend to a chunky pate. Do not over process.
To make 6 rolls
Place nori sheet with ribbed-side facing upwards, shiny side facing down, and lines in nori perpendicular to you.
Spread the paté evenly over the sheet leaving the edge furthest away from you free from paté for roughly 1cm as you will use this to secure the roll. Make sure to cover each horizontal edge or you might end up with end pieces without much filling.
Lay vegetables horizontally in the lower half of the sheet. Start rolling with the edge closest to you. Roll tightly, yet gently away from you. Secure the roll by adding a bit of water to the free edge furthest from you.
With a sharp knife, cut the roll in half. Slice each half into three or four bite-sized piece.
Repeat the process for the remaining ingredients. Slice into rounds and serve with a side of tamari.
Recipe #4 Smoked Salmon, Spinach and Dill Omelette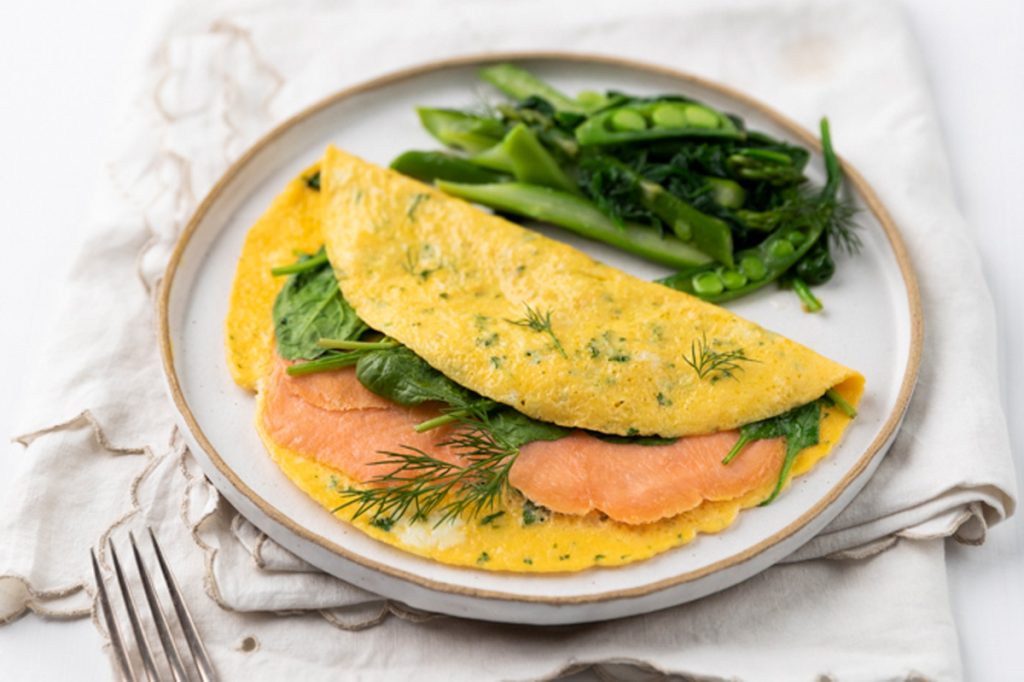 This colourful omelette will appeal to even the fussiest egg eaters. Create a super thin egg mixture and add plenty of herbs and lots of greens. Spinach is rich in antioxidants and is also considered a 'cooling food', which helps to combat inflammation and ease hot flushes.
Serves: 2
Prep: 10 mins
Cook: 10 mins
Ingredients:
Eggs – 4 whole
Parsley, flat-leaf chopped – 2 tbsp
Dill, fresh chopped + a few sprigs dill – 1 tbsp
Pinch salt
2 whole Cracked black pepper – ½ tsp
Olive oil – 2 tsp
Smoked salmon – 4 pieces
Spinach, fresh – 1 cup
Sugar snap peas trimmed – ½ cup
Asparagus spears sliced in half lengthwise – 8 whole
Silverbeet finely shredded – ½ cup
Method:
Whisk eggs with parsley, chopped dill, salt and cracked black pepper.
Heat oil in a medium sized skillet or omelette pan. Pour in egg mixture and cook over medium heat to set eggs for 4 minutes, then layer with smoked salmon and spinach.
Fold omelette over carefully in the pan and continue to cook for a further 3 minutes until the salmon has cooked and spinach wilted.
Meanwhile in a separate saucepan, steam or gently boil the sugar snap peas, asparagus spears and silverbeet for about 3 minutes, strain, pat dry and keep warm.
Transfer to a serving plate, add some fresh dill to garnish and serve with steamed greens.