Frankston is often referred to as the gateway of the Peninsula due to its geographical location and has been a popular seaside destination for Melbournians since as far back as the mid 1880's. Somewhere along the way Frankston gained an undesirable reputation, but people's perceptions are changing and visitors are flocking to the waterfront thanks in part to Eastlink and Peninsula Link IMPROVING THE ACCESSIBILITY from the city and surrounding suburbs and because of the work the Frankston council have done to promote, enhance and improve the area.
By: Lorraine Aitken
Frankston beach has previously been claimed as being Victoria's most frequented beach by the Herald Sun and along with that impressive title has also won two awards for Victoria's cleanest beach. So with that in mind I thought it was time to head out to the Frankston Foreshore and see what has happened since I was last there and what's on offer to draw families to the waterfront.
For anyone with children it's difficult to go past the playground for obvious reasons. It's large, has interesting shapes that are designed to look like sandcastles emerging from the beach and washing away into the waves, plenty of colours and the fact it's visible from the road makes it impossible to secretly pass when attempting to opt for a leisurely stroll along the foreshore. But why would you want to pass the playground when there is so much fun to be had? The playground boasts six swings, a net swing, a large sand pit, three play zones, a wooden boat, a tunnel slide, two wave slides, monkey bars with lots of climbing, ramps, chain bridges, flying foxes and a liberty swing. Some of the play equipment is located under shade sails as are the BBQ's and picnic tables. There is plenty of lush grass perfect to lay a picnic rug out on and importantly there is a fence separating the Nepean Hwy and the playground. An automated toilet is located adjacent to the play equipment.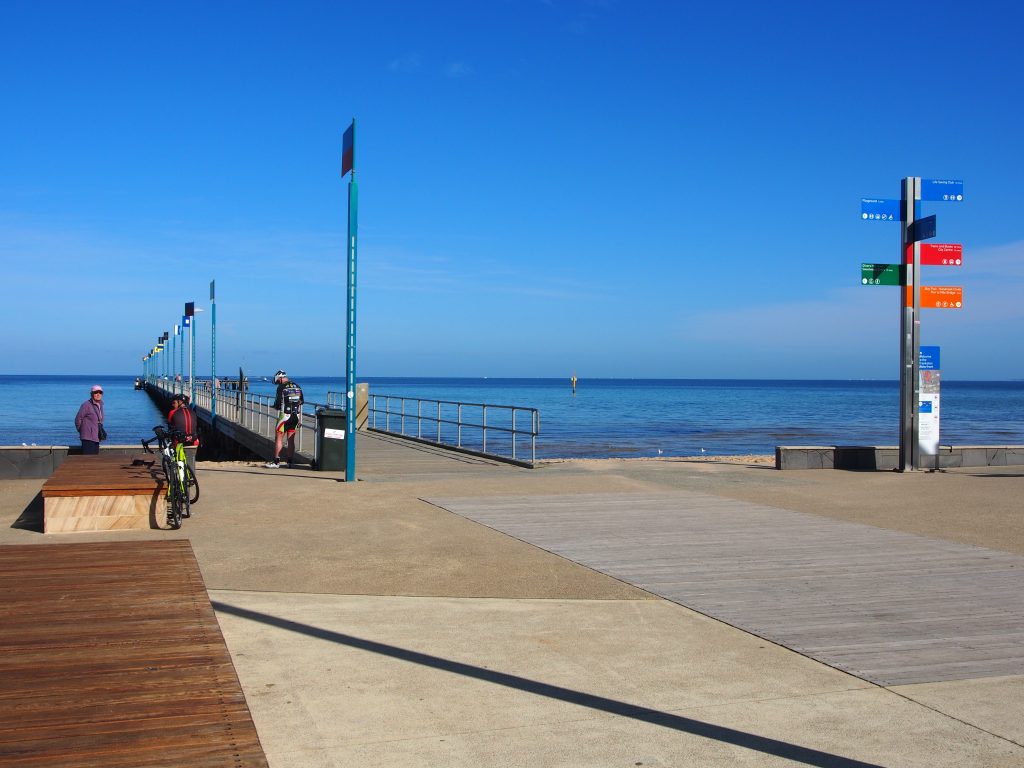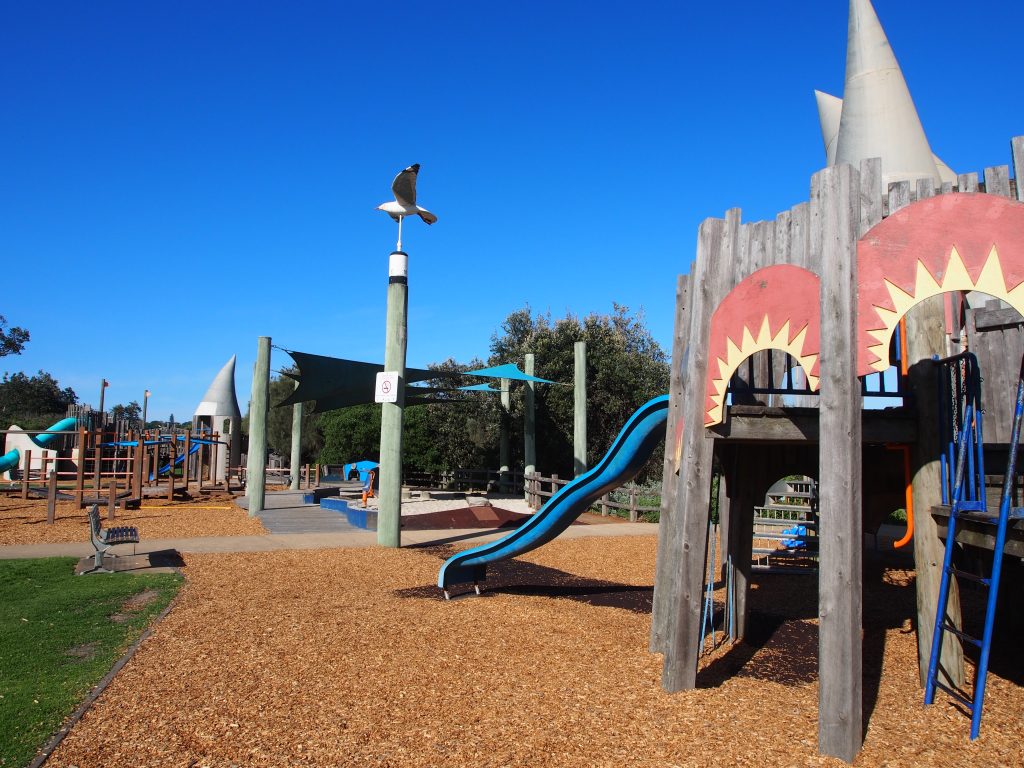 The playground is a good size with plenty of seating. The equipment is all in reasonably good condition, the BBQ area is excellent but one drawback for me personally is the ticketed parking at $3 per hour. I just find it difficult with four children to keep them calm long enough to give me time to scrounge up the change, take them all to find a ticket machine, return to the car with ticket before diligently watching them all on the play equipment while keeping an eye on the time. At least Frankston council residents could receive a complimentary parking pass. Finding a car park can be difficult on a sunny weekend but mid-week is much easier.
While you're there take the kids for a stroll along the waterfront and the 500m Frankston Pier which was originally built in 1857 for the small fishing village which at the time only had around 30 residents. Since that time the pier has undergone many extensions and repairs and remains a local landmark. In mid-2000 the Frankston council built a 30m pedestrian bridge over the Kananook Creek and upgraded walking trails which has not only made it more visibly appealing but many people can be seen out running, walking and enjoying the foreshore which is great to see. Currently a $7.5 million dollar yacht club is being built on the right hand side of the pedestrian bridge that will look fantastic once completed. Next to the pier you will find Sophia's restaurant which has a large menu that includes pizzas, pasta, seafood, steak and all the usual offerings as well as a kids menu in a relaxed setting. Behind the restaurant is the award winning Frankston visitor information centre which was inducted into the hall of fame in 2014 after winning Victorian and Australian tourism awards from 2012-2014.
The standout of course is the natural attraction; the beach, which has long stretches of clear, shallow water and soft sand that provides a safe swimming area for young and old and is often where you will find local triathletes training in the mornings and evenings.
For four months of the year from Dec 26th 2015 to April 25th 2016 you will find Sand Sculpting Australia at Frankston waterfront with this year's theme being 'A Day at the Zoo'. This is an annual event that sees 20 of the world's finest sculptors create life-size sand sculptures from 3,500 tonnes of sand. A family ticket is $42. For more information google visitfrankston.com/sand-sculpting. Another popular event is the Frankston Waterfront Festival which will be held on the 16th and 17th of January 2016 from 11am both days with live music, market stalls, beach activities, water sports, food, wine and more. Admission to the festival is free but rides and food cost extra.
So why not head down to Frankston Waterfront this summer to see why so many visitors are enjoying the foreshore.