To Help The Whole Family Beat The Winter Blues
By Gabrielle Newman
Gabrielle Newman is the Nutritionist and Recipe Developer for The Fast 800. She has shared her expertise on the food that will put you in a good mood and give you the best chance at beating the 'winter blues', also known as Seasonal Affective Disorder. Yes, it's a thing!
This winter we're beginning to prepare for a double whammy; experts are warning about yet another coronavirus surge and the regular old flu, and maybe if you're really unlucky, Flurona. When you're stuck inside because of the weather, less sunshine hours or cooped up in isolation, it's not unusual for serotonin (the happy hormone) levels to drop in your body. Bolstering your immune system through what you eat is important, but did you know what you put in your belly can also affect your mood and help the whole family beat the winter blues?
When you're stressed, upset or unwell, it's easy to reach for comfort food. The foods that make you feel safe and secure like mashed potato swimming in butter and salt, or nana's self-saucing chocolate pudding. Sugar-laden and processed treats should be avoided if you want to remove mood-altering foods from your diet.
Studies have estimated that 90% of your happy hormone comes from the gut; so the happier the gut, the more emotionally equipped you are to handle life's stressors. When you're feeling more positive, you'll tend to sleep better at night, which also means you'll be giving your body a better chance at losing excess weight and bolstering your immune system.
Eat like the Mediterraneans
A diet rich in fresh, colourful fruit and vegetables, fish, seafood, nuts, legumes, whole grains and foods that you often find are commonly eaten on the low-carb Mediterranean diet provide your body with lots of antioxidants and phytonutrients. Olive oil, an important staple of the Mediterranean style, can help reduce inflammation. Add more olive oil to your diet by using extra virgin olive oil as a base for salad dressings or to sauté a selection of rainbow vegetables.
Studies revealed that those who stick to a Mediterranean-style diet are 33% less likely to develop depression. It's also been proven effective for weight loss!
Eat prebiotic foods
Prebiotic foods are rich in fibre and act like fertiliser for the gut and help encourage the growth of good gut bacteria. There are a diverse range of fruit and vegetables considered to be prebiotics, and you may not even realise they're part of your diet: garlic, onions, asparagus, leeks and flaxseed are good sources of prebiotics.
Add more probiotic foods
Many people don't eat enough probiotic foods to create good gut bacteria. People often spend big on probiotics supplements and overlook cheaper, more readily available and affordable foods like yoghurt, kefir, sauerkraut, kimchi and miso which are all great sources of probiotics. You could try a warming miso soup or use kefir to make homemade ice-cream.
Reduce your sugar intake
We know there's nothing like a chocolate bunny (or three!) at Easter time, but it's important to be mindful with your sugar intake as it will affect your gut microbiome, immunity and mood – and why destroy all the hard work you've been putting in? You're also more likely to snack on sugary treats if you're not eating a balanced, nutrient-dense diet. When you're working from home, isolating, or stuck inside due to the winter weather, pure boredom can drive you to raid the pantry.
The Fast 800 has an amazing range of recipes that don't use refined sugar, yet make you feel like you're not missing out on the sweet stuff. Try the Chocolate Beetroot Brownies or the Peach and Passionfruit Ricotta Cheesecakes.
---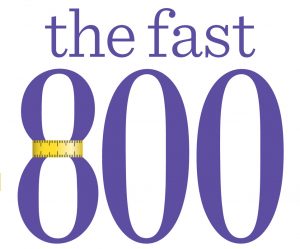 Gabrielle Newman is the Nutritionist and Recipe Developer for The Fast 800, an online programme devoted to helping people live healthier, better-quality lives by offering healthy recipes, meal plans, organisational resources and a science-based framework for a healthy lifestyle.
For more healthy lifestyle tips and recipes, head to: thefast800.com