An amazing combination of Mediterranean flavours and vibrant colours. The beef can be heated if you prefer, but it is just as nice cold. The haloumi adds a strong, salty contrast to the soft subtle flavours of the vegetables.
Prep time: 10 minutes
Cook time: 20 minutes
Total time: 30 minutes
Serves: 4
Ingredients
2 red capsicums, thick strips

2 yellow capsicums, thick strips

2 red onions, wedges

2 zucchini, thick slices

250 g cherry tomatoes, halved
2 garlic cloves still in skin

salt and pepper

1–2 tablespoons olive oil

250 g haloumi, 1 cm thick slices

600 g cooked roast beef, 1 cm thick slices
Sauce
4 tablespoons Greek yoghurt

2 tablespoons mint sauce

1–2 roasted garlic cloves, mashed

1 large handful mint, chopped (optional)
Method
[pullquote]
Tip: To coat the vegetables, I like to put them in a plastic bag with the oil so they get coated evenly.
[/pullquote]
[dropcap]1[/dropcap]Preheat oven to 200°C. Coat capsicum, onion, zucchini and tomatoes in olive oil and arrange together with the garlic cloves on a large baking tray (you may need two trays).
[dropcap]2[/dropcap]Sprinkle with salt and pepper. Cook until tender but not too soft (about 20 minutes). Remove from oven.
[dropcap]3[/dropcap]Heat a non-stick pan on medium heat. Toss haloumi pieces in the oil and cook for 1 minute each side until golden brown.
[dropcap]4[/dropcap]Take the roasted garlic from the oven tray, cut the top off and squeeze out the garlic. Mash it with the back of the knife or chop it and mix with sauce ingredients in a separate bowl. Taste and adjust to your liking.
[dropcap]5[/dropcap]Lay a slice of beef on each plate and arrange vegetables and haloumi in a stack on top.
[dropcap]6[/dropcap]Drizzle with yoghurt sauce.
---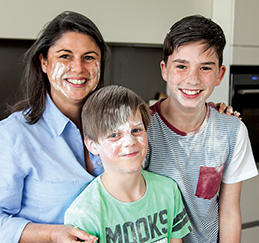 Jodie Blight  |  We're all busy and want quick, healthy and delicious meals but sometimes just don't have the time. Summer TABLE will inspire you to put variety and zest back into your mealtimes and with a free APP to create a shopping list on your phone, dinner will be ready in no time! And – you learn how to use leftovers in innovative new ways.
After years working as a company director in the finance industry, starting a family and moving half way around the world, Jodie Blight discovered her passion – creating healthy, easy and delicious family meals. "A fist pump from the kids is as good as a Michelin
star in my books."
To find out more about this revolutionary cookbook, please visit www.hellotable.com.au or find us on Facebook at www.facebook.com/hellotable