These burgers are loved by all members of our family. The combo of haloumi with lemon and dill is a real winner! Can be served in a bun with other fillings or on a plate with salad.
Prep time: 20 mins
Serves: 14
Ingredients
1 medium size zucchini, grated (250g)
1 cup white cabbage, finely chopped (100g)
250g haloumi, grated
¼ cup green stalks from spring onions, finely chopped
1 tblsp fresh dill, finely chopped
1 tsp turmeric powder
1 tblsp lemon rind (approx 2 med lemons)
½ cup blanched almond meal
5 eggs, lightly beaten
Salt and pepper to taste
Shortening of preference for frying – butter, coconut oil, ghee, lard.
Method
Place all ingredients except eggs in a large mixing bowl and combine well.
Add beaten eggs to mixture and fold together until incorporated.
Heat frypan with preferred shortening and place large spoonfuls of mixture into pan to make burgers approx 8-9cm diameter.
Fry burgers over medium high heat until golden brown on first side then flip to cook other side and flatten slightly with spatula.
When browned on both sides, remove from pan and rest on absorbent paper.
Continue adding large spoonfuls of mixture to pan, stirring mix each time before scooping out as mixture can separate.
Enjoy immediately with green leafy salad and mayonnaise or cool before storing in airtight container in fridge or freezer.
---
Recipe by Linda Martinucci, Simply Swap Foods.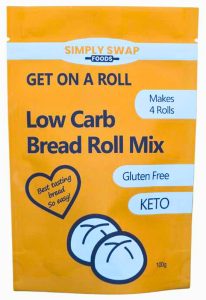 All our products are:
*Sugar free
*Gluten free
*Low-carb/Keto
*Dairy free
*Nothing artificial
*No seed oils or starches
*Super moist and taste amazing
*Really easy to prepare
*Created with love on the Mornington Peninsula