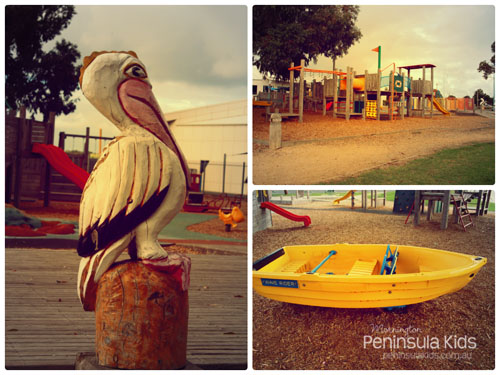 The Fred Smith Reserve in Marine Parade is home to a great playground. After being greeted by a large rubber crab as you enter from the car park, there are a number of different areas to explore. My children ran straight for the low lying items — the speed boat on rocker, springers, swings, and see-saw. The platforms all have different features, both in the climb and at the top, including slides, small rock climbing wall, rope wall, tic-tac-toe, music making equipment, steering wheel, fireman's pole, swing rings.
Another set of stairs takes you up to the stern of a large wooden ship overlooking the massive grassed area and the foreshore of Western Port Bay.
Featuring a liberty swing and ramped area, there are also adjoining tables, BBQs, grassed area and toilets.
Our favourite feature – we loved the family sized see-saw!
Other Hastings Playgrounds:
Babington Park, Thornhill Street
Hastings Foreshore Reserve, Marine Parade
Rotary Park, Kurrajong Street
Tara Drive Reserve, Tara Drive
Villawood Drive Reserve, Villawood Drive
West Park Reserve, Kimbla Court
Westernport Lions Club Park, Gaskin Avenue