Pre Time: 10 mins (plus at least 2 hours to set in fridge)
Cook Time: 5 mins
Serves: 12
Ingredients
80g butter
395g sweetened condensed milk
120g gluten free dark chocolate, coarsely chopped
160g gluten free scotch finger biscuits, crushed
70g desiccated coconut (1 cup)
100g skinless hazelnuts (1 cup) toasted
Icing:
280g gluten free dark chocolate, coarsely chopped
2 tablespoons coconut oil
Method
Grease and line a 13x28cm loaf tin with baking paper and set aside.
Place butter, sweetened condensed milk and 120g dark chocolate into a saucepan and melt over low-medium heat until melted and mixed together (or melt in microwave).
Add the crushed biscuits, coconut and chopped hazelnuts and mix together well.
Press mixture firmly into the prepared tin, pressing and flattening evenly across the base.
In the same saucepan (just wipe out any residual biscuit crumbs with paper towel), melt coconut oil and then add 280g dark chocolate and stir until completely melted.
Pour the melted chocolate over the top of the slice and refrigerate until set (2-3 hours).
Cut into squares and store in an airtight container in the fridge.
Tip: Feel free to switch the hazelnuts for walnuts (which is the traditional nut for a hedgehog) or almonds, or add dried fruit like sultanas or diced apricots.
---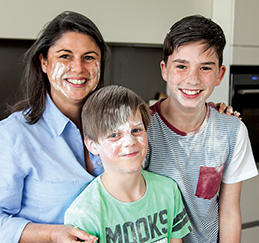 With so many of our Peninsula families affected by gluten intolerance and coeliac disease, we have decided to focus on recipes which can be enjoyed by GF and non-GF alike.
Jodie Blight has developed an amazing new App which enables you to scan the recipe from Peninsula Kids Magazine to create a shopping list on your phone. All in the name of making dinner time easier.
Endorsed by Coeliac Australia so you have peace of mind that every recipe is 100% gluten free.
Download the recipeezi Gluten Free App from the App Stores (it's FREE), use the App to scan the recipe QR code and voila, your shopping list awaits!