Steps 1-10. Take them to Peninsula Hot Springs………
By Melissa McCullough
Together we braved the chilly Mornington Peninsula evening, grabbed our robes and bathed outside at Peninsula Hot Springs, the award-winning holistic wellness destination.
Commence shrieking and squealing.
"WE'RE TAKING A BATH OUTSIDE?!?!?", exclaims my giddy seven-year-old.
Families of all shapes and sizes are welcome at Peninsula Hot Springs' Bath House bathing area. The Bath House is ideal for social bathing for families and children who are accompanied by adults. And while guests of all ages are welcome to use all of the Bath House experiences prior to 10:00am, after 10:00am the bathing gully and hilltop pool are reserved for guests 16 years and older. Families with children can enjoy plenty of options in the remaining 14 child-friendly thermal pools.
Had it been up to my kids, we would have hopped in and out of all 14 pools in 14 minutes.  Explaining to Mr. 7 and Ms. Almost10 that the hot springs are a place for relaxation and rejuvenation, (quiet), took several attempts to sink in, but eventually we managed to get them to sit back and truly take in the steamy surrounds.  As a family, we watched the sun set over Fingal and the amphitheatre area come to life with charismatic brilliance. Twinkling lights danced in trees as we listened to frogs tell croaky bedtime stories to bathers young and old.
I stayed put in the amphitheatre aquatherapy pool because, well, not so game to be cold; the rest of the crew ventured to the 'Fire & Ice' area to experience the large cold plunge pool, an ice cave, and deep freeze chamber. There are many health benefits in moving between hot and cold temperatures including reducing muscle and joint soreness, improving metabolism and improving energy production. More info on these benefits can be found on the Peninsula Hot Springs website.
After over two hours of bathing, the kids had had enough.  And they were starving.  (Mental note for next time: snacks.) If you've brought your own food, you'll find two picnic areas with ample seating and tables from dawn until dusk. If you'd like to have a bite on site there are three different café's with varying menus and hours of operation, and a coffee hut at the entrance for those after-school drop-off morning bathers.
A natural place for families and friends to bathe and relax while connecting with nature, you can immerse yourself in a bathing wonderland with over 50 globally-inspired experiences. Their latest development, the Bath House Amphitheatre, features an open-air stage, Fire and Ice area, Amphitheatre café and more.
As for bathing on a crisp evening – it's simply a must!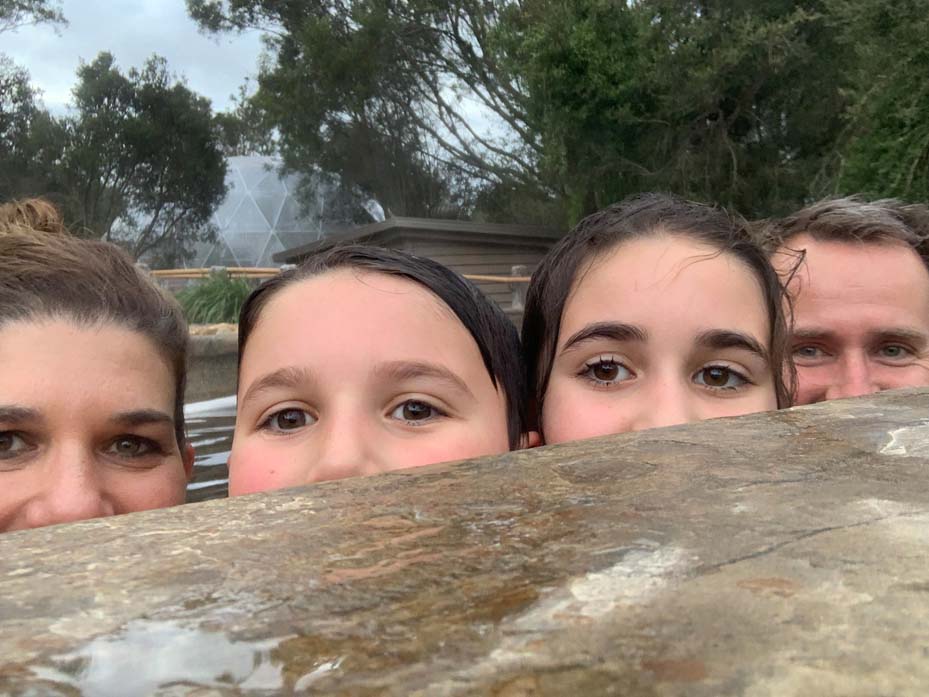 ---
For more information or to make a booking call 5950 8777 or use their easy to navigate system online at www.peninsulahotsprings.com
Peninsula Hot Springs is located at 140 Springs Lane, Fingal.