By Erica Louise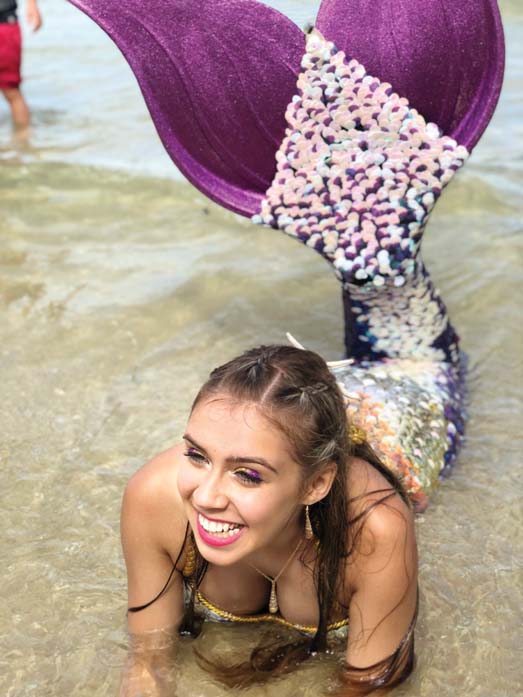 Move aside Arcto the Seal there's a new creature gracing the shores of Port Phillip Bay. A beautiful, glittery Mermaid going by the name of Tarielle.
Mermaid Tarielle swam into Seaford Beach recently and she caused quite a stir. Families far and wide travelled to see Melbourne's mystical and very friendly creature, who smiled for a solid two hours whilst chatting to visiting children and posing for photographs.
Melbourne's friendly mermaid has been popping up at beaches around the Bay to tell families that she is now a party host for children's special events.
Mermaid Tarielle took some time out of her busy swimming schedule to chat with us about her life as a mermaid in Port Phillip Bay.
Hello Mermaid Tarielle! What a wonderful opportunity to chat with you. Here are some questions we have for our little peninsula mer-fans.
Q. Assuming you live in Melbourne, are you the only mermaid in Port Phillip Bay?
I am based near Melbourne. My pod lives outside Port Phillip Heads in Bass Strait, however, I am one of the few mermaids who swim to shore to interact with humans.
Q. We know that you meet children for private pool and beach parties. This is very exciting. What do you do with the kids on their special meet-a-mermaid day?
Little people are fascinated by what lies beneath the ocean and the fables of mermaids and sea creatures, and I love to celebrate this sense of wonder with storytelling, games, mermaid swims, siren songs, photo fun and answering all their questions about life as a mermaid! I can visit any of my mer-fans by magically appearing in their pool, on a beach or even on-land in their living rooms.
Q. How long can you spend out of the water and what happens if you don't get back in the water in time?
I can spend a little while outside the ocean, a little more than an hour, before returning to my ocean friends and mer-family, especially my best friend, Yertle the Turtle
Q. Where do mermaids sleep?
I have a bed made of the softest coral in all the oceans! It's surrounded by a cave of rock and keeps me protected from the cold sea currents. I can watch the schools of fish, dolphins, sharks and octopus swim past a little opening in the top of the cave! It's very cosy.
Q. What do mermaids like to eat and what is your favourite food?
Mermaids eat a lot of seaweed and varieties of kelp. But I have discovered a love of human food, especially birthday cake. Yummy!
Q. You must meet quite a lot of children! What do you like most about human kids and how do they differ from mer-children?
I have met quite a few human children! I love looking at their feet and the odd-looking fingers on them – I think they are called toes? I love seeing the toys they have which look like me and answering all their questions! Mer-children and human children are very similar, both are very curious and have lots of questions.
Q. Have you ever met a pirate?
I have never met a pirate personally, but have swum through and explored many sunken ships! Sometimes I see all the treasures they have collected and my mer-sisters and I love exploring and playing with them.
Q. There are quite a number of dolphins who live in Port Phillip Bay. Are they friendly and can you speak dolphin?
I have quite a few dolphin friends! We love to play together, blow bubble rings and splash around in the shallows. We love having fun together and sometimes swimming to shore and meeting humans! I speak 123 languages both human and marine. Dolphin is one of the easiest languages and is super fun to speak.
Q. Lots of humans are scared of sharks! Are you scared of sharks too?
I have quite a few species of shark with whom I'm very close friends! Whitetip reef sharks and hammerhead sharks are my favourites as they are super funny, but don't ever steal their food, or they might nip your fins! Some sharks aren't as friendly, such as the mako sharks. I wouldn't go near them if I were you.
Q. What would you say to kids who want to protect your environment (the ocean)?
Part of a mermaid's daily life involves taking care of the ocean and the reefs. This means we clean up all the rubbish, which takes a lot of time and stops us from being able to play, or come and visit our friends with feet! Sometimes our fish friends also get tangled in plastic debris and we need to free them. It makes us sad to see our home and our friends being destroyed or harmed, when people carelessly toss their rubbish on the ground, which ends up being washed into the ocean, or straight in the ocean. We would love it if people could recycle their rubbish and make sure to always put it in the bin! If you are ever at the beach and see trash lying around, pick it up and bin it correctly!
Q. How would Peninsula families contact you to host their kids parties or special events?
To book a mermaid party, feel free to call me on my shell-phone. Pick up any shell, listen to hear the ocean and then speak to me through it! If you can't seem to reach me (I might be out exploring the reef or playing with Yertle) then contact my on-land friends who look after my website and my social media pages – these are my eyes and ears in the human world!
My friends will let me know all the important details and then I can come and visit you if I am near Melbourne. Just ask mum or dad to go to www.mermaidtarielle.com to book in your Mermaid Magic Party and SPLASH, it's done.
---
Erica lives in Melbourne Bayside and has two sons. She writes, edits and runs the social media pages for KidTown Melbourne, a website showcasing all the fun things to do with kids in Melbourne.