This will be the juiciest roast chicken you have ever tasted. Roast chicken is really very easy, and cooking the chicken upside down helps to keep the juices in the breast and the chicken moist. For aesthetic purposes, I start the chicken breast side up and brown the top, then turn it over. I have suggested you cook two chickens, so you will have dinner sorted for another night during the week. And what would a roast be without the gravy. This gravy has a subtle lemon flavour, perfectly complementing the chicken.
Prep time 2 minutes
Cook time 1 hour 20 minutes
Total time 1 hour 30 minutes
Serves 8 (4 + more)
Ingredients
2 chickens

2 lemons, cut into quarters

4 thyme sprigs

salt and pepper

2-3 tablespoons cornflour

Preheat oven to 240°C
Method
[dropcap]1[/dropcap]Place a wire rack over a deep baking tray and fill tray with water until just below the rack (make sure the chickens are not touching the water). Place a small strip of baking paper down the middle of the rack to stop the chicken skin from sticking. Fill the cavities of the chickens with the cut lemon and thyme and place chickens (starting breast side up) on the rack. Sprinkle with salt and pepper and place in oven for 20 minutes.
[dropcap]2[/dropcap]Remove tray from oven, turn chickens over and put them back on the rack, breast side down. Then reduce the temperature to 190C and cook for a further hour or until the juices run clear. When cooked remove from oven, cover and rest for 10 minutes.
[dropcap]3[/dropcap]To make gravy, remove fat from the juices (see tip) and bring juices to the boil. Take 2–3 tablespoons of the juices and mix with 2 tablespoons of cornflour in a cup. Return to tray and stir over medium heat until the gravy thickens slightly (3–4 minutes), scraping up the brown bits from the bottom of the tray. To thicken gravy add more cornflour using the same method. 4 If you wish, strain gravy through a sieve into a gravy boat.
[dropcap]4[/dropcap]Serve with roast cherry tomatoes, roast pumpkin and steamed green beans.
[pullquote]TIP[/pullquote]To remove fat, add a couple of mugs of ice to the tray. The fat accumulates around the cold ice and solidifies. Collect with a slotted spoon and discard.
---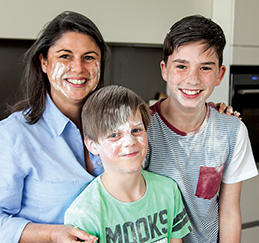 Jodie BLIGHT  – We're all busy and want quick, healthy and delicious meals but sometimes just don't have the time. Summer TABLE will inspire you to put variety and zest back into your mealtimes and with a free APP to create a shopping list on your phone, dinner will be ready in no time! And – you learn how to use leftovers in innovative new ways.
After years working as a company director in the finance industry, starting a family and moving half way around the world, Jodie Blight discovered her passion – creating healthy, easy and delicious family meals. "A fist pump from the kids is as good as a Michelin star in my books."
To find out more about this revolutionary cookbook, please visit www.hellotable.com.au or Facebook www.facebook.com/hellotable