By Mikayla van Loon
Acro Kids husband and wife duo Damian and Katherine Clemens have not only built a successful business centred around the health and wellbeing of kids, but have each found themselves the freedom of running their own business.
"We're lone wolves. We were on our own so we kind of found each other and discovered that we're both similar in that way, so for us to start a business was almost a given or a natural thing for us," Katherine said.
Katherine, a marketing and communications expert and Damian a personal trainer and gymnastics coach, moved to the Mornington Peninsula for a lifestyle change, away from the corporate world of the Melbourne CBD.
Sticking to each of their strengths, Katherine said that being a business owner has made both of them more relaxed and has improved their communication with each other, as well as their relationship.
"We do complement each other although of course we bicker a lot like any other married couple," Katherine said. "If we don't tread on each other's toes too much, we work really well as a team."
When Acro Kids started five years ago, Katherine was still working full time, while raising three children and doing all the admin for the business.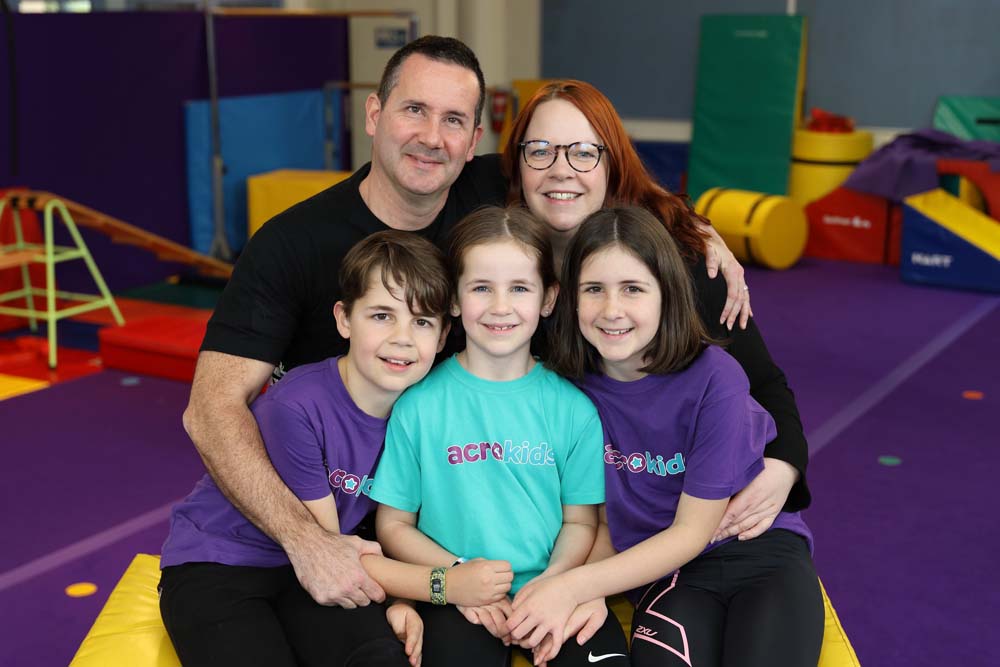 She said that time in her life was probably the most challenging but making the transition to working for herself, where there are no limitations, has been very rewarding.
Damian and Katherine's motivation behind starting Acro Kids stemmed from wanting to create something that would involve their children.
And even though they say it can be hard work and it never seems as if they switch off from thinking about work, they find joy in being more family focused.
"We didn't want to have a business where we never saw our children," Katherine said.
Not only do they love watching their own children grow and develop within the programs but they enjoy watching others kids do the same.
"We've had so many children for many years where they continue to come and you get to be a part of their life in a small way and we really love that," Katherine said.
Damian says Acro Kids run many programs for all different ages and capabilities; they have seen a great balance between boys and girls getting involved in acrobatic skills.
Their Kinder program is for kids aged one to five, where they learn locomotion, fine motor skills, balance and agility in a 45 minute class and the idea is that the kids are always on the move.
The Acrobatics program focuses on the gymnastics skills of cartwheels, handstands, rolls and tumbles – building fitness, stamina and strength.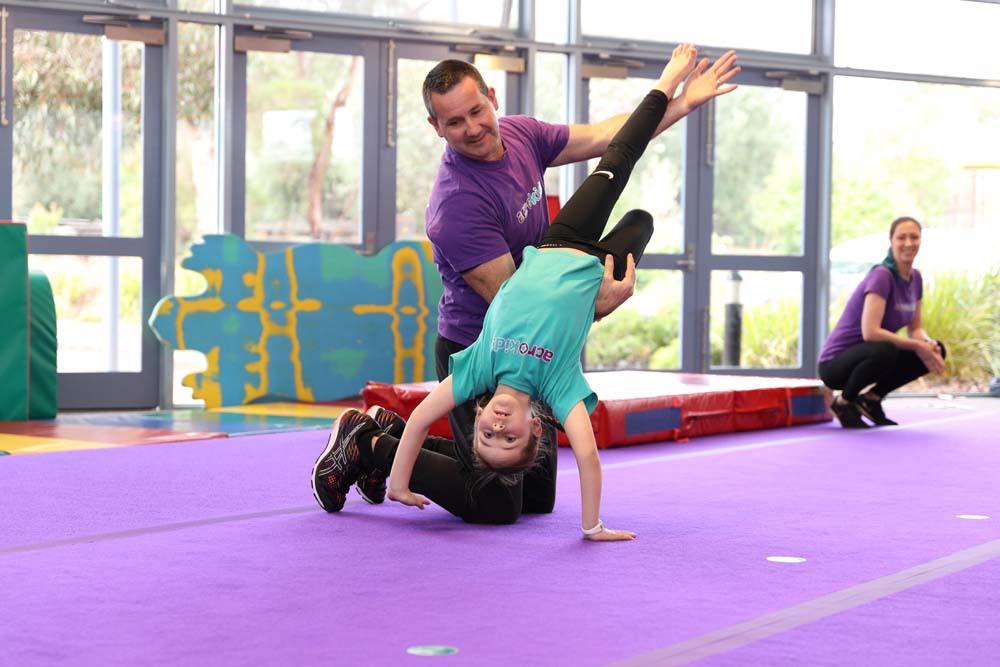 Parkour programs allow kids to try their hand at freestyle running while jumping and tumbling over various obstacles.
Acro Kids also offers one-on-one coaching and smaller group classes for anyone wanting that extra personal training, as well as for kids with disabilities and special needs; there is something for everyone.
'King of the kids' Mr D, as Damian is known, said that Acro Kids is not just about physical development but is about growing strong, resilient minds in kids.
"We develop confident kids, whether it's confidence in their bodies, trusting in their abilities or learning that they are special and what they can do is unlimited not only to what they think they can do; we help them grow in those respects," Damian said.
"The premise of what we do and what we've developed and what we run today are programs that are not competitive, they're fun. It's about encouraging children to have a go, to get their bodies moving and to learn cool new skills and to really be proud of their achievements," Katherine said. "It's just for their own self-worth and self-esteem."
The duo have sometimes caught themselves looking for a break but now after having six months off due to coronavirus, Damien and Katherine are ready to get back to work.
"We're ever evolving. It keeps our interest up and although we're physically tired sometimes, we are never too tired not to really put one hundred percent into the business," Damian said.
"I think we're very clear that this is what we want, so in our minds it's never too hard," Katherine added.
---
Acro Kids is located at 6 Sophie Court, Mornington