A fast and flavoursome dinner which is great when you are on the go. So tasty and very satisfying! This is fantastic served with Twisted Tabouli
Prep time: 10 minutes
Cook time: 3 minutes
Total time: 13 minutes
Serves: 4
Ingredients:
4 Lebanese flatbread
400g cooked lamb, warm
1–2 teaspoons harissa (optional)
4 tomatoes, chopped
½ red onion, finely sliced
4 handfuls parsley leaves, chopped
Tahini Dressing
4 tablespoons tahini
2 garlic cloves, crushed
4 tablespoons lemon juice
4 tablespoons plain yoghurt
½ teaspoon ground cumin
Salt
Method:
Preheat oven to 160°C. Wrap the flatbread in foil and warm for 3 minutes in oven.
Sprinkle warm lamb with ground harissa.
In a bowl, mix dressing ingredients. The sauce might get 'clumpy' or separate, but just keep stirring and it will come together. Season with salt, taste & adjust to your liking.
Remove the bread from the oven and lay lamb, tomato, onion and parsley down the middle of the bread. Spoon over dressing, wrap and enjoy!
For a gluten-free option, put the lamb and toppings in a crisp iceberg lettuce cup.
* * *
Tahini is a paste made from ground, sesame seeds used in African, Greek, Turkish and Middle Eastern cuisine. You can find tahini in your supermarket, usually where the organic foods are kept. Sometimes it is called hulled or unhulled tahini.
---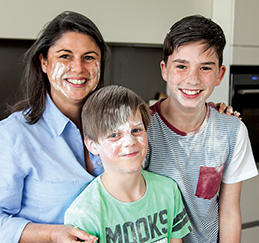 Jodie Blight | We're all busy and want quick, healthy and delicious meals but sometimes just don't have the time. Summer TABLE will inspire you to put variety and zest back into your mealtimes and with a free APP to create a shopping list on your phone, dinner will be ready in no time! And – you learn how to use leftovers in innovative new ways.
After years working as a company director in the finance industry, starting a family and moving half way around the world, Jodie Blight discovered her passion – creating healthy, easy and delicious family meals. "A fist pump from the kids is as good as a Michelin
star in my books."
To find out more about this revolutionary cookbook, please visit www.hellotable.com.au or find us on Facebook at www.facebook.com/hellotable